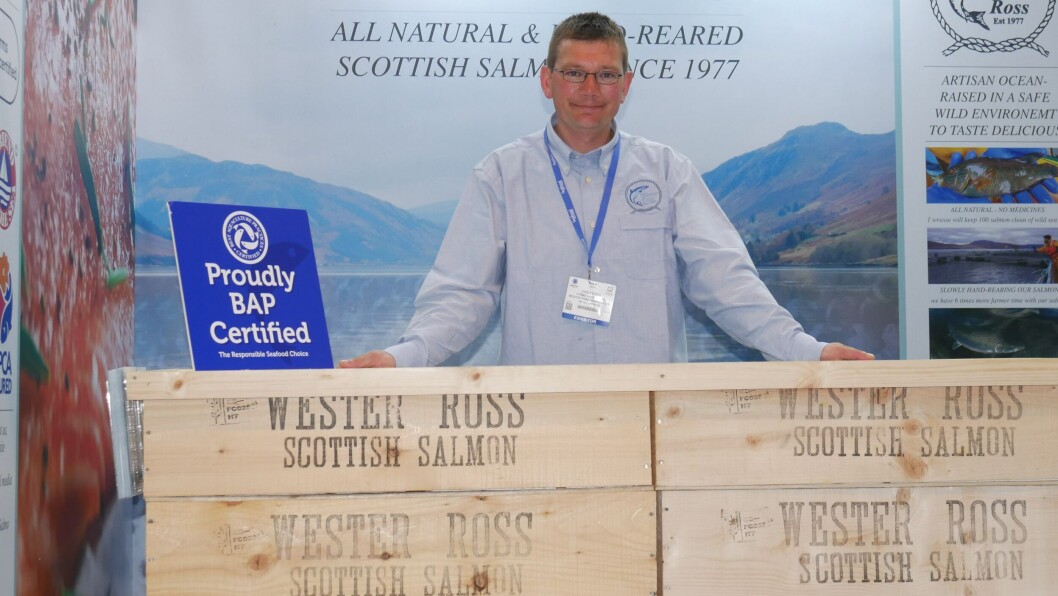 Selling Scottish seafood to the world against Brexit background
Scotland's salmon farmers and seafood suppliers were busy at Seafood Expo Global in Brussels today, promoting their products and reassuring European customers of their commitment to the continent despite the uncertainty of Brexit.
It was a case of little and large in the Scottish Pavilion, with Wester Ross Salmon having flown over a fish tank containing some of its Ballan wrasse cleaner fish, while just a few yards away Loch Duart has two magnificent 10kg broodstock salmon on ice.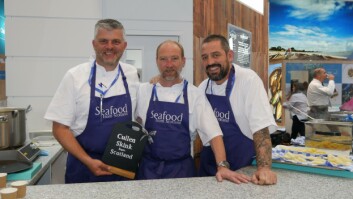 Pavilion
The Scottish Salmon Company and Scottish Sea Farms are also in the Pavilion, while both Mowi Scotland and Cooke Aquaculture Scotland are represented elsewhere on the stands of their parent companies.
Industry body Seafood Scotland, in partnership with Scottish Development International, is hosting the Scottish Pavilion with 19 companies on stand, 16 in other halls and a further 19 walking the show.
Natalie Bell, head of trade marketing for Europe, Asia and the Middle East at Seafood Scotland, said: "Seafood Expo Global is the world's largest seafood trade show and provides Scottish companies with the opportunity to meet new and existing clients from across the globe.
"The dedicated Scottish Pavilion and seafood bar offers a central point to host clients and provide them with a taste of Scottish seafood from our professional chef team."
A spokesperson for the Scottish Government said: "This government recognises the significant contribution of Scotland's seafood sector to our rural economy, not least through exports and in the value and benefit to coastal communities.
"International events like this are vital to helping the sector to grow, especially with the uncertainty being caused by Brexit. Scotland produces some of the finest seafood in the world and we remain totally committed to working with the sector to grow its reputation and increase development opportunities further."
Potential solutions
With Brexit on hold and talks still taking place, Seafood Scotland is continuing its work in identifying avenues and potential solutions for the continued transport of Scottish seafood to Europe.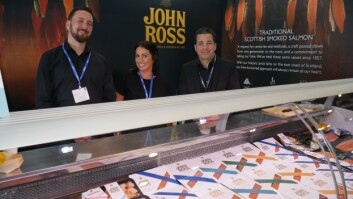 The team, alongside leading seafood companies and processors, recently visited the Port of Boulogne with the local economic development agency and port authority, to see what arrangements have been made for fast-track access to crucial European markets.
Bell said: "Collaboration is key. We are working with the Scottish Government and EU officials to create potential solutions that will continue to benefit both the Scottish seafood industry and the European market.
Smooth transition
"We won't know until Brexit is here what can be implemented, but we have pre-emptive solutions in play and there is a desire from both sides of the border to ensure as smooth a transition as possible. Whatever happens, Seafood Scotland's role will always be to drive growth within the industry."
Julie Hesketh-Laird, chief executive of Scottish Salmon Producers' Organisation, said: "The European appetite for Scottish salmon is strong and half of all our exports go to the EU. Attending the Seafood Expo Global in Brussels is, therefore, an important opportunity to reassure our customers that we will continue to supply salmon to this significant and valuable market.
"During the show, companies will also discuss with their customers the latest advances in their farming techniques to support their commitment to producing high quality salmon."