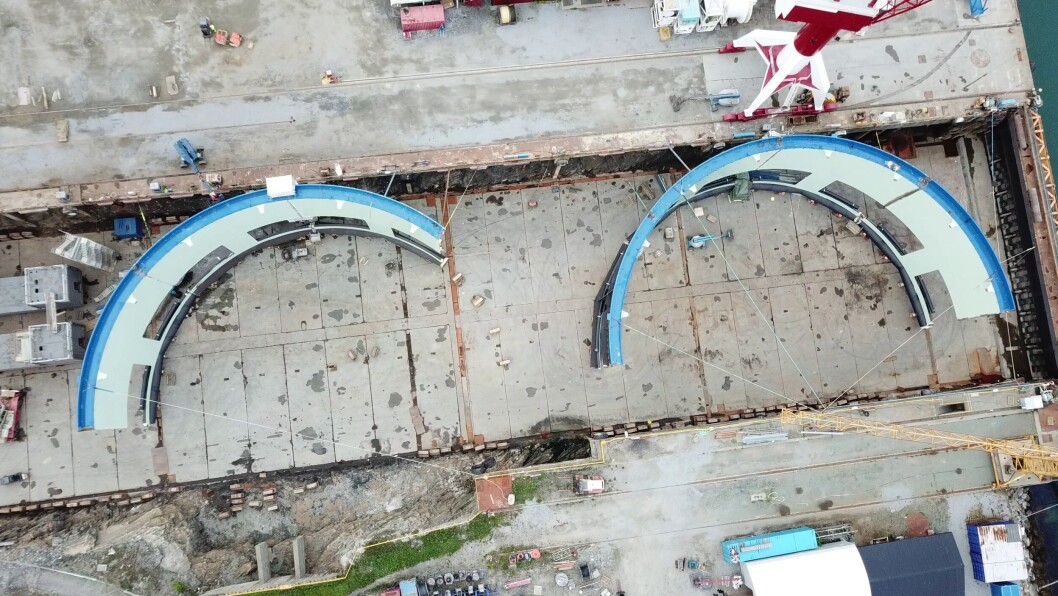 First fish poised to enter Aquatraz cage
Exclusive video as the fish farming project created by Norwegian company Midt-Norsk Havbruk Produksjon AS nears completion.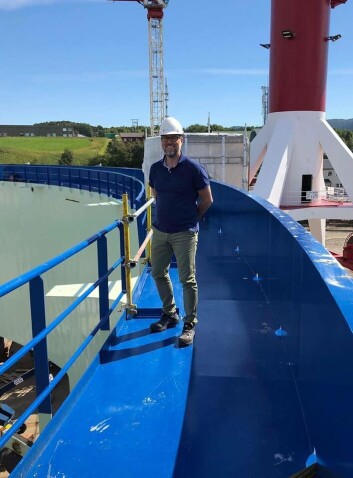 Fish will swim in the first ever Aquatraz cage in a few weeks' time, as construction of the first pilot at Fosen Yard is almost finished.
Midt-Norsk Havbruk Produksjon AS was awarded four out of the eight development licences for which it had applied for its Aquatraz concept, which is a semi-closed steel cage developed by Seafarming Systems AS. The permits indicate a production of 3120 tonnes.
The first of the four Aquatraz cages is now only weeks away from completion, and project manager Steingrim Holm (50) tells fishfarmingexpert's sister website Kyst.no that the pilot will be built at Fosen Yard AS's shipyard at Kvithylla in Trøndelag.
Both halves of the first cage are now assembled and are scheduled to be put together in August, then welded into a complete unit.
"Cage 1 and 2 are under construction at the shipyard now, where the first will be delivered from the shipyard on 31 August 2018. Cage 2 will be delivered in the fourth quarter of 2018, while cage 3 and 4 will be delivered in 2019," says Holm, whose background is in the offshore and shipping industry.
The volume of each cage is large enough to accommodate 200,000 fish.
"The biological measurement program for the first fish has been approved by the Directorate of Fisheries and we are planning to have the first fish in Aquatraz in mid-September 2018," he says.
The first cage will be located at the site of Eiterfjorden in Nærøy municipality, which is an existing MNH site. "Aquatraz is to be placed together with regular cages on the site," says Holm.
Fosen Yard opens aquaculture division
For its part, Fosen Yard is now keen to attract more work in the aquaculture sector and has established a separate aquaculture division within the company to help achieve this.
CEO Anders Straumsheim tells Kyst.no: "Other than service assignments and repairs, we have not had major assignments for the aquaculture industry in the past, nor ever built cages. So the fact that we got this aquaculture project is a milestone for us as a company and enables us to work towards becoming an important player and supplier of similar types of work in the future.
"Building has taken some more time than expected due to structural changes along the way, but we have a good dialogue with MNH about these changes, and we look forward to getting the first fish in the pilot we're currently working on finishing."
Straumsheim points out there are many fish farming companies nearby, which means Fosen Yard is ideally located for these types of ventures.
"To get into this market has been very important to us," he says. "We also have ambitions to build vessels for the aquaculture industry, although construction of service vessels, wellboats and work boats has not been traditional for us before, since we have mostly built passenger boats and offshore boats. But this is something we are clearly open to and want to start with."