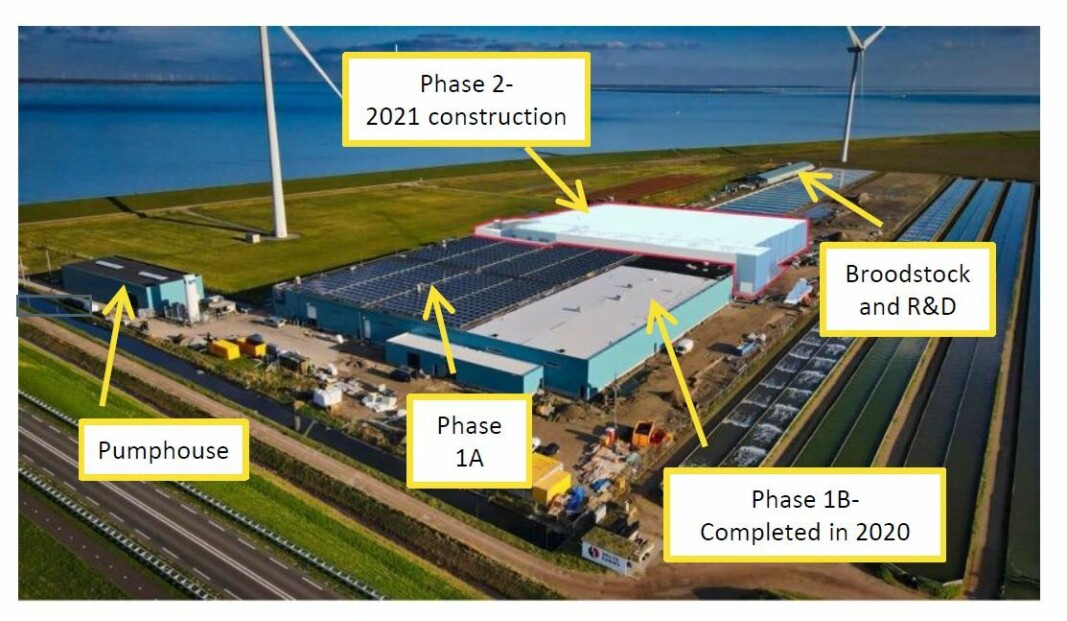 Kingfish Co seeks to raise cash as construction costs rise by 40%
Labour shortage and supply chain challenges bump up price of Netherlands RAS extension to €87m
On-land fish farmer The Kingfish Company today said it was contemplating an equity raise of between €30-35 million to meet the increasing costs of completing Phase 2 of its facility in the Netherlands, which have jumped by 40% from €62 million to €87 m.
The company, which farms yellowtail kingfish (Seriola lalandi), warned earlier this month that significant extra costs and potential delays were expected for remaining construction work at the facility in Zeeland.
"Tightening macroeconomic conditions, including global labour shortage and challenges related to supply chain logistics, and scope enhancements have significantly impacted construction costs," The Kingfish Company said in a market announcement. "The Company has implemented strict internal measures to ensure efficient use of funds and minimise the cost overruns."
€51m spent, €15m committed
The fish farmer said that as of 30 June 2022, it had already invested approximately €51 m of the total Phase 2 capital expenditure, leaving a remaining amount of approximately €36 m. Of this remaining amount, approximately €15 m has been contracted. The company and its financial advisors are exploring financing arrangements to complete the construction and fully commission Phase 2.
Kingish Co added that key existing shareholders, including Creadev International S.A.S., Rabo Investments the (investment arm of Rabobank), and Kverva Finans AS, had signalled their continued financial support to participate in an equity raise.
The company also has €17 m of available debt funding from P Capital Partners AB ("PCP") to fund originally budgeted Phase 2 capex, subject to the remaining amount being equity funded.
Fingerlings for Phase 2
The Company has started the production of fingerlings for the stocking of Phase 2, and production is set to commence in 4Q 2022, bringing total capacity at the Zeeland operation from 1,500 tonnes to 3,500 tonnes of yellowtail kingfish per year.
"This significant volume increase is expected to result in material improvements to unit economics, building on an already strong basis where the Company has achieved positive operating cash flow from the Netherlands operations on a year-to-date basis," the company said.
It added that Phase 2 investments are expected to benefit the company's existing production facilities (Phase 1), including through a new water discharge unit, electric grid enhancement and improved processing capabilities, and is also expected to reduce the capex need and benefit the planned Phase 3 expansion of production capacity in the Netherlands (to 6,000 tonnes capacity per year). Out of the total Phase 2 capex scope, an estimated €18 m is related to infrastructure benefiting Phases 1 and 3, in addition to Phase 2.
'Demand exceeds supply'
The Kingfish Company said demand for its "Dutch Yellowtail" fish exceeds production capacity in all sizes, and the company is not able to fully serve new customers until Phase 2 production has started.
The company added that in the first half of 2022, its operation in the Netherlands was cash positive for the first time and has continued to post excellent operating results in the first two months of Q3 2022 with record volumes sold (approximately +75% year-on-year) and increased prices to €14.4 per kg (approximately +18% yoy).
The Kingfish Co said productivity had remained at sector leading level in July and August 2022 with approximately 0.75 kg net growth per installed cubic meter per day. The third generation of fingerlings resulting from an in-house selective breeding program is showing strong improvement in growth rate and productivity.
Development of the company's US operation in Maine has secured all state and federal permits, with only local town planning board permit remaining and in advanced stages, paving the way toward an 8,500-tonne phase 1 construction. In parallel the company has shipped third generation fingerlings to its US hatchery, to serve as future brood stock for the US operation.