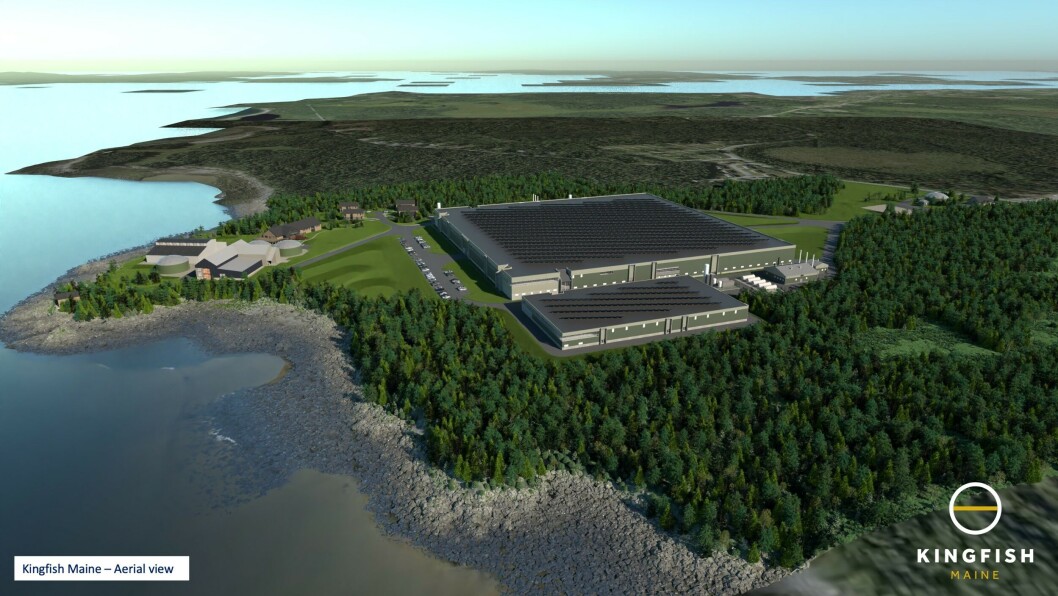 Kingfish Company confident of progress in US
Plans for a new 8,500 tonnes-per-year on-land yellowtail kingfish farm at Jonesport, Maine, in the United States won't be derailed at a meeting of townsfolk next week, the boss of the company behind the project has predicted.
Ohad Maiman, chief executive of The Kingfish Company, expressed confidence for the future in Maine during a presentation of the firm's second quarter performance.
The Netherlands-based fish farmer's subsidiary, Kingfish Maine, has received all the state and federal permits it requires for the recirculating aquaculture system (RAS) facility in Jonesport but still needs planning permission from the town council.
'Small but loud'
"You may have read in the press that we have met some small but loud opposition, however with no legal or environmental reasons to deny a permit we see that more as a potential delay or nuisance than a threat at present," Maiman said during the presentation.
The level of interest in the plan has prompted councillors – or selectmen, as they are known in Maine - to hold a special meeting in a high school gymnasium this coming Wednesday, June 20, to decide whether to impose a six-month moratorium on commercial aquaculture facilities in the town.
Asked by Fish Farming Expert whether that indicated a higher level of opposition than anticipated, Maiman said: "I think we should have conversation again on the 21st after that vote, but we expect the need for the room [is] to accommodate more of our support than the opposition, and of course we'll have to see if our estimate is correct.
"I will not get into the level of naming the opposition, but we have seen the same people show up in various projects across the state. I think that reporters should ask themselves who's paying [those people].
"When we chose Jonesport we spent as much time on community outreach and making sure that we have strong support to locate there as we did on the technical requirements of the site. Unless we are surprised next week, we still think we can count on overwhelming local support."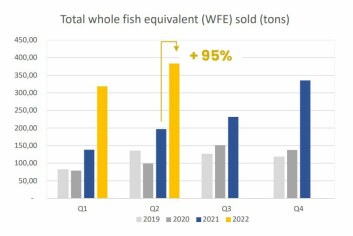 More volume, more revenue
A big increase in revenue resulting from higher harvest and sales volumes and prices enabled The Kingfish Company's Netherlands operation to become what Maiman described as "EBITDA positive" for the year to date.
Sales revenue increased from €2.3 million (£1.95 m) in the second quarter of 2021 to €4.8 m in the same period this year, the company said in a Q2 business update. The volume of fish sold increased by 95% to 384 tonnes whole fish equivalent (WFE).
Average sales price increased by 12% compared to Q1 2022, with the average realised price improving for both large and small fish. The price of large fish improved from €14.6 / WFE kg in Q1 to €15.7 / WFE kg in Q2, and the price of small fish rose from €10 / WFE kg to €11.4 / WFE kg.
Record production
The Kingfish Company, which farms Seriola lalandi, also achieved record production of 402 tonnes net growth in Q2, and sector leading productivity of 0.80 kg per cubic metre per day, an 18% improvement compared to the previous quarter.
Work on Phase 2 of the company's RAS facility in Zeeland, Netherlands, is entering its final stage, although costs for the project are expected to rise.
"While having been able to avoid significant cost overruns in the first 1.5 years of construction, given current supply chain issues and inflation, we anticipate some additional cost and potential delays for the remaining work to completion. Strict cost control measures are in place to limit the impact of global market circumstances," said Maiman.
Phase 2 will increase the Zeeland facility's production capacity from 1,500 to 3,500 tonnes per year.