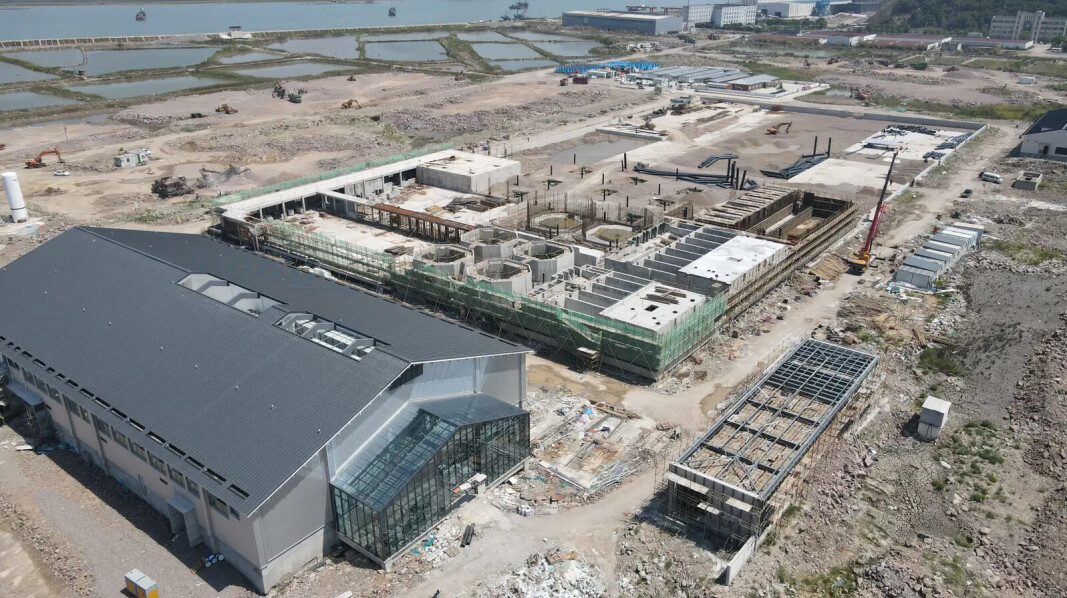 China salmon RAS on track for first harvest in early 2024
Nordic Aqua facility receives third batch of eggs as hatchery and fry unit nears completion
A salmon recirculating aquaculture system (RAS) being built in China has received its third batch of ova and remains on course to harvest its first fish in the quarter of 2024, its owner has said.
The latest eggs from Benchmark Genetics' facility in Iceland are scheduled to begin hatching at the Nordic Aqua (Ningbo) facility in Gaotang near Shanghai in a couple of weeks.
Sometime before (in mid-August) the previous batch (batch 2) was moved from the hatchery to the facility's RAS 01 department.
"The growth and appetite in the initial feeding phase are good, and the fish has already reached an average growth of 0.35 grams. They will be moved to RAS 02 at the beginning of November," the company's founder, chairman and chief executive Ove Nodland said in an update.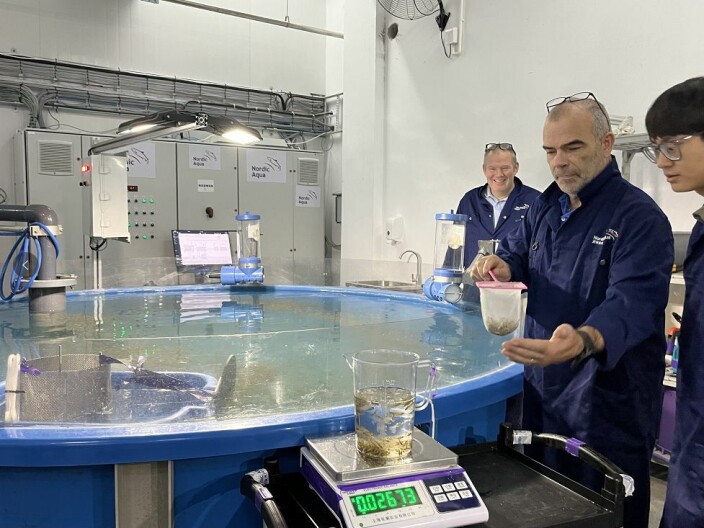 7.5 grams
Batch 1, put into the hatchery on March 9, was moved into RAS 02 at the end of July, and has now reached an average weight of 7.5 grams.
"They are all in good health, and both growth and mortality rates are better than planned for. They will be moved to RAS 03 in late October," said Nodland.
Batch 4 is scheduled to arrive and be placed in the hatchery by the end of December.
The building that houses the hatchery, RAS 01/02/03, service facilities, technical rooms, administration, and accommodation for staff on duty is the smaller of two buildings on site and will be completed and handed over this month.
"Progress on the large building with RAS 04/05/06 is progressing according to budget and plan. We are therefore continuing to keep the budget and plan to slaughter the first locally farmed Atlantic salmon for the Chinese market in the first quarter of 2024," said Nodland.
Premium price and lower cost
In its second quarter report last month, chairman Ragnar Joensen of Denmark-headquartered Nordic Aqua Partners - which is the listed owner company of Nordic Aqua (Ningbo) - said that it is the company's view that locally produced salmon can achieve premium pricing, when considering freshness and 24/7 delivery capacity, and eliminates the importer risk through having to place spot orders before the sale is secured. This premium will come on top of the cost benefits of producing salmon locally, he said.
Nordic Aqua Partners also wrote that by adding import duties and handling costs it is possible to estimate wholesale prices.
NOK 149 per kilo margin
"In Q2, estimated wholesale prices in China were on average NOK 200/kg HOG, and with Nordic Aquapartner's budgeted EBIT cost/kg of NOK 51, the implied margin would be NOK 149/kg. Compared to FOB (free on board) Oslo prices of NOK 97/kg HOG in the 2nd quarter, the extra margin in China was NOK 103/kg HOG," the company said.
Construction of infrastructure and facilities is carried out in accordance with a lease agreement with local authorities. The conditions under the lease are set for stages 1 and 2 (8,000 tonnes), which Nordic Aqua Partners believes significantly reduces its investment risk.