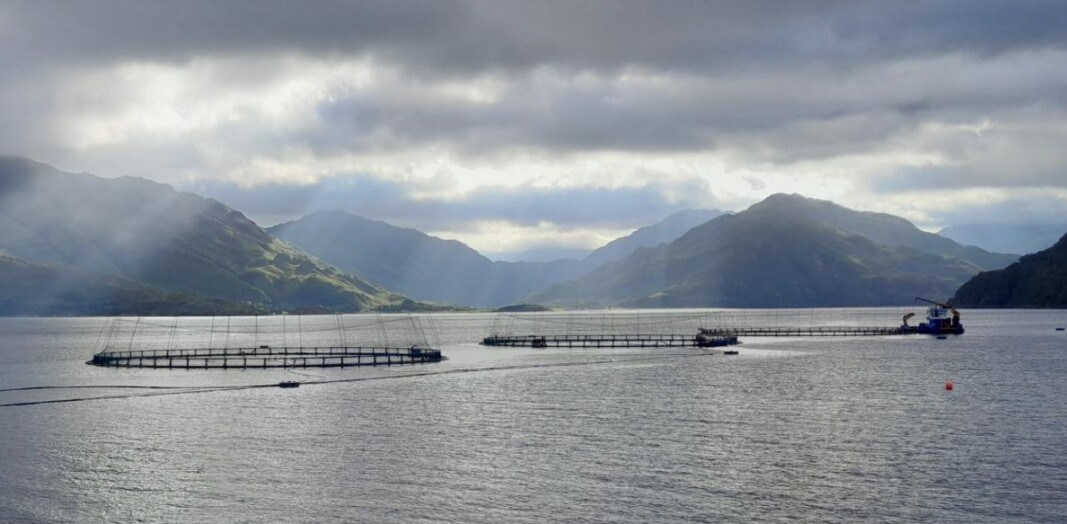 Net gains for Mowi at Loch Hourn
Transition to larger pens offers many advantages, although a council decision means extra production isn't among them
Mowi Scotland has reported a successful transition to larger, 160-metre pens at its Loch Hourn site.
The site now has 7 x 160 metre circumference pens instead of 12 x 120 m pens. While the circumference of the larger pen is a third bigger than the old cages, the surface area is almost double that of the 120, increasing from around 1,140 m² to just over 2,000 m².
The biomass on site won't alter. Mowi wanted to increase production by 10% at Loch Hourn and use eight 160 m pens, but Highland Council refused permission for the changes.
More flexibility to farm
Although the larger pens are common in Norway, fish farmers in Scotland hadn't been given permission for anything larger than 120 m pens until last year.
A decision by regulators to remove the 120 m size limit tied in with other rule changes that gave salmon farmers more freedom to move pens to more advantageous areas within the boundaries of their sites, in the same way that land farmers can move fences in their fields.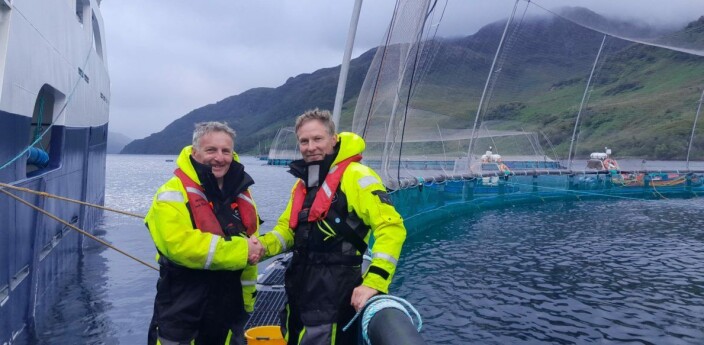 This allows them to moor pens in deeper water and use deeper nets if the site is suitable.
Mowi Scotland was the first Scottish farmer to introduce 160 m pens, at its combined Seaforth and Noster site off Lewis in spring last year. It has since added 160 m pens to its Sconser Quarry and Maol Ban sites off Skye.
One of the advantages Mowi sees in larger pens is that that they offer the fish better protection from seals. The cages have a lower stocking density than 120 m pens, which allows more room for the fish to swim away from the sides when predators approach.
Larger pen collars also support heavier nets which are harder for predators to bite through, and siting pens in deeper water allows more space under the bottom of the net, which also makes things more difficult for seals.
Fewer pens and increased efficiency
Other advantages include fewer pens on a site, reduced visual impacts, operational efficiencies, reduced fish stocking densities, greater control of sea lice, improved fish health and welfare, and improved containment systems and safety.
Speaking about the transition to larger pens, Mowi Scotland's head of environment Stephen MacIntyre told company newsletter The Scoop that the salmon farm at Loch Hourn had been well established for 30 years and had been a successful operation.
"Mowi's investment in this new larger pen and net technology will ensure that the farm continues to be successful in the future as fish farming in Scotland evolves," said MacIntyre.
'Tremendous feed uptake'
Farm manager Alex Harvey told The Scoop that smolt transfers into the larger pens at Loch Hourn had gone smoothly after two staff from Scotland went on an information exchange visit to Norway.
"The knowledge they gained there and the guidance we received from Roar Paulsen, our production director, helped us understand how best to prepare the pens for smolt arrival - one key element of which was how to present feed to a larger number of smolts," said Harvey.
"I'm delighted to say this has given the fish the best possible start, feed uptake has been tremendous and has given us a very encouraging start to the cycle."
200-metre pens
Mowi Scotland is planning to use even larger, 200-metre circumference pens at suitable sites the future, beginning with its farm at Hellisay, Barra.
"The proposed larger 200 m pen equipment has been subject to scaled tank testing to assess and ensure its suitability for the Hellisay location, as well as all equipment specifications and design fully modelled and assessed in accordance with the Scottish Technical Standard for Finfish Aquaculture, as Mowi wishes to take a staged and precautionary approach to the installation of the new equipment," a Mowi spokesperson told Fish Farming Expert in June.
"The company is first seeking permission for an interim six-month installation for a scaled trial using three 200 m pens with a reduced fish stocking.
"The proposed EIA (environmental impact assessment) planning application – a single string of five 200 m pens with no change to biomass is proposed – will be submitted shortly and subject to determination of interim trial, development installation and operation, is scheduled for spring 2023."
The 200 m pens are an attractive option for high energy sites such as Hellisay because they ride the waves better. This is particularly relevant for Hellisay, where equipment failure during storms led to three escapes in the space of 27 months, resulting in Mowi receiving an enforcement notice from Marine Scotland.