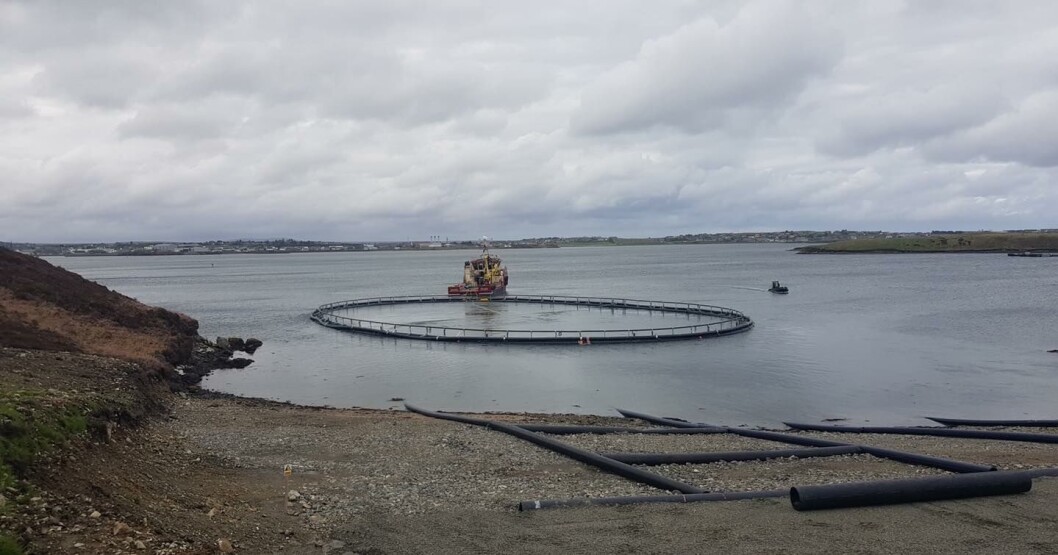 Scotland's first 200-metre pens ready and waiting
Salmon farmer Mowi is moving forward with plans to use Scotland's first 200-metre circumference pens at its high energy site at Hellisay, Barra.
The pens have been put together by the UK and Ireland branch of Scale AQ at its pen assembly area at Arnish Point, Isle of Lewis, by local employees using parts from Norway. The pens will be ready for fish if, as expected, regulators give Mowi permission for their use.
"The proposed larger 200m pen equipment has been subject to scaled tank testing to assess and ensure its suitability for the Hellisay location, as well as all equipment specifications and design fully modelled and assessed in accordance with the Scottish Technical Standard for Finfish Aquaculture, as Mowi wishes to take a staged and precautionary approach to the installation of the new equipment," a Mowi spokesperson told Fish Farming Expert.
Scaled trial
"The company is first seeking permission for an interim six-month installation for a scaled trial using three 200m pens with a reduced fish stocking.
"The proposed EIA (environmental impact assessment) planning application – a single string of five 200m pens with no change to biomass is proposed – will be submitted shortly and subject to determination of interim trial, development installation and operation, is scheduled for spring 2023."
Mowi led the way with the introduction of 160-metre circumference pens at its combined Seaforth and Nester site last year, following decision by regulators to approve pens above 120 metres.
One of the advantages of larger pens is that that they offer the fish better protection from seals as they have more room to swim away from the sides. Larger collars also give the opportunity to use heavier nets which are harder for predators to bite through.
Riding the storm
Another advantage of larger pens for Mowi, which intends to farm at more high-energy sites, is that they ride the waves better. This is particularly relevant for the Hellisay site, where equipment failure during storms led to three escapes in the space of 27 months, resulting in the company receiving an enforcement notice from Marine Scotland.
The new pens were ordered after Mowi established a multidisciplinary team consisting of its most experienced farm managers from the Faroes, Ireland, Norway and Scotland and a range of consultancy services such as marine engineers and wave climate analysts to provide its recommendations on what is required to ensure the farm defends against a 'one-in-200-year' storm event.