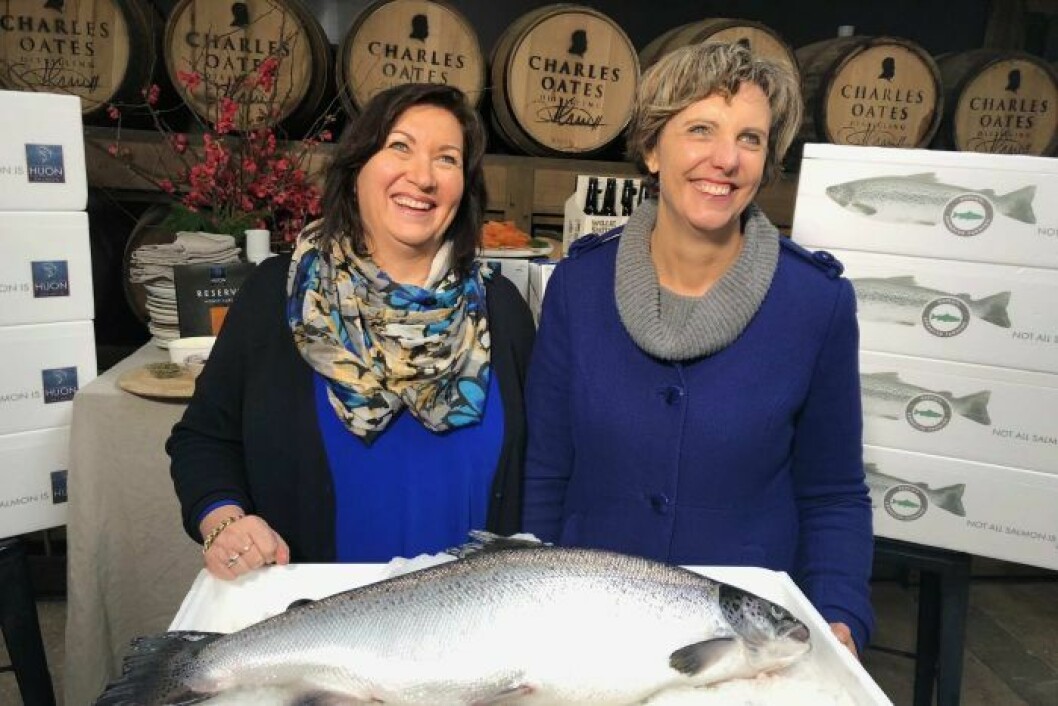 Huon is first Aussie salmon farmer to win RSPCA label
Tasmanian salmon farmer Huon Aquaculture has become the first operator in Australia to gain RSPCA approval, according to ABC News.
Huon factbox
Huon Aquaculture was founded by Peter and Frances Bender in Tasmania in 1986
The company produces salmon and sea trout, the majority of which is consumed in Australia
Huon produces approximately 24,000 tonnes of salmon annually. It harvested 12,693 tonnes in July to December last year and had revenues of A$150.5 million in the period
Its farms will be subject to scheduled and unscheduled audits by the RSPCA, and harvest is monitored by CCTV
The company has 571 employees, and has sites in Huon River, Lower D'Entrecasteaux and Storm Bay, south of the state capital, Hobart, as well as sites in Macquarie Harbour on the western side of Tasmania.
But fish from its pens in Macquarie Harbour will not be able to display the RSPCA Approved label until fish health in the area improves.
Huon Aquaculture executive director Frances Bender told ABC the company started working towards gaining the approval six years ago.
"We are proud to be leading the way in farming salmon safely, sustainably and with a strong focus on welfare," she said.
"Achieving this accreditation hasn't happened overnight. We have worked closely with the RSPCA Approved Farming Scheme over many years to meet their high standards.
"It's a good outcome for millions of fish and consumers wanting to make a more humane choice."
In May, Tasmania's Environment Protection Authority (EPA) confirmed 1.35 million salmon had died in Macquarie Harbour since last October. Tasmania's big-three salmon farmers – Huon, Petuna and Tassal – all have sites there.
The harbour has seen a series of mass fish deaths and stock reductions over the past two years.
Earlier this year the EPA announced a new biomass limit for the harbour which would see fish levels nearly halved.
'Moral victory'
It followed court action taken by Huon Aquaculture which challenged the 2012 decision of the then-federal environment minister to allow salmon farming expansion in the harbour.
Huon Aquaculture lost the Federal Court battle earlier this month, but described it as a "moral victory, if not a legal one".
"It is no secret that we have concerns over the health of Macquarie Harbour, as does the RSPCA," Bender said.
"When environmental conditions improve, the RSPCA will look at independent science and review this decision."
More room to swim
RSPCA Australia chief executive Heather Neil said the approval meant consumers could be assured Huon's fish had been farmed humanely.
"The welfare of farmed fish is of growing interest to Australians," she said.
"Scientific research has found that fish are capable of suffering, feeling pain, anxiety and fear.
"Huon have had to provide fish with much more room to swim and they have got to handle fish in a way to reduce stress and the chance of injury."
Around 70% of the salmon farmed in Scotland are done so to RSPCA Assured standards.