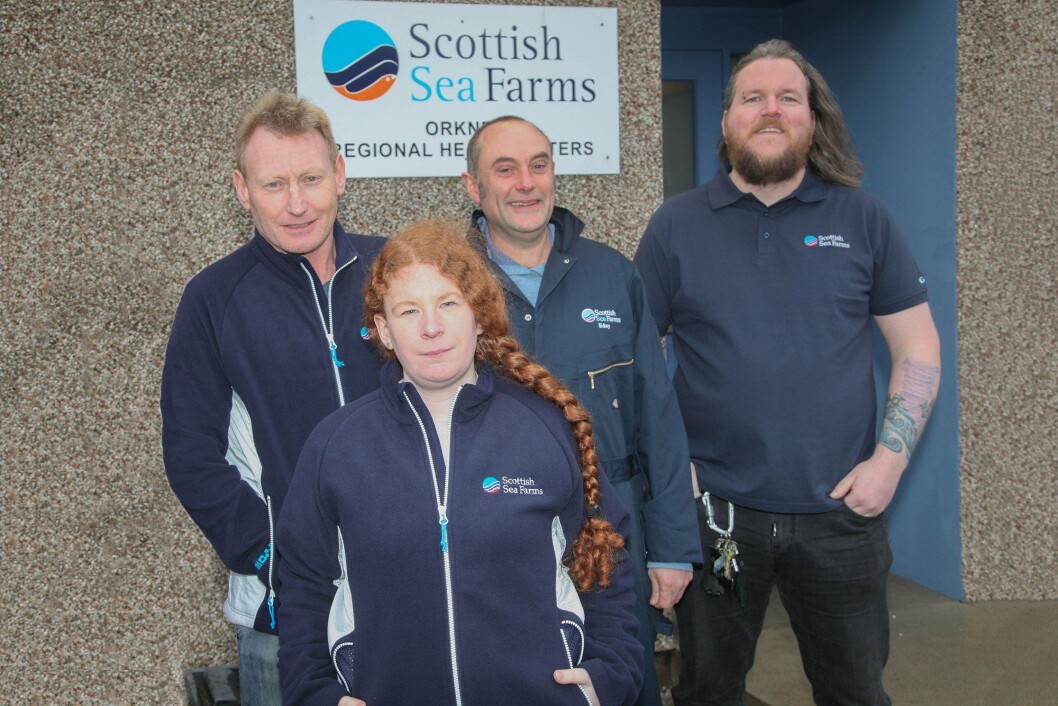 Farm attracts eclectic range of recruits
Permission to expand Scottish Sea Farms' site on Eday has create five new jobs for an impressive range of applicants eager to move to the northerly Orcadian outpost from very different backgrounds.
The expansion means that Eday is now the largest Scottish Sea Farms site in Orkney and is expected to produce around 2,800 tonnes of salmon over the next 22 months.
To achieve this task the company looked at novel ways to recruit its workers.
As Site Manager Phil Boardman explained: "With a local population of less than 140, five new skilled jobs have been welcomed by the local community. The remote location made recruitment difficult and required some 'blue sky' approaches. We specifically targeted those who were seeking a lifestyle change and the result is a great range of people from different and diverse backgrounds. There was an intensive training period for new staff up-front, which highlighted the company's commitment to the individuals. Securing suitable accommodation for the families has proved challenging but the team are all working well together."
Orkney is recognised in national surveys as one of the best places to live in the UK, but it can be difficult to attract skilled workers. Claire Scott, SSF Recruitment Co-ordinator, explained the process of finding recruits for Eday.
"We had to look at a number of different ways to reach out to both locals and people looking to relocate. We used social media to full effect on this occasion, using Twitter and Facebook as well as advertising on digital and traditional job sites. This resulted in lots of interest from people who had no direct experience in fish farming but had transferable skills.
"We ended up interviewing a really mixed group of individuals. We appreciate that it's a massive risk to move from your existing home, change your workplace and ask your family to relocate to somewhere you have only seen on a Google map. The feedback so far from the team is great and they are all very happy with their decision to join the SSF team in Orkney."
The new recruits include Nick Power from Sutton, who had been working as an emergency medical technician and also as a security guard. Nick wanted a more stable and secure future for this family and had a keen interest in fish farming with previous experience working as a river keeper.
Ian Lucas was a cabinet maker/French polisher so his attention to detail was definitely a skill that could be transferred. Ian has moved from Essex and he was looking for a new challenge. "The attraction to the job was working outdoors in the fresh air and being around water and fish. Orkney has beautiful scenery with friendly folk."
Amanda Ferguson is currently studying for her Masters degree in sustainable aquaculture. "I wanted a more active job, I wasn't happy in my career path and was looking for an interesting practical job where I could work outside. I also really wanted to use my degrees in a practical manner. I have a BSC (Hons) in Marine Biology from Aberdeen and I have almost completed a MSc in Sustainable Aquaculture from St Andrews. My previous jobs were in fish and shellfish quality managing for processing factories. Life in Orkney is great, I am no stranger to island living and everyone has been very welcoming. The islands and the scenery are really beautiful."
Clifton Praamsma was an engineer in the South African Navy. He had moved to the UK, got married and now has a family. "I'm originally from South Africa and served in the Paras and also spent 15 years in the South African navy as an electrical fitter. I have been working in the UK now for eight years as a panel wirer. Working for Scottish Sea Farms is a complete career change for me. I love the outdoors and took this challenge not only for me but for my family as the Orkney islands are renowned for their beauty and hospitality. I have not been here very long but so far I am loving it."