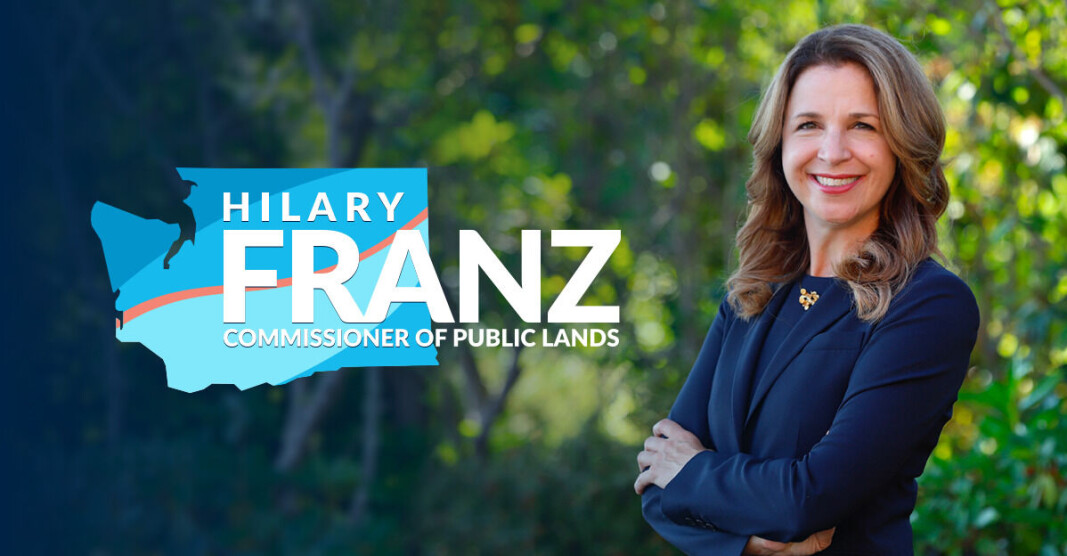 'A lack of humanity and an alarming lapse of leadership'
Aquaculture alliance launches fresh criticism of Washington state politician Franz after decision to block net pen fish farms
A pro-fish farming group in the Pacific Northwest of the United States has renewed its criticism of Washington state elected public lands commissioner Hilary Franz after her decision to ban open net pen aquaculture in state-controlled waters.
Last week the Northwest Aquaculture Alliance (NWAA) called for a third-party review of Franz's November 14 announcement that she was refusing to renew leases for two Cooke Aquaculture steelhead trout farms in Puget Sound. The NWAA said the move, which gave Cooke just a month to clear its sites, "was not a decision based on science".
Last Friday, four days after the Cooke announcement, Franz held a press conference on Bainbridge Island – where one of the Cooke farms is sited – to announce that she had signed an executive order prohibiting commercial finfish net pen aquaculture on state-owned aquatic lands managed by her agency, the Washington State Department of Natural Resources (DNR).
Request for cash
On the same day, Franz used her decision to pitch for donations to fund her political work.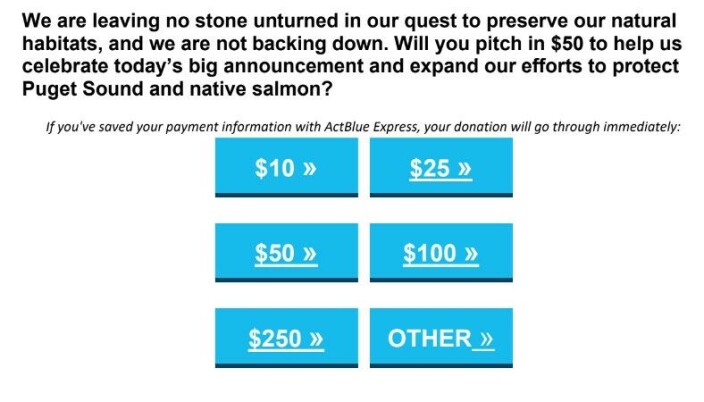 Referring to an incident in 2017 when a cage assembly collapsed at an Atlantic salmon farm that Cooke had recently bought from another company, Franz stated: "Earlier this week, I ended all remaining leases with Cooke Aquaculture, the company responsible for spilling 300 thousand non-native salmon into our waters.
"Today, I am happy to take our efforts even further. Today, I am officially ending all net-pen fish farming on public waters, marking an enormous victory in our efforts to save our salmon and restore their natural habitat.
"We are leaving no stone unturned in our quest to preserve our natural habitats, and we are not backing down. Will you pitch in $50 to help us celebrate today's big announcement and expand our efforts to protect Puget Sound and native salmon?"
In a full-page advertisement taken in Sunday's edition of The Seattle Times, anti-fish farming group Wild Fish Conservancy (WFC) declared "We did it!" and thanked Franz for her actions.
A devastating decision
Yesterday, the NWAA criticised the timing and rationale of Franz's 'no more fish farms' announcement, which will lead to job losses.
"Our hearts go out to the 34 employees of Cooke Aquaculture Pacific, many who are second-generation fish farmers, and many who have worked as fish farmers in this state for well over three -and as many as five - decades. We are heartbroken for their families and their communities as well. This devastating decision will have a ripple effect that will extend far beyond the company," said the NWAA.
"The unfortunate timing of this announcement, at the beginning of the holiday season - with an impossible December 14 deadline to remove equipment and slaughter 332,000 juvenile fish, representing 2,656,000 meals - shows both a lack of humanity and an alarming lapse of leadership.
"This is no way to run a public agency, and our coalition has four words for Commissioner Franz: You got it wrong.
"This sudden decision to terminate leases without any scientific or legal basis, of a company that spent five years working with the State of Washington to meet its rigorous new net pen guidelines, should concern every business that leases public lands here in Washington."
Minimal impact
The NWAA said a vast body of scientific studies that show minimal impact of today's aquaculture practices on other species and the environment.
It also pointed out that of 2.6 million acres of public aquatic lands in Washington, the four available leases (two other Cooke sites have already been shut by Franz) total 112 acres, with just 11 acres used for net pens.
And it said that Franz's DNR had ignored its sister agencies, such as the Department of Ecology and the Washington Department of Fish and Wildlife, who worked closely with Cooke as the company sought to comply with the state's new rigorous net pen guidance.
"In the next several days, we will deliver a letter to Commissioner Franz, asking some tough questions about the science that DNR used to make its decision," said the NWAA. "Was this science from the nation's leading science agency, NOAA (National Oceanographic and Atmospheric Administration), or did it come from groups such as the WFC, an ENGO with a track record of suing state agencies, the federal government, hatcheries, and private enterprise to line its coffers?
"It is our hope that the seafood-consuming public will take the time to learn more about responsible, sustainable aquaculture as it is practiced today by companies such as our valued member, Cooke Aquaculture Pacific, and join us in seeking answers to how this unfortunate decision was made."
Read the NWAA's full statement here.
Franz's five-year campaign to evict Cooke Aquaculture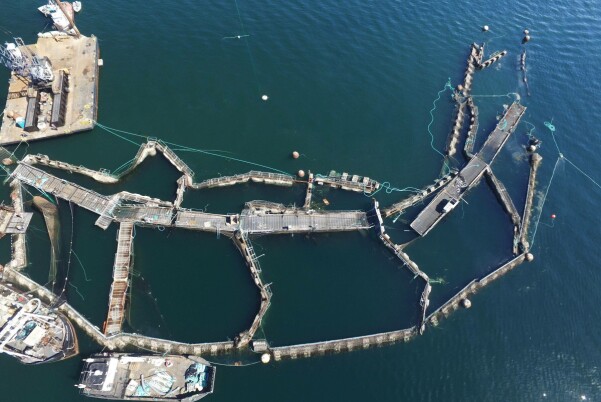 Cooke's problems in Washington state began in 2017, less than a year after it moved into the area by buying the assets of another fish farmer.
In August 2017, a pen assembly at Cooke's Cypress Island farm collapsed (pictured), releasing around 305,000 Atlantic salmon. Cooke, which had previously applied for permission to replace the ageing pen structure, recaptured more than half the escapees.
Washington's authorities revoked permission for the farm to operate and the Department of Natural Resources (DNR), headed by elected public lands commissioner Hilary Franz, also revoked the lease for another farm at Port Angeles after an inspection found it was outside its mooring boundaries. Cooke is pursuing a legal challenge against that decision.
In 2018, Washington law makers outlawed the net pen farming of non-native fish, which in effect meant the Atlantic salmon produced by the state's only net pen farmer, Cooke.
Steelhead trout
Cooke successfully applied for permission to switch to farming sterile, all-female steelhead trout – a native of the Pacific Northwest – at its two remaining farms, but Franz has now refused to renew leases for these farms.
Franz issued an executive order last Friday banning net pen farming in state waters. The order refers to a document produced by an interagency team, along with tribal and university experts, that "identified risks to the natural environment from commercial finfish net pen aquaculture, including degradation of the benthic environment, biofouling, and ecological impacts to the broader habitat".
The order said the document noted that "not all risk can be eliminated, even if every best practice outlined in this document is followed".
The National Fisheries Institute, National Aquaculture Association, Global Seafood Alliance, Best Aquaculture Practices, California Aquaculture Association, and the US Trout Farmers Association have joined the NWAA in calling for a third-party review of Franz's order.
A native American tribe hoping to grow steelhead trout and sablefish in Puget Sound has also condemned the commissioner's decision.
The Jamestown S'Klallam Tribe, which had planned to farm fish in Port Angeles in collaboration with Cooke, said Franz's move was "an irresponsible denial of what science has proven: marine net pen aquaculture is safe for the environment and the most sustainable, climate friendly way to feed the world".