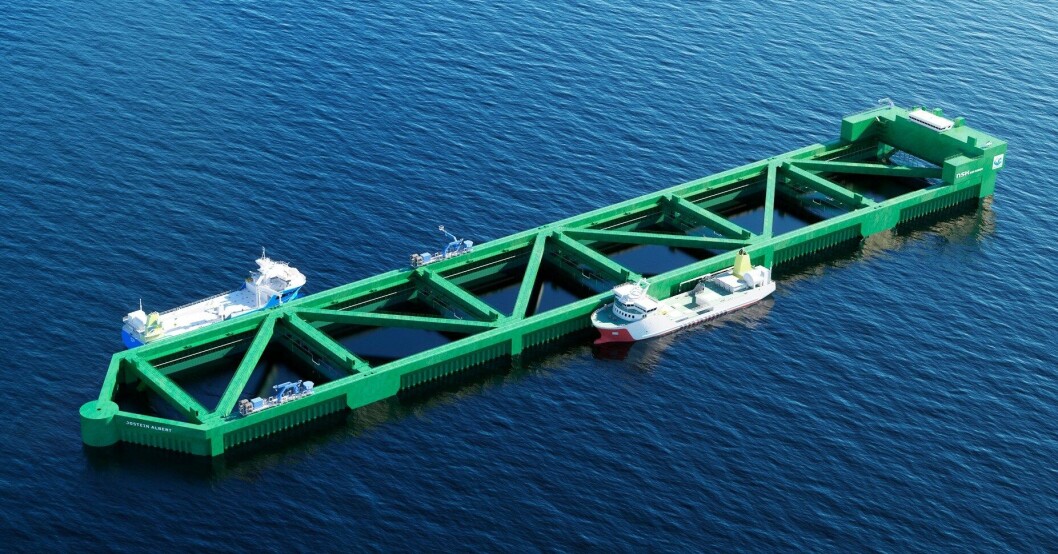 Rail-crane order keeps Havfarm on track
The construction of the Norwegian Havfarm concept has taken another step forward with the announcement that engineering company Techano AS will design and build specialised equipment for the project.
The Havfarm, which will be owned and operated by Norwegian salmon farmer Nordlaks, will be able to hold 10,000 tonnes of fish and is designed for exposed sites that previously couldn't be exploited.
In February it was announced that the Havfarm, designed by NSK Ship Design, would be built at the CIMC Raffles yard in Yantai, Shandong Province, China, with the aim of having it ready for the first stocking of salmon during spring 2020.
And today Øystein Bondevik, commercial director at Techano, which is part of the Dutch Van Aalst Group, said the company had secured an order from CIMC Raffles for two advanced Rail Mounted Service Units (RMSU) and an offshore crane.
The 385-metre long and 59.5-metre wide Havfarm will be permanently moored in a position southwest of Hadseløya in Nordland, Norway, an area that has up until now been impossible to utilise for aquaculture.
In a press release, Techano, based at Kristiansand, Norway, said the RMSU is a bespoke design for the Havfarm, enabling the farm operators take care of aquaculture equipment and fish in a safe and efficient manner.
One RMSU will be mounted on rails on each side of the Havfarm. Due to the 25-metre outreach of the cranes on the RMSU, the full width of the six fish pens can be reached.
A 'man basket' can also allow operators to reach all parts of the pens, measuring 50 by 50 metres on the surface. The RMSU also allows for remotely operated vehicle (ROV) support and control.
The Havfarm is designed to protect fish from potentially dangerous physical stresses, while also taking care of the need for water replacement in quiet conditions.
By using a turret mooring concept taken from the offshore industry, the Havfarm can rotate around its own axis to lie at anchor. The hull protects fish from water surges when they are in the upper part of the water column, in addition to protecting against lice.
Construction work has already begun in China, and steel cutting will begin in the autumn.