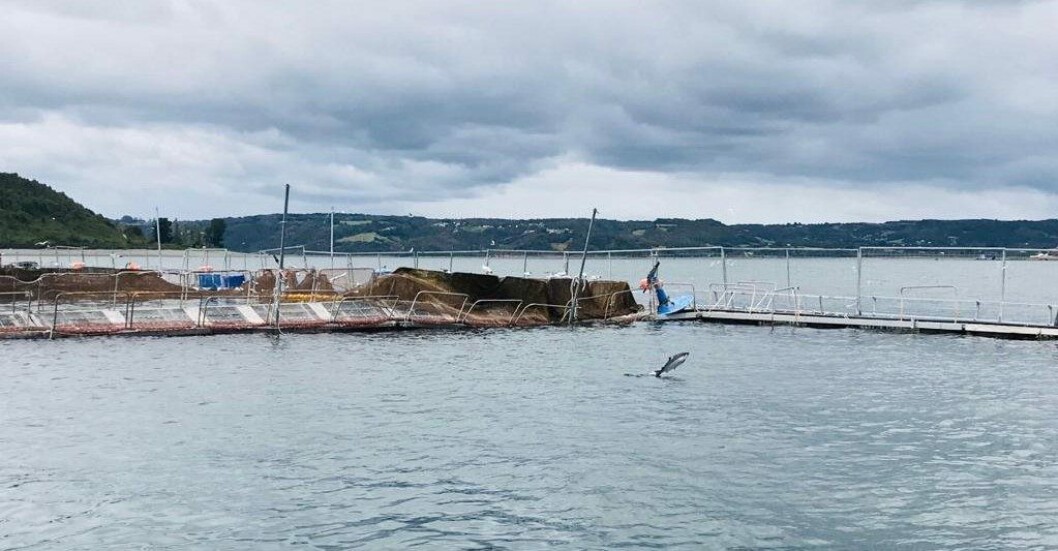 Chile: Salmon farmer admits escape of nearly 27,000 fish
The Chilean salmon Ventisqueros has confirmed the escape of nearly 27,000 salmon from a site in Tubildad in the Quemchi district of Chiloe.
But it has denied accusations that there was a second escape at a holding centre in Chincui Bay in Puerto Montt.
"These are two totally different situations," said the salmon farmer in a press release.
"In Tubildad, a tidal event and currents occurred that were completely exceptional and impossible to foresee, which is supported by videos, which caused damage to structures and cages. On the other hand, in the Chincui collection centre there was no event that allowed us to infer the existence of net breakage or damage in the cages. In this case the alert was given by the unusual presence of fish in Chincui Bay."
Contingency plans
The events have led to a complaint from the National Fisheries and Aquaculture Service (Sernapesca) before the Superintendency of the Environment and in court.
Ventisqueros claimed that it both cases it activated contingency plans, including the recovery of fish, and initiated a permanent contact with sector authorities to keep them informed of the situation.
"In both cases it was immediately arranged to carry out diving actions and inspections through underwater robots that, when reviewing the state of the structures, cages and nets, allowed us to determine or rule out a possible fish leakage from both centres," said the company.
2.7% of stock
At the time of the Tubildad escape the farm had fish in only five of its 20 cages, said Ventisqueros. By comparing the number of fish in the cages with those that had been harvested the company concluded that 26,830 fish – 2.7% of the stocking of the farm and 0.09% of the annual stocking of the company - had escaped.
"It is, as stated by Sernapesca, a minor escape involving fish in the process of harvesting and free of antibiotics," the company said.
In the case of the collection centre of Chincui, however, according to Ventisqueros, "no damages were observed in nets or structures and with the statistics of the units processed in the process plant, no differences were detected between the stock of fish prior to the time of the notice and the final number of units processed. Thus, we rule out that there has been fish escape in said centre".
Deep regret
Ventisqueros said it reiterated its willingness to work together with the authorities, and that it deeply regretted the Tubildad escape.
"We know that we are permanently exposed to the ravages of nature and we have contingency plans established for it, which were also activated immediately in this case. However, we will continue to reinforce our operations and controls, in order to prevent the future occurrence of accidents and their eventual impact on the environment," said the company.