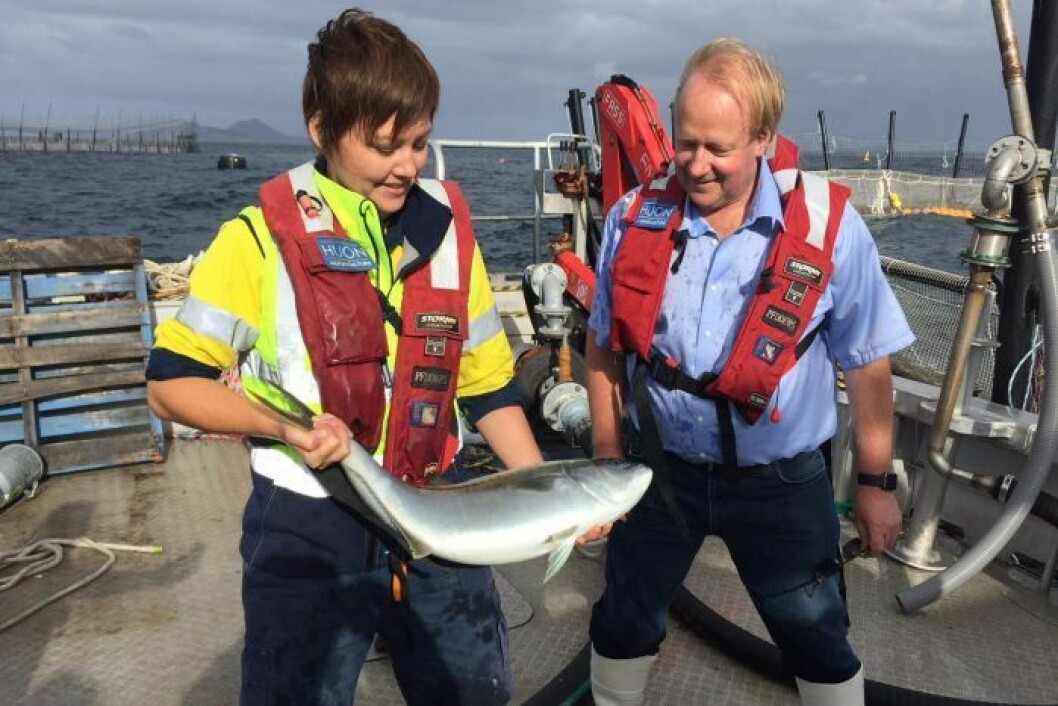 Blame for kingfish escape is stuck on barnacles
Barnacles and poor maintenance have been blamed for the escape of 20,000 yellowtail kingfish from an experimental farm in eastern Australia during a storm in January.
Peter Bender, boss of Tasmanian salmon farmer Huon Aquaculture, which is behind the project, said a six-metre swell and some individual waves up to 11 metres were monitored in the storm but the company's sea pens were built to withstand worse.
"In Tasmania, we have different sorts of fouling on the nets, what we found up here, we got a lot of barnacles as well as mussels on the nets and particularly on the predator nets and that weighed it down a lot," he told ABC News.
The unexpected barnacle growth was an introduced species which most likely came from ballast water in ships using Newcastle harbour, he said.
"The barnacles were cutting through the ropes that held the net in place particularly in that rough weather, it's one of those things, we learn as we go along and that's why we're doing a trial here. We only wanted to have a few pens up here, we only had three pens of fish and we've learned a lot from that, so now it's a matter of getting some equipment that'll take that fouling off the nets."
Five-year trial
Huon is conducting a five-year kingfish trial at Port Stephens in New South Wales with the NSW Department of Primary Industries.
Bender said the company recovered more than 5,000 fish and the remaining survivors provided a bonanza for local anglers and commercial fishers.
"I don't think there'd be too many issues, the kingfish were native to here, the brood stock we're using are from this area so they're a native fish, it's not like we've let go an exotic species of fish or anything," he said.
"So, these fish are readily available in this area, we tend to find that fish that have been fed on pellets don't really forage much for other sorts of live fish, so I think we'd find most of the fish would probably have been caught anyway."
The executive director of NSW DPI Fisheries, Dr Geoff Allan, said he was confident that new net cleaning equipment bought by Huon would greatly improve the integrity of the sea pens in rough weather.
Adjusted strategy
"This is what a trial is for, to try and find the weaknesses in the project and when you find the weaknesses to readjust in our case the strategy for the long-term future to make sure it doesn't happen again," Allan said.
"So, it's very unfortunate the fish escaped, certainly for Huon, who no longer have those fish to sell but we have learned from that lesson and have adjusted the strategy going forward."
Bender told ABC his company was keen to diversify into a white flesh species to complement its Tasmanian salmon production and he was confident it could develop a sustainable, environmentally-sound kingfish industry in NSW.
"The problem with wild-caught fish is it can be there some days and then not others, whereas this can be a reliable, good-quality white flesh fish that's very versatile from sashimi to various ways of cooking it you know, like we've done with salmon.
"People weren't used to eating salmon when we first started, the first year we produced salmon the whole industry only grew 50 tonnes and struggled to sell it. But now the whole industry grows about 60,000 tonnes and we can't grow it quick enough now, the demand is increasing every year, and we see the same sort of thing happening with kingfish once it's more available."