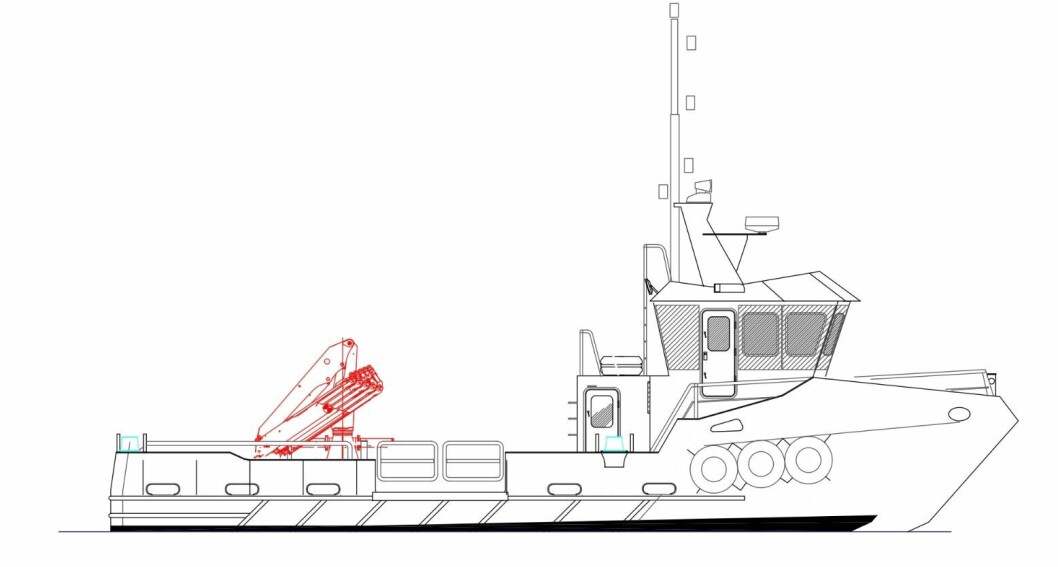 Highlands-built boat takes shape for Scottish Sea Farms
A Scottish-built workboat ordered to service a new salmon farm off the small island of Hunda, Orkney is expected to be delivered to Scottish Sea Farms at the end of July.
The £705,000 vessel is being constructed by Northwind Engineering in Kishorn in the Highlands and was designed by Argyll Maritime Design Services, which also designed another SSF workboat, the Gairsay Sound.
SSF is investing £3.2 million in the Hunda farm, which will have 12 x 100m pens and has consent for 1,677 tonnes of biomass.
Covid delays
The farm was originally scheduled to open in late spring, but Covid-19 restrictions have delayed work on infrastructure. It is now expected to open in late October or November.
Work on the new boat for the site began in October 2019, but that too has been delayed by two months because of Covid-19.
Workboat fact sheet
Power: Two Doosan MD136Ti diesel engines developing 230 bhp at 2200 rpm
Generator: 15 kva
Crane: HS Marine AK30HE4 hydraulic crane with a lifting capacity of 3855kg @ 5.33m and 1180 kg @13.38m
Capstans: Two North Sea Winches 5 tonne capstans with pedal controls
Anchoring: One three-tonne anchor capstan, anchors and chain to comply with new workboat code
Net cleaning: One hydraulic driven power washer
Fuel capacity: Approx. 6000 litres
Wheelhouse: Console, skipper's chair, bench seating and table
Crew area: Bench seating, kitchen facilities, two bunks and toilet
Steering: Wills Ridley
Engine controls: Kobelt
Lighting: All internal and external lighting will be LED
The vessel is 17 metres x 7m and will be equipped with a crane, two 5-tonne capstans, a 3-tonne anchor capstan and a hydraulic-driven power washer.
Name suggestions
No name has yet been chosen for the workboat, and SSF has asked the Orkney community to use their local knowledge and creativity to suggest a suitable moniker.
Those with a suggestion should simply post it in the comments/replies section of SSF's posts on Twitter, Facebook, Instagram or LinkedIn.
SSF's Orkney region tradition is that smaller vessels are named after Orkney folklore such as the Cubbie Roo, Mither o' the Sea and Stoor Worm, whereas larger vessels such as the new workboat are given names inspired by the Orkney geography – for example, the Eday Sound, Gairsay Sound, Warness Lass and the Sandoyne Lass.
Guest of honour
The winning name will be chosen next Monday, June 29, by SSF Orkney region production manager Richard Darbyshire, Hunda farm manager Martin Mladenov, and Orkney engineering manager Myles Heward.
The winner will be announced via The Orcadian on Thursday, July 2 and will be invited to break the sacrificial bottle over the bow of the new workboat as the guest of honour at the official naming ceremony at St Margaret's Hope.
They will also be invited to visit the new Hunda farm once it is open, and will receive a £100 Kirkwall BID gift card to spend with any Orkney business or venue registered with the scheme.