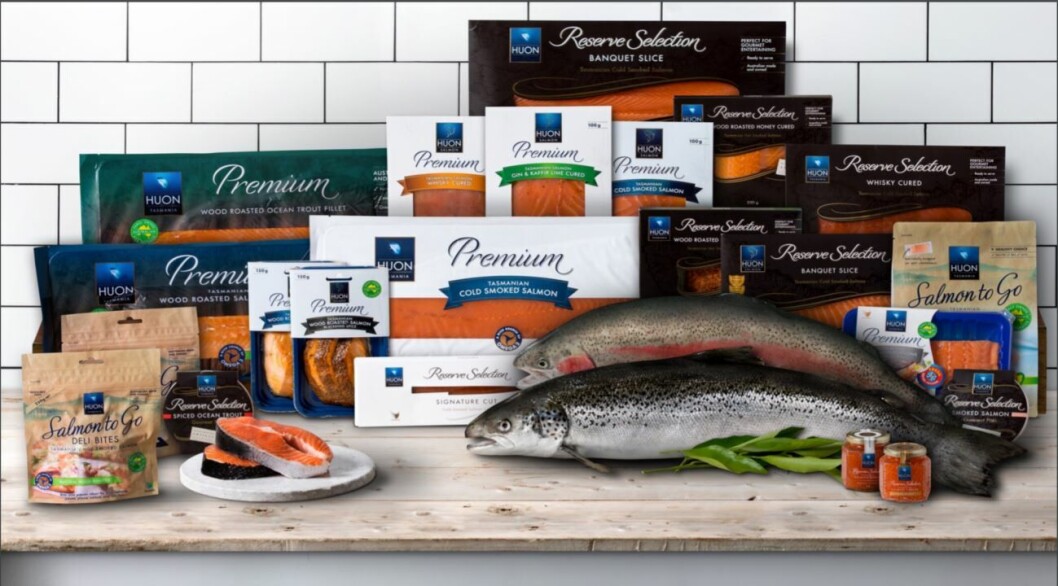 Huon reports big jumps in volume and revenue
Tasmanian salmon farmer Huon Aquaculture Group Ltd increased revenues by 28% to AU$170.5 million (£95.7m) in the second half of 2017, compared to the same period in 2016.
The increase was attributed to a 35% increase in harvest volumes and a continued strength in domestic salmon prices. Good growing conditions delivered a record average fish weight of 5.29kg - 9% bigger than fish harvested in the second half of 2016 - due to improved fish diets and an initiative to increase the size of smolts put to sea.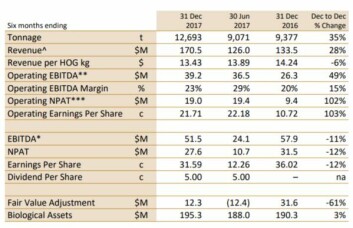 Huon said the increased harvest volumes came despite unseasonably warm weather in November that put unplanned pressure on operational resources with changes to bathing and net cleaning schedules. This had affected biological outcomes and increased fish losses.
Strong demand from Asia
Operating profit for the period was AU$39.2m, an increase of 49% on the corresponding period in 2016.
Overall 29% of production volumes - 3,710 tonnes - were exported, reflecting strong demand for the Huon brand in Asia. The company said there was a strong focus on sales to established and contracted customers which accounted for 17% of total export volumes. In the second half new supply agreements will commence which are expected to push contracted export sales above 65%. Full-year volumes for 2018 are expected to be close to 24,000 tonnes.
"The development of a sustainable, long term client base in Asia is dependent on strong relationships that have been carefully nurtured over time. These relationships open doors to opportunities that would not otherwise be available.
"As we expand the business I am confident that the agreements we are putting in place across Asia to lock in sales at premium price levels, will remove much of the uncertainty and volatility that is currently associated with our sales into export markets," said Huon managing director and chief executive, Peter Bender.
Warm weather causing problems
Huon reported that the warm weather during November had continued through the summer months, resulting in an increase in amoebic gill disease (AGD) which resulted in increased freshwater bathing operations and associated mortalities. It said the warm weather also brought disease challenges and all of this has led to lower than expected fish performance, resulting in reduced volume availability.
The company said this further highlighted the need for increased well boat capacity, which will be provided by the Ronja Storm, and to continue focus on improved biosecurity practices across the whole salmon industry.
Huon said Macquarie Harbour continues to be an important region for it to grow both salmon and ocean trout, but it remained concerned about ongoing and cumulative impacts of overstocking of the region in recent years and anticipated that a prolonged period of remediation and recovery will be required.
Lost yellowtails worth AU$1m
"Huon's production from Macquarie Harbour continues to account for approximately 10% of our annual harvest," said Bender. "We will be reducing overall production levels in the region during 2018 and expect that total production volumes will continue to decrease in the Harbour until the area stabilises and returns to more normal environmental conditions."
The company reported that yellowtail kingfish lost during storms from one of three so-called "fortress pens" at a trial farm off eastern Australia in January were worth AU$1m. It said the cause of the loss was not due to the design or integrity of the pens but operational shortcomings which have since been addressed. The loss has delayed plans for the first harvest until late March but otherwise the trial is continuing as planned.