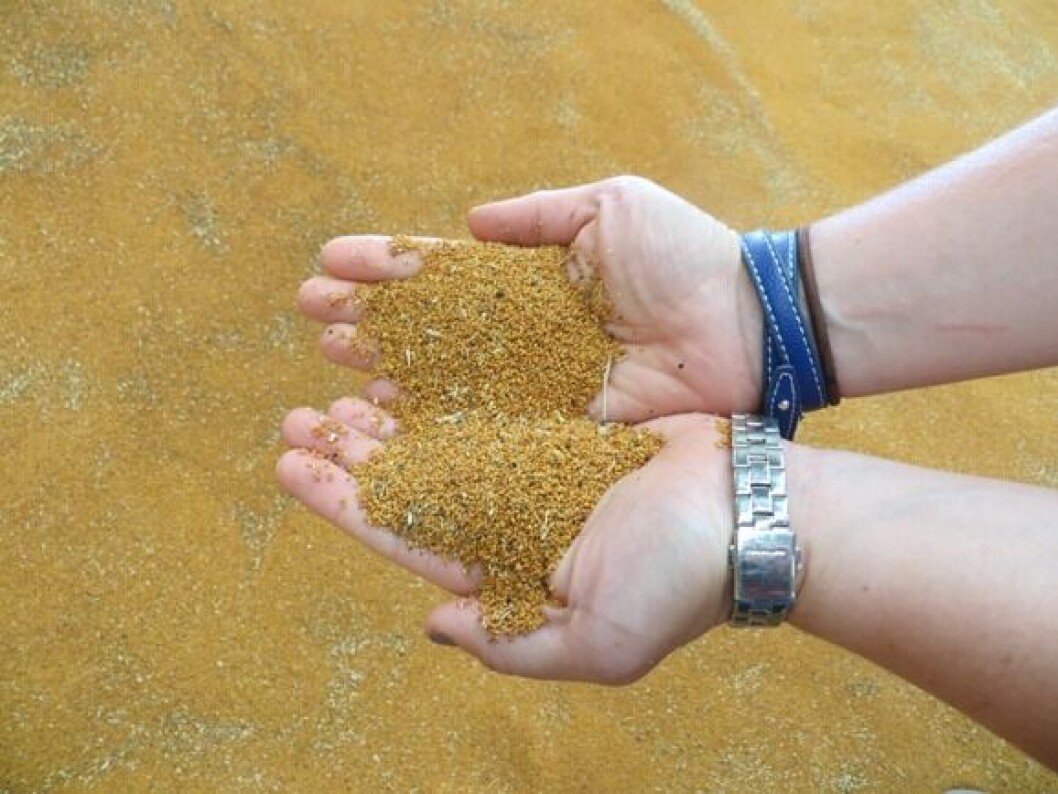 Camelina oil approved in Canada for fish feed
Camelina oil has been approved by the Canadian Food Inspection Agency (CFIA) as safe to use in feed for salmon and trout.
Camelina oil, also known as false flax, is consumed by humans and is high in omega- 3, protein and antioxidants. The study conducted by Genome Atlantic, Atlantic Canada Opportunities Agency's Atlantic Innovation Fund, found that camelina has the correct fatty acid composition that farmed fish require.
The CFIA approval does not include camelina meal. "Camelina meal can't entirely replace fish meal used in fish feeds, but it could replace some of that meal," said Dr Claude Caldwell, the project's lead researcher who is based at Dalhousie University in Halifax, Nova Scotia.
Optimal growth
"Among the oils that can be used to replace fish oil in aquafeeds, camelina is one of the few with high levels of omega-3 fatty acids. While these omega-3 fatty acids are different to those present in fish oils, they enhance the ability of fish to synthesise the healthful long-chain omega-3 fatty acids that are needed for their optimal growth.
"This, in turn, ensures a healthful fillet for human consumers," said Dr Chris Parrish, an aquaculture scientist at Memorial University of Newfoundland.
Salmon producers spend up to 70% of their budgets on fish feed. "The use of wild-sourced fish to feed the farmed fish is not sustainable either ecologically or economically. Camelina could be a viable alternative," said Caldwell. Camelina oil is high-quality, can be purchased at a lower price, which will provide cost savings and produce a high-quality fish.
Rotation crop
Camelina is grown in North America at a low cost and there's an opportunity to grow more. "There are about 200,000 acres of potatoes planted in this region. Camelina could be a successful rotation crop that could open new markets for farmers while making the aquaculture industry healthier and more sustainable," said Caldwell.
"Investments in industry-led R&D in Atlantic Canada lead to tangible benefits. In this instance, the generous support of ACOA and other collaborators on the Camelina Project has led to opening up a potential new market for our regional farmers and a sustainable alternative feed ingredient for our aquaculture producers," said Steve Armstrong, president and chief executive of Genome Atlantic.
The Camelina Project has received support from the Research and Development Corporation of Newfoundland and Labrador (RDC), the provinces of Nova Scotia and New Brunswick, the University of Saskatchewan, Memorial University, Dalhousie University, Agriculture and Agri-Food Canada, Minas Seeds, Cooke Aquaculture, and Genome Prairie.