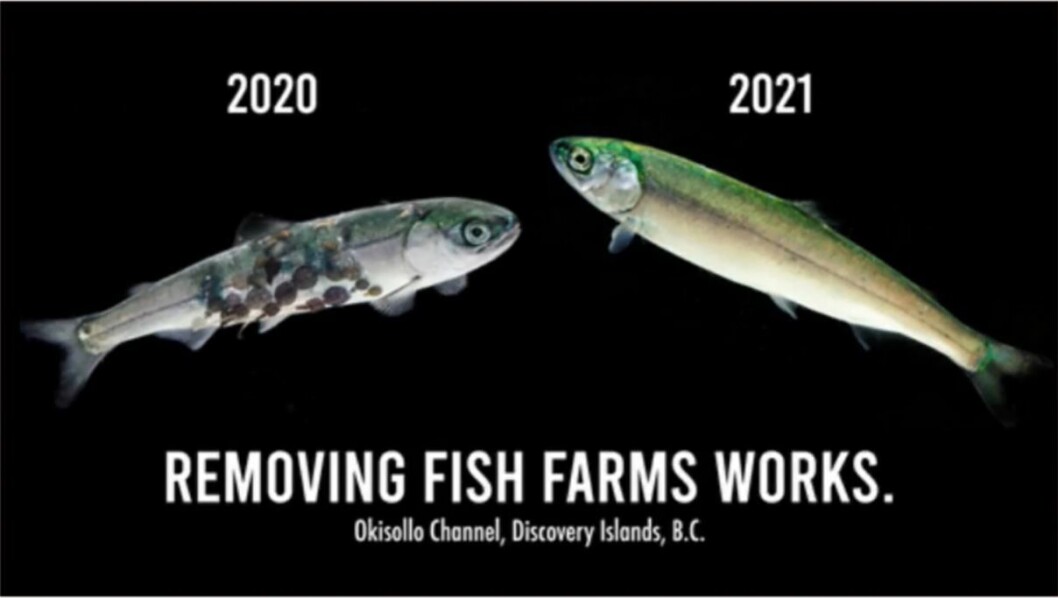 The 'before-and-after' lice miracle that never happened
A lice-covered salmon smolt used in a social media campaign to demonstrate the apparent beneficial effect of closing 19 salmon farms in the Discovery Islands in British Columbia, Canada was actually photographed many miles from the area, it has been revealed.
The heavily infested wild smolt was used in a social media graphic first posted by anti-salmon farming campaigner Alexandra Morton. The graphic has a headline that states "Removing fish farms works". Underneath that is smaller text specifically stating: "Juvenile Wild Salmon, Okisollo Channel, Discovery Islands, B.C."
It shows the lice infested smolt under the figure "2020", and a lice-free smolt under the figure "2021".
The implication is that wild smolts in the Discovery Islands were infested with sea lice when farms were operating in 2020, but not since most of the farms have been closed.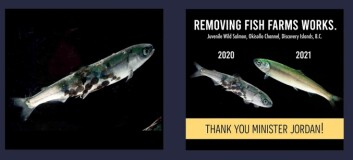 Same fish, different location
However, examination by the BC Salmon Farmers' Association (BCSFA) shows that the infested fish in the social media post is not from the Okisollo Channel, between Vancouver Island's east coast and the mainland, but from Nootka Sound, on Vancouver Island's west coast.
An almost identical image, taken by filmmaker Tavish Campbell, who opposes net pen salmon farming, has been widely used by anti-salmon farming activists and the press, including to illustrate an opinion piece by Morton in the online edition of Canada's Globe and Mail newspaper.
The alleged misleading use of the image in the "Removing fish farms works" campaign is the subject of a video made by Brian Kingzett, science and policy director of the BC Salmon Farmers' Association.
Media appearances
In the video, Kingzett says a photo of the fish was used in The Narwhal magazine on September 10, 2020, when it was labelled as a pink salmon from Nootka Sound.
On December 29, it appears on the website of the Vancouver Unitarians labelled as a chum salmon from Nootka Sound.
It appears again on April 2 this year, in the Globe and Mail, labelled as a chum salmon from Gold River, Nootka Sound.
Extremely rare
"Let's be clear, the smolt looks awful: it is heavily parasitised, and the implication is that all the smolts passing salmon farms look like this," says Kingzett in the video. "But this is not supported by anyone's actual data. The majority of smolts sampled in wild fish monitoring programmes have no parasitic lice on them and when they do, finding more than two lice is highly unusual. For example, in the multi-stakeholder Broughton Archipelago monitoring programme, the odds of finding more than two adult sea lice on a smolt was one in 800 from more than 82,000 fish sampled over a decade."
Kingzett continues: "It is extremely rare to find chum smolts with seven or more lice in any location. As we analyse the photo, we see approximately 18 or more sea lice and series of distinct spots and marks in all the same places. Fast forward to May 2021 and a new image using the same fish photo emerges and starts being distributed on social media by a wide range of salmon farming activists, in particular on Instagram. The core message is that removing salmon farms works, showing a 2020 versus 2021 comparison with the location changed from Nootka Sound to Okisollo Channel, Discovery Island, BC."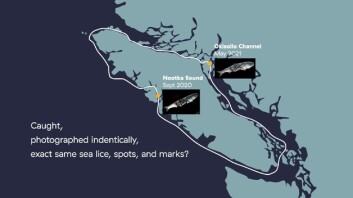 He adds: "The smolt represented in Nootka has the exact same sea lice count in exactly the same locations and the same spots and marks as the smolt represented in the Discovery Islands. With near certainty, this is the same fish taken moments apart, but has been re-labelled and re-used to suggest that it appears in a different location.
"This smolt would have had to swim around the entire northern or southern tip of Vancouver Island, then be caught, photographed identically, then have the exact same sea lice, spots and marks. It's frankly impossible.
Lasting consequences
"This type of imagery manipulation is concerning to our sector. It takes a few moments to re-label and re-submit or edit an image and post it on social media or submit to a publication suggesting this is the norm, but the consequences for our coastal communities are lasting. It needs to stop.
"It's time to inform the important dialogue around salmon farming with facts and stop resorting to fearmongering and misinformation."
Fish Farming Expert has contacted Morton for comment but has not yet received a reply.