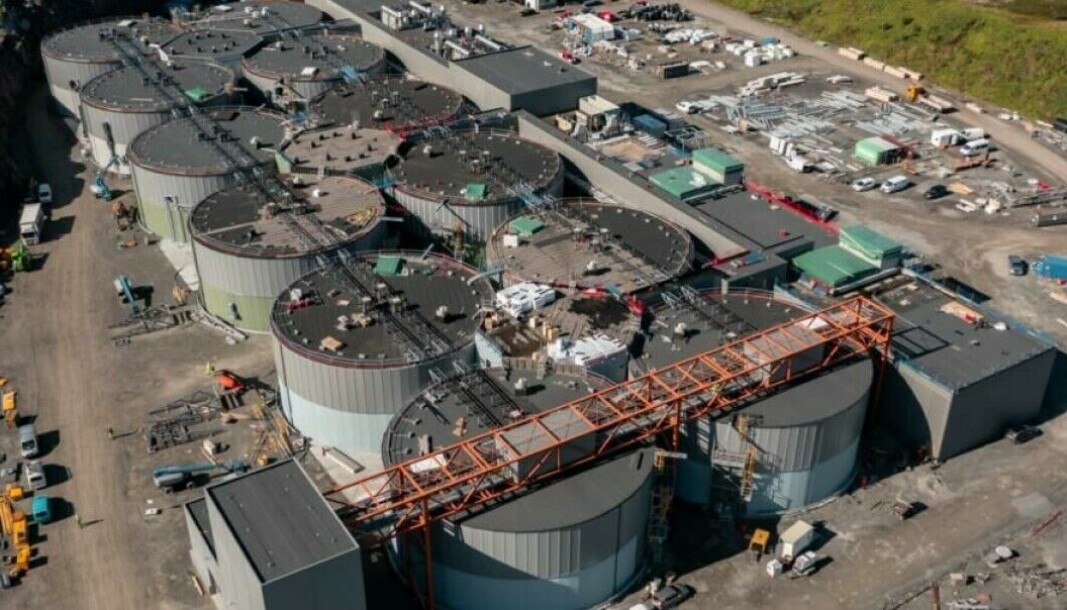 Salmon Evolution fish 'still exceeding expectations'
On-land farmer's first batch now at 4.7 kg, and second batch is better
The first batch of fish being grown by Norwegian on-land salmon farmer Salmon Evolution now have an average weight of 4.7 kg, the company said in its third-quarter report today.
Salmon Evolution's first batch was stocked at an average weight of 300 grams at the end of March and numbered around 98,000 fish with an average weight of 3.3 kg at the end of September. Thirty thousand of those fish have so far been harvested this month. The company expects an average head-on gutted weight of 4 kg for batch 1 once the harvest has been completed.
A second batch of 230,000 smolts stocked at an average weight of 125 g on July 13 if performing even better, the company said.
Excellent performance
"Batch 2 is continuing to demonstrate excellent biological performance with growth rates exceeding what seen for batch 1, clearly demonstrating the upside potential in our operation as we obtain more and more knowledge about how to best operate the system," said Salmon Evolution.
"As per 30 September batch 2 had an average weight of 710 grams and as of 15 November the fish had already reached 1.2 kg, continuing to exceed our expectations."
A third batch of around 200,000 smolts with an average wright of 220 g was stocked in late October, and a further 280,000 smolts will be stocked next month. For 2023 and onwards Salmon Evolution plans to stock around 280,000 smolts every second month, establishing steady state production.
Salmon Evolution plans to eventually produce 31,500 gutted weight tonnes at its facility on Indre Harøy (Harøy Island) in western Norway, which is being built in three phases.
Phase 1 almost complete
All buildings and structural facilities have been completed for phase 1, which will have an annual production capacity of 7,900 gwt. Construction work during and post the third quarter has been centred around installation of equipment, piping, system integration and commissioning.
Rising costs mean that Salmon Evolution has adjusted its full phase 1 capital expenditure to NOK 1.560 – 1.590 billion (£131.7 - £134.2 million).
There are fish in four of the phase 1 facility's 12 tanks, with the next two tanks to be utilised shortly and the remaining six tanks to be put into operation over the coming months.
Phase 2 will also have a production capacity of 7,900 gwt and phase 3 will have a capacity of 15,700 gwt.
"The preparatory activities for phase 2 have continued throughout the quarter with focus on implementing learning effects from phase 1, identifying savings and scaling effects from phase 1, defining a cooperation model designed at further optimising the project management and developing a cost budget for phase 2," stated Salmon Evolution.
Korea and North America
The company is aiming to produce 100,000 gwt tonnes a year by 2030 by expanding into South Korea in a joint venture with Dongwon Industries, called K Smart, and North America. It said today that it was continuing work related to regulatory approvals in Korea and is targeting key permits during the first quarter of next year.
K Smart plans to start work on construction of a smolt facility in Korea in Q1 2023, followed by construction start of a grow-out facility by the middle of next year. Fully developed production capacity will be 16,800 gwt, consisting of two equal phases of 8,400 gwt.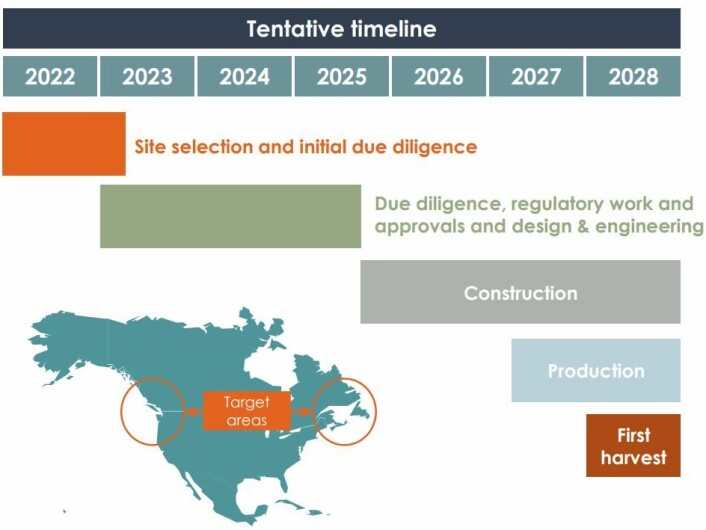 In North America, Salmon Evolution is focused on site selection processes including fatal flaw analyses of both biological, technical and regulatory aspects. The company, which wants to produce 31,500 gwt in Canada or the US, said it has initiated engagements with relevant private and public stakeholders.
"It is expected that the site verification and relevant regulatory approval processes will take around three years, allowing for construction start in 2025 or 2026," said the company.
Salmon Evolution's use a hybrid recirculation and sea water flow-through system means that its sites must be located on the coast and in areas where the water is not too warm or cold, so that it doesn't have to use energy heating or cooling water.