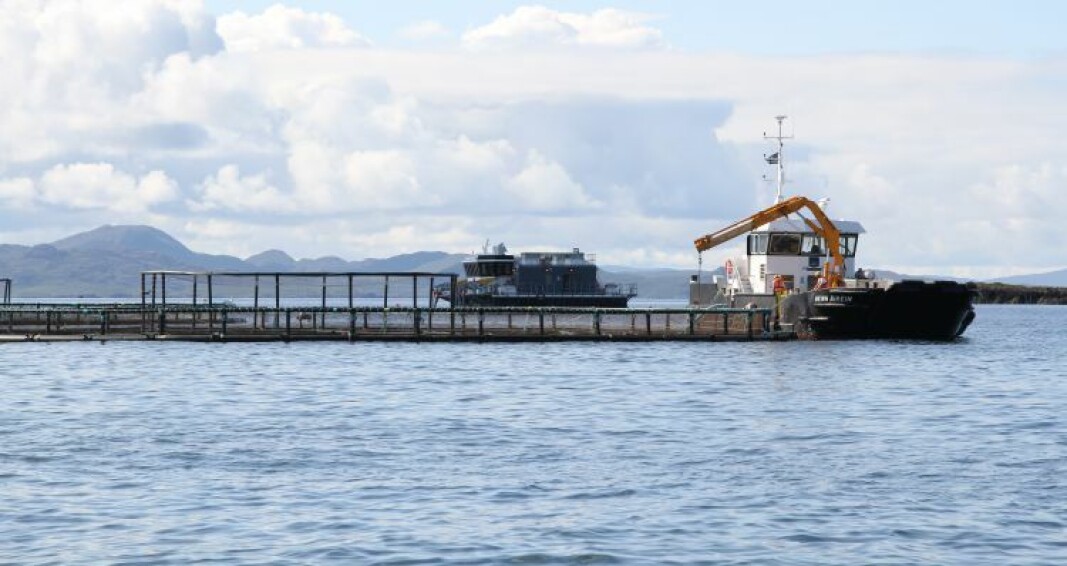 Mowi Scotland cuts harvest forecast by 10,000 tonnes
Guidance reduced to 50,000 gwt for 2022 due to losses caused by micro-jellyfish
Salmon farmer Mowi Scotland has reduced its harvest estimate for 2022 by 10,000 gutted weight tonnes to 50,000 gwt after micro-jellyfish blooms caused fish mortalities that cost the company €7.6 million (£6.6 m).
Those mortalities, together with the harvesting out of low-performing stocks from externally sourced eggs, reduced the company's operating profit to €4.2 m in the third quarter, down from €13.4 m in Q3 2021. Financial earnings before interest and tax (EBIT) were €-37.3 m (Q3 2021: €-6.3 m).
In its Q3 2022 report published today, Mowi said the micro-jellyfish (hydrozoan) blooms occurred around Skye and the Western Isles, causing elevated mortalities in some of its farms. As a response to the challenges several fish groups were relocated to other sites with good results.
Lower average weight
The fish that performed poorly had low growth and high mortality and were from eggs introduced in the absence of other options following the EU-imposed export ban on Norwegian eggs in 2019. These stocks were harvested out in the third quarter.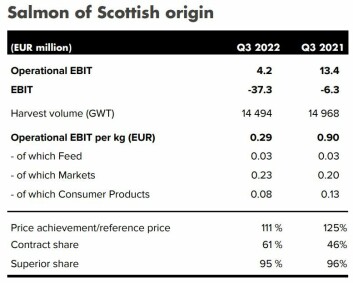 Harvest volume in Q3 was 14,494 gwt (14,968 gwt). Accelerated harvesting meant that the volume was similar to Q3 2021 despite fish having a 28% lower average weight.
"Our Scottish farming operations has experienced a troublesome year with regards to biology and the 2022 volume guidance has been reduced to 50,000 gwt. However, we expect a recovery in 2023 with a volume guidance of 65,000 gwt," wrote Mowi.
Same issues in Ireland
Micro-jellyfish blooms also affected Mowi Ireland, which made an operating loss of €2.6 m, compared to an operating profit of €4.1 m in the same quarter last year. The company had financial EBIT of €-10.8 m (€3.4 m).
Harvest volume was 2,165 gwt (2,215 gwt).
Biology was better in Mowi Faroes, where the company made an operating profit of €1.8 m on a harvest of 1,730 gwt. This compares to an operating profit of €2.5 m on a harvest of 2,899 gwt in Q3 2021. Volumes vary due to Mowi's small number of sites in the Faroes.
Mowi Canada made an operating loss of €3.9 m (€-0.1 m) on a harvest of 11,115 gwt (11,065 gwt). Operational EBIT for Canada West, which harvested 9,624 gwt, was €7.5 m (€5.6 m) but this was more than offset by high costs and low volumes in Canada East, which is dealing with the legacy of harvesting prompted by infectious salmon anaemia (ISA).
Canada East improving
Mowi said production, survival rates and feed conversion ratios improved from Q3 2021, and in Canada East ISA detections decreased and sea lice levels improved from prior years.
Volume guidance for Mowi Canada for 2022 is increased from 42,000 gwt to 43,000 gwt. For 2023 Mowi expects a harvest of 27,000 gwt partly explained by loss of licences in the Discovery Island area in 2020.
Mowi's most profitable operations were in Norway, where it made operational EBIT per kilo of €2.53 on a harvest of 87,415 gwt, and Chile, where operational EBIT per kilo was €1.27 on a harvest of 16,890 gwt.
For the company as a whole, Mowi reported record-high revenues of €1.257 billion in Q3 2022. Operational profit was €240 m, compared with €131 m in Q3 2021