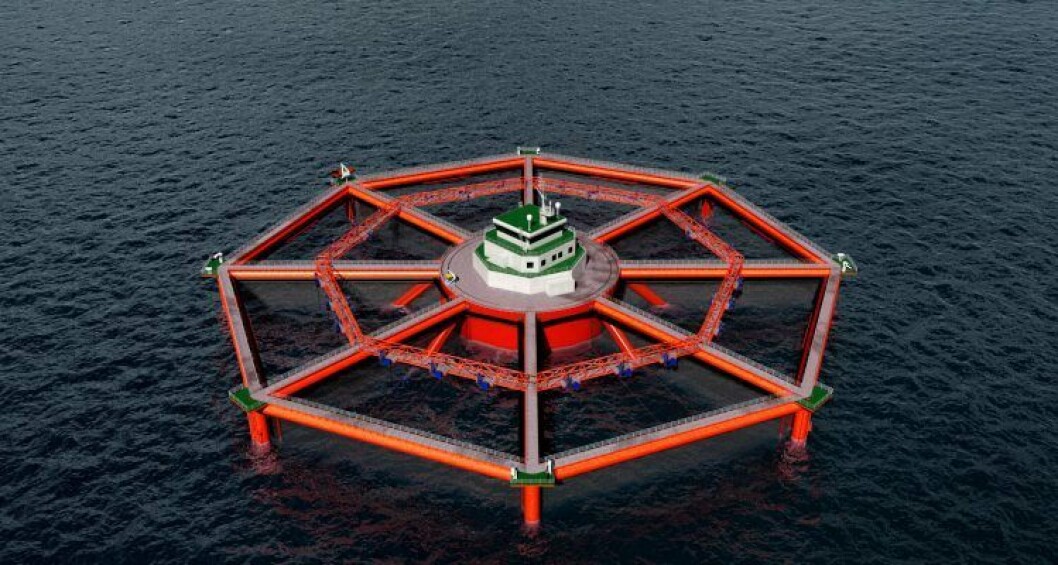 Food safety watchdog puts 9,000t biomass limit on first Smart Fish Farm crop
Offshore fish farmer Salmar Aker Ocean's Smart Fish Farm should be limited to a maximum biomass of 9,000 tonnes during its first production cycle at a proposed location 45 miles from the coast, the Norwegian Food Safety Authority (Mattilsynet) has ruled.
The planned megafarm, designed to hold 19,000 tonnes of salmon, was awarded eight development permits by Norway's Fisheries Directorate in 2019. That's the equivalent to just 6,240 tonnes but salmon farming giant SalMar, which is SalMar Aker Ocean's majority owner, will use some of its other production permits to lift that figure to 19,000 tonnes.
Fish's needs
Working with the Institute of Marine Research and the Veterinary Institute, Mattilsynet assessed that Salmar Aker Ocean's application and supplementary information met requirements for 19,000 tonnes but wants first-cycle production limited to 9,000 tonnes.
"This is because consideration of the fish's needs and biology is very important in the development of new technology for aquaculture. The applicant is responsible for documenting how the necessary considerations for fish health and fish welfare are taken care of throughout the entire production chain," Mattilsynet said in a press release.
"The promise of development permits leaves room for somewhat more uncertainty than the operation of ordinary permits when it comes to documentation of the suitability of solutions that affect fish health and fish welfare. The operation must nevertheless be within the framework for soundness set in the animal health and animal welfare regulations."
Outside territorial waters
Mattilsynet also pointed out that the proposed location of the fish farm in the Norwegian Sea was outside the country's territorial waters and therefore outside the scope of the EEA (European Economic Area) agreement which enables the extension of the European Union's single market to member states of the European Free Trade Association, including Norway.
"Establishment of facilities outside Norwegian territorial waters presents challenges for Norway's free status according to the EEA agreement's veterinary provisions for certain fish diseases. This will have a decisive impact on what status an offshore facility will have for Norway's exemption status for, among other things, the diseases VHS and IHN," wrote Mattilsynet.
It added that intra-departmental investigation work is under way to clarify questions related to regulations surrounding aquaculture at sea.