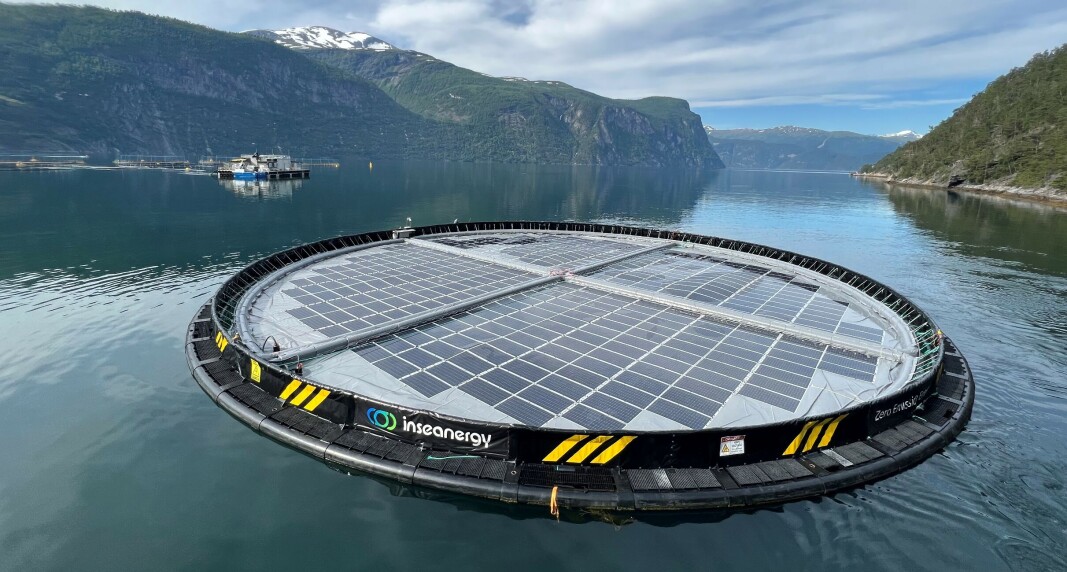 Floating solar power plant now on the market
System cuts diesel use and CO₂ emissions, and may allow fish farmers to produce hydrogen in the future, says manufacturer
A floating solar power plant created for salmon farms is now ready for commercial deliveries, its maker has said.
The 'SUB Solar' from Norwegian company Inseanergy has been designed to use redundant net pen float collars to support flexible solar panels.
Over the last two years Inseanergy has developed and built both a full-scale technology demonstrator and an upgraded pilot version of SUB Solar, both times in close collaboration with Norwegian salmon farmer Hofseth.
A good fit for Scotland?
Formed in May 2020, Inseanergy AS supplies energy systems based on renewable energy sources. It has many potential sales opportunities in Norway, where half of the country's 1,000-plus fish farms have no access to shore power, but also sees promise in Scotland, Chile, and Canada, where shore power is even scarcer.

The company says SUB Solar is particularly suitable for fish farmers who have already installed a hybrid system with batteries and a downsized diesel generator, something beginning to happen in Scotland - where electricity prices have rocketed - and Canada.
Pointing out that Norway is a trend-setter for those countries, Inseaenergy says: "Our planned transformation and international expansion will be pursued in cooperation with fish farmers who operate both in Norway and elsewhere."
Ålesund-based Inseanergy says that by installing such a system a fish farmer benefits from a significant reduction in diesel consumption and CO₂ emissions. Reuse of plastic pen collars also results in reduced plastic consumption. These advantages, together with reduced maintenance costs on diesel generators, provide major financial and environmental savings.
In November 2020, the first technology demonstrator was connected to one of Hofseth's sites in Storfjorden. After gaining important experience from full-scale testing in rough weather conditions over the next year, the development of an upgraded pilot began, again in close collaboration with Hofseth.
An extensive validation program has been carried out in which independent technology research organisation SINTEF and international accredited registrar and classification society DNV have contributed with, among other things, model testing and risk analyses. The upgraded version of SUB Solar will be certified by DNV.
Limited grid capacity
Hofseth's fish farm at Overåneset in Storfjord has been chosen as the site for the upgraded pilot installation. Hofseth has electrified all its locations, but due to capacity limitations in the power grid at Overåneset in Stranda municipality, there is occasionally a need to run the diesel generator on the feed barge. Here, the combination of electric power from SUB Solar and batteries will contribute to the use of the diesel generator being significantly reduced and occasionally eliminated. And when the farm is using shore power, energy from the solar cell plant will be fed to the grid.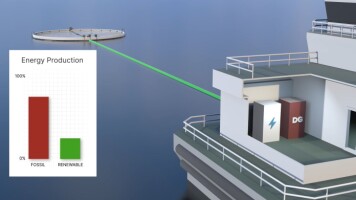 "We have the ambition to be a leader in sustainable food production," said Roger Hofseth, chief exceutive of the Hofseth Group. "For us at Hofseth, reuse and green energy are more than just party speeches. The collaboration with Inseanergy is a concrete example of this."
"The farming industry is facing a new and even more sustainable era and is open to adopting innovative solutions to reduce its environmental footprint," said Jan Erik Våge Klepp, chief executive of Inseanergy. "It is clear to us that Hofseth wants to be in the driver's seat when it comes to bringing forward solutions that ensure responsible operation in the aquaculture industry. Without a customer partner like Hofseth, the path to the goal of being able to offer a commercial product would have been considerably longer."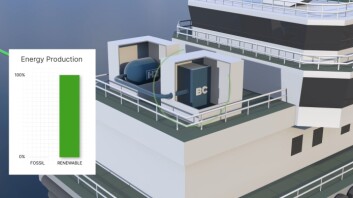 On-site hydrogen production
Supplementing power supplies with the SUB Solar is just the first stage in Inseanergy's ambition for fish farms. Stage 2 is to expand the system to utilise green hydrogen produced from local hubs, such as wind, hydro or solar power facilities, to supply a fish farm with wholly emission-free electricity year-round.
Stage 3 exploits to the full the potential offered by producing green hydrogen on site, using electricity from a floating solar power plant.
"This process also yields large volumes of oxygen and heat as by-products. We will therefore also look at the commercial opportunities offered by making the fish farm completely self-sufficient in oxygen, fresh water and heat," Inseanergy writes on its website.
Surplus hydrogen (possibly further processed into ammonia) will be saleable as fuel to wellboats plus service and processing vessels used for sustainable transport of live, harvested or processed fish, and to other units in related maritime sectors, adds the company.