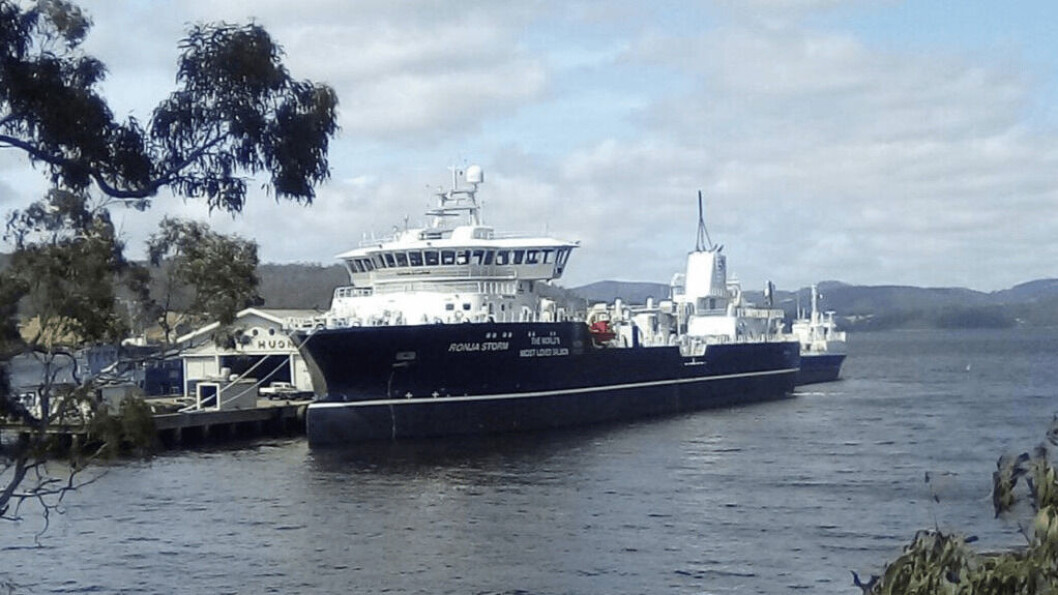 Huon for the record book: Storm sets bath benchmark
It already holds the record as the world's biggest wellboat, and now the Ronja Storm has claimed another first for the largest single wellboat bath treatment of salmon.
Tasmanian salmon farmer Huon Aquaculture, which leases the vessel from Norwegian wellboat provider Sølvtrans, this week bathed 729 tonnes of fish in the Ronja Storm in one go.
"Yesterday our new wellboat, the Ronja Storm, successfully bathed an entire 240m pen of salmon in one go, meeting all fish health and quality indicators," said Huon in a Facebook post.
'Pretty chuffed'
"We've been told the previous record was 680 tonnes so we're pretty chuffed to challenge this record!
"On just her third bathing cycle we are very excited about the improvements the Ronja Storm is already delivering to fish health and quality, management of the environment and staff safety practices."
The vessel arrived in Tasmania in the middle of last month, seven months behind schedule because of construction delays, and has commenced work after undergoing a biosecurity and customs check.
The 116-metre long wellboat has a total water storage volume (including treatment tanks) of over 13,000 cubic metres and can hold 800 tonnes of fish at a time.
Desalination plant
Although Tasmanian farmed salmon don't have to contend with sea lice, they do have problems with amoebic gill disease (AGD) and the Ronja Storm's on-board desalination plant can produce 700,000 litres of freshwater every hour to treat the problem.
This allows the vessel's crew to carry out more work without having to dock for re-supply of freshwater, which is a relatively scarce resource in Tasmania.
The Ronja Storm's power generation and propulsion system is designed to operate at a maximum sound pressure of 35 decibels (dB), quieter than a dishwasher or the average domestic fridge.
Huon communications manager Pene Snashall recently told Fish Farming Expert that the capacity of the wellboat means it will be able to manage Huon's planned increase in biomass from 25,000 tonnes this year to 30,000 tonnes next year.