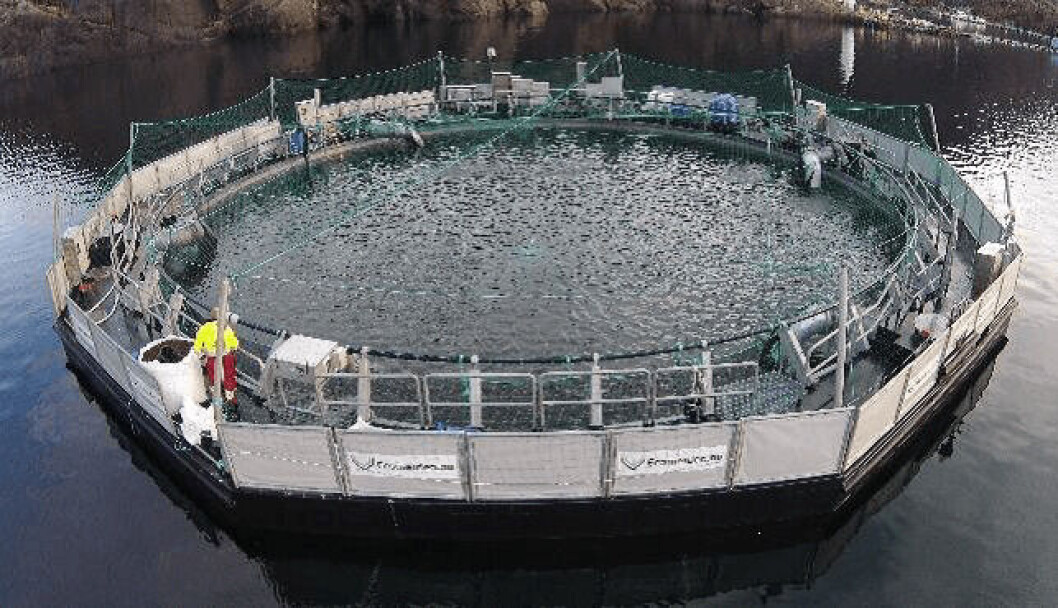 Salmon farmer buys 1m-smolt floating closed cage
Norwegian salmon farmer Eide Fjordbruk has agreed to buy a floating semi-closed cage with a capacity for one million 1kg smolts.
The R30 cage from Ecomerden has a volume of 30,000m³. The contract includes an option for a second cage.
The cage will be operated in combination with open pens. Once the smolts leave the hatchery they will spend their first phase at sea protected in the Ecomerd (Eco-cage) and will then be moved to open pens for further growth before harvest.
Land-based 'less sustainable'
Eide Fjordbruk general manager Sondre Eide said he was pleased to buy from a company that had advanced the furthest with the technology.
"It is crazy that the licensing system stimulates food producers of salmon to make medium-sized fish on land in Norway when it is more energy-intensive, leads to permanent encroachments on nature and is overall significantly less sustainable," said Eide.
"One can achieve all the benefits, as well as limit the challenges of land-based farming. Here, the licensing system should be equal between land and sea.
Shorter production cycle
"With innovation such as post-smolt / medium-sized fish produced in closed cages, our aim is to continue our goal of meeting the strict lice limits that the traffic light system sets, as well as shorten the production cycle in open cages further to avoid delousing in the long run.
"The solutions to the challenges must be technology-neutral with a focus on innovation and sustainability. As such, it is important to provide a stimulus so that players such as Ecomerden are allowed to develop, and that Norway is allowed to develop its natural advantages that protected fjords have."
Floating semi-closed containment systems (SCCS) which keep smolts separated from lice and algal blooms are gaining in popularity with salmon farmers.
Cermaq and Mowi have successfully trialled SCCS from other manufacturers in Norway and Cermaq Canada has a second-generation SCCS on trial in British Columbia.
Mowi Scotland is also interested in using the solid-walled floating Neptune SCCS to grow smolts from 120g to 800g in Scottish lochs.