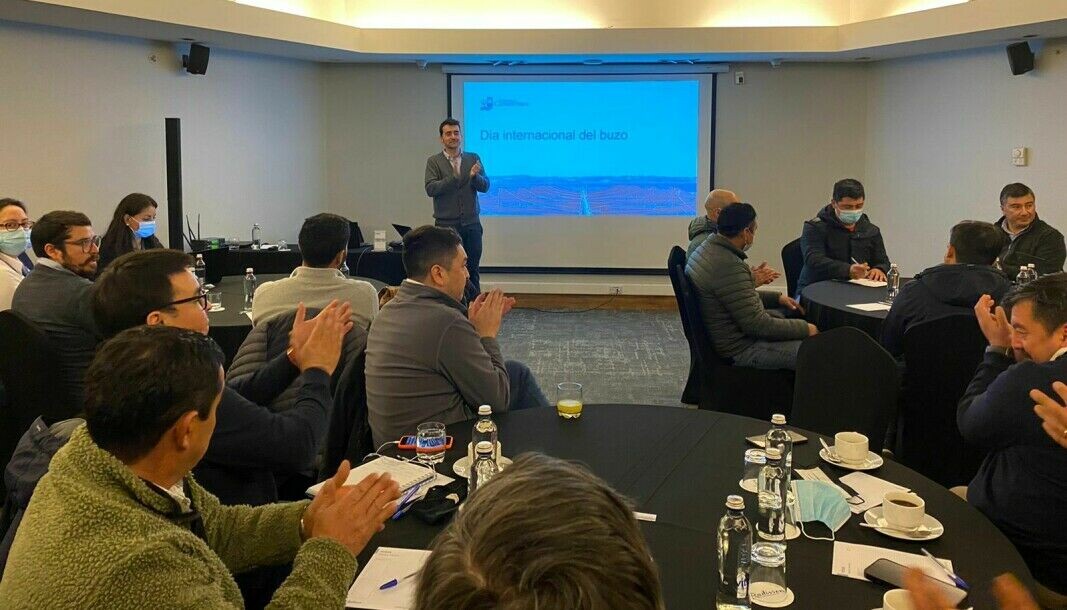 Chilean salmon farmer bids to raise diving safety standards
Camanchaca hosts conference to end tragedies
Chilean fish farmer Salmones Camanchaca has hosted a conference to mark International Divers' Day and announce a series of measures and commitments to achieve better safety standards in diving practices. The meeting was attended by diving supervisors from Salmones Camanchaca, contractor companies and the Chilean Safety Association (AChS).
The conference in Puerto Varas looked at ways diving safety could be improved, ranging from a greater knowledge of decompression illnesses to training and innovation in diving equipment.
Salmones Camanchaca general manager Manuel Arriagada said in a press release: "It is of the utmost importance that this activity is carried out with excellence and without accidents, so the role of supervisors is essential to support and comment on improvements that can be applied, both in the industry and in Salmones Camanchaca."
Real concern
Vicente Romero, the company's deputy manager of occupational health and safety, said: "It is necessary to evaluate and specify these commitments to begin a process of certification and accreditation of these measures.
"There is a real concern to work on this matter, for this reason it is necessary to understand the cultural factors associated with the problem, in order to work cohesively between supervisors, interns and suppliers, since we are all interested in the safety of people. Joint work is necessary."
The conference also included the participation of diving equipment supplier Casco Antiguo, who spoke about innovation in immersion equipment, also addressing solutions to the lack of technical knowledge regarding them.
An appalling record
Commercial diving in Chile has an appalling safety record, with deaths all too frequent.
Last month Kateryn Pérez Moraga, 30, died on the way to hospital after an accident while she was doing diving work in a salmon farm operated by Nova Austral in the Magallanes region. Two divers who rescued her from the water suffered from decompression sickness after ascending too quickly. All three worked for contractor Austral Service.
Lorena Moraga, Kateryn's mother, told La Prensa Austral that the family will wait for the competent agencies to conclude their respective investigations. "But as a family we have been talking about it, and we are going to initiate legal action, filing a lawsuit because we see that there is no transparency here."
Wrong equipment
Antonio Pérez, Kateryn's brother, stated that "we are not satisfied with what they told us. I have also worked as a diver, so I know that in these scenarios human life is not always watched over. The important thing for them is to get the job done. So, they ask the supervisor, and he transmits it to the workers. Everything is focused on getting the snag out, but they don't ensure that the person who comes down comes back alive."
Pérez explained that in these tasks the diver who remains on the surface must be in permanent contact with the one who is submerged. There is a whole language to provide immediate help in case of an emergency. The one above must always be attentive to being asked for more or less hose. Survival in these tasks, which always carry a risk, will depend on that.
"Katherine's equipment was not the right one, because she was using a basic type of equipment, which is for working up to 20 meters deep. But she was 27 metres down. So why didn't her supervisor tell her not to go down with that team?" Antonio Pérez asked.