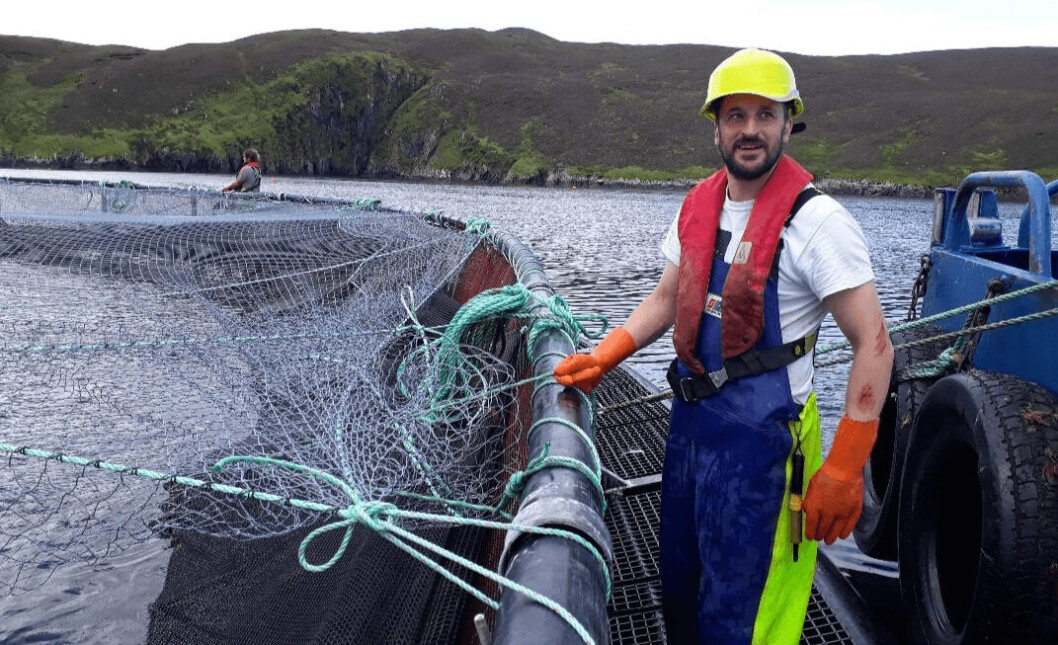 How a diver netted a second fish farming career
Guy Tindall from Shetland has always had a love of the water, so starting his career as a commercial diver for Grieg Seafood was a natural first step into aquaculture. But after 10 years of working at depth every day, the physical strain was beginning to take its toll on Tindall, who was then 40, and he decided to change career.
Tindall, now 42, said: "I enjoyed the diving, but things got tougher as I got older. When I started off, we worked in shallow nets of around 16 metres, but over time we moved towards bigger, deeper nets which accommodated a larger number of salmon. If you are diving deep, it puts more strain on your body and by the time I was 40, I knew that my diving days were effectively over, and it was time to move on."
Luckily for Tindall, he knew people in the right places. He had been a diver at the Grieg site at Setterness in Shetland and knew the site manager well. One day he asked if there were any jobs going and his timing was perfect.
Tindall said: "I think I caught my boss by surprise. At first, he thought I was joking when I asked for a job, but I was aware that a few people had moved on and there was a shortage of hands. I got an interview and then landed the role of aquaculture technician looking after containment and biosecurity. One of the great things about aquaculture is you don't need qualifications to get in. It's very much a learn on the job type industry, with training and skills development provided along the way."
After starting at the Setterness site, Tindall did a Modern Apprenticeship in Finfish Aquaculture through NAFC Marine Centre UHI, now part of Shetland UHI, as well as various modules and tickets, including health and safety, first aid, sea survival, driving power boats and a range of other skills-based courses. His efforts to acquire new knowledge and qualifications earned him the runner-up sport in the Aquaculture Learner of the Year Award presented by rural skills organisation Lantra in March this year.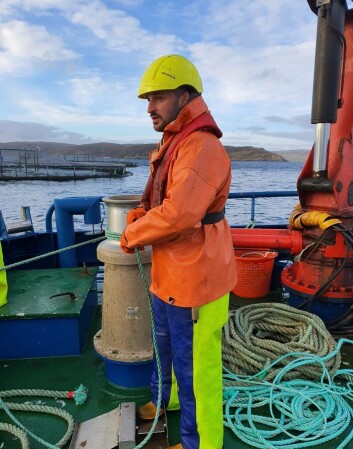 Safe from predators
Explaining what his current role looking after bio security and containment involves, Tindall said: "I make sure all our boats, equipment and PPE are thoroughly disinfected, so everything is safe. The containment side is about making sure our cages, nets and grids are secure and maintained to keep our fish under control and safe from predators. I work closely with our dive teams, directing them to areas of the site that need maintenance, such as repairing nets or checking moorings. That's where my 10 years of working as a diver definitely comes in handy."
Reflecting on how technology has changed over the years in his line of work, he said: "In days gone by, divers just had a bottle on their back, a basic comms system and a piece of rope, but everything's changed for the better nowadays. Different cables on the surface supply divers with everything they need, and a dive shack allows us to communicate using high-definition cameras and advanced radio communications systems. We also use Remotely Operated Vehicles (ROVS) to reach deeper locations, such as checking anchors and doing seabed surveys. The ROVS can dive deeper for longer and have become an essential tool."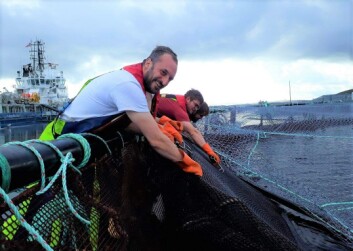 Tough but rewarding
Tindall believes that working in aquaculture can be tough, but it can also be highly rewarding, with opportunities to specialise in different areas. He continued: "It's hard work with many hours spent on site in all weather conditions. But it's very satisfying seeing the fish develop and thrive, growing from young smolts up to adult salmon. You need to love working outdoors and have a good attention to detail, particularly in my role."
Like every industry in the rural sector, aquaculture has been affected by the Covid-19 pandemic, with fewer staff on each site and strict regulations governing social distancing and hygiene.
Tindall said: "We now have five teams using five boats in an effort to keep people apart. It's been challenging, but the ability to be flexible is critical in fish farming."
Positive sale
His employer, Grieg Seafood, has recently been sold to Scottish Sea Farms, but while this may have created some uncertainty initially, Tindall believes that the sale is a positive step, providing opportunities and long-term stability.
He said: "It was a worrying time at first, but I think that we're all feeling much more positive about the future now."
Tindall is currently focusing on looking after the health and security of his fish and relishing the opportunities that have come his way. He said: "I'm fortunate to have landed this role and am focused on building my experience and skills at the moment. I'll take each day as it comes and welcome any opportunities that are presented to me. I love working on this site, as we have a great team and I'm very happy where I am."