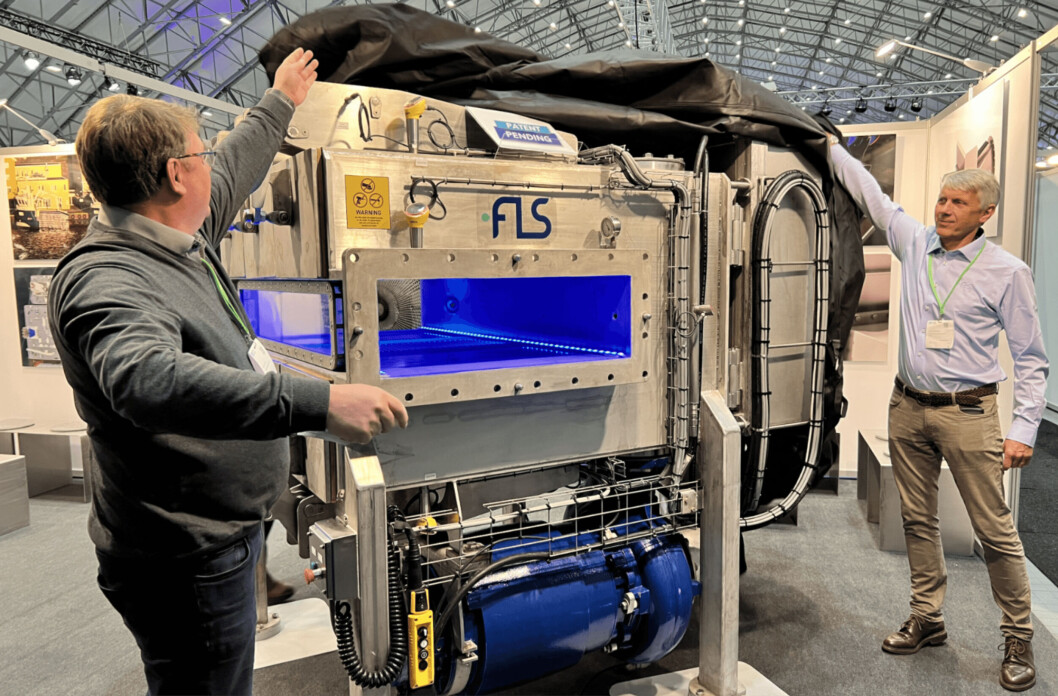 FLS takes the wraps off new salmon delouser
Flatsetsund Engineering (FLS) today gave visitors to Norway's HavExpo trade fair a first look at its Caligus R500 delouser, a compact system designed for use on wellboats.
Chief executive Lars Georg Backe and chief commercial officer Espen Kjærvik Hanson told Fish Farming Expert's Norwegian sister site, Kyst.no, they were pleased to be able to unveil the machine.
"That we took the step fully and exhibited our new delouser physically, and unveiled it here today is probably unusual, and we are probably the first company to do something like this," they said.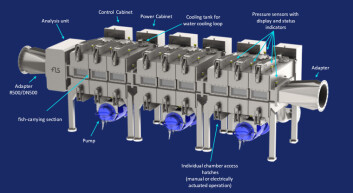 Prototype
The Caligus R500 is a prototype which enables Flatsetsund Engineering to show several of the possibilities that the system can offer. The delouser comprises three in-line modules and has electronics and control cabinets on board.
Backe said the last two years have been spent thinking out and building this prototype, and the first production model is currently being installed for salmon farmer Nova Sea on its wellboat Steinar Olaisen.
Four-tonne challenge
Simply getting the delouser to HavExpo, at Sotra on the outskirts of Bergen, was a big task. "It weighs close to four tonnes, which leads to some logistics challenges and some planning," said Backe and Hanson.
FLS says the R500 is the gentlest delouser on the market, with a full water rinsing system and low-pressure rinsing that are gentle on the fish. The delouser flushes the lice into tubes filled with water. It is a closed system where the fish are passed through a lice treatment system consisting of three low-pressure delousing chambers before being returned to the cage.
The delouser has windows so that vets can easily ensure that the fish are treated gently and ensure that the requirements for fish welfare are followed in the best way.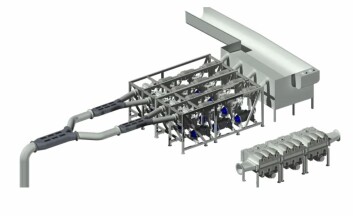 Very compact
At 6.6 metres long, 2 metres wide and 2.3 metres high, the R500 is smaller than many systems and can be installed on new and existing wellboats. It can treat between 200 and 300 tonnes per hour (per line).
"The delouser is very compact and is no more than 15m²," said Backe. "Previous models have been a cage-to-cage solution, this one we will now launch is designed and specialised for wellboats. We have seen in the market that more and more users delouse on board wellboats and wanted a product specifically aimed at this market."
One of the biggest differences from other machines is the shape of the pipes used.
Rectangular pipes
"Instead of using round pipes, we have rectangular pipes, which means that we can have a good flushing pressure without the fish's welfare being affected to any particular degree," Backe told Kyst.no.
"We believe that the salmon is best when it is in full water, and therefore we rinse into the water body and in this way remove the lice. The larger the diameter of the pipe, the greater the pressure in the centre, so we have chosen to use rectangular pipes, which means that we have space and can maintain a good pressure, which removes lice, but at the same time ensures that the fish's welfare along the way is best taken care of."
In today's wellboats, DN500 is the usual pipe dimension in relation to fish-carrying pipes.
"The delousing system is adapted to this pipe dimension, and can be scaled up, but is just as gentle as previous systems. The format can therefore be adapted to other pipe sizes, such as larger pipe dimensions we also see coming on the larger wellboats, so that you have the opportunity to adapt this," added Backe.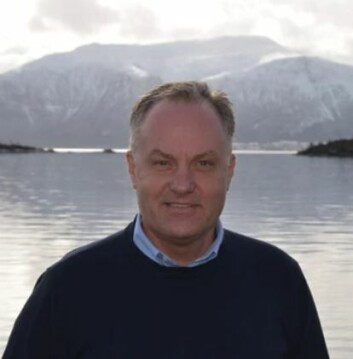 No collision points
Hanson pointed out that the pipes have a straight run.
"There is no splitting of pipes, and there are also no collision points for the salmon through the delousing process. Everything is streamlined and smooth. We also have a standard fish counter in the plant that measures the biomass, it is also included in the package," he said.
In terms of price, Backe believes that FLS is competitive in terms of capacity, which had been achieved without it being at the expense of fish welfare.
Test runs
"The lice washer has had several test runs with running water. So far it has been tested with, among other things, Sensor Globe and we see that the pressure works well and is customisable. We have an agreement to test the delouser on a wellboat with fish during May," he explained.
Backe said FLS believes that delousing must take place gently and to the greatest possible extent in the salmon's natural environment.
Reduced handling
"We have fish welfare as our big mantra and everything points to the need to minimise the handling of salmon and remove the lice as gently as possible. Not least, we believe that in combination with delousing, other operations and analyses and multifunctional treatments must be performed."
By this he means counting, registration of wounds, lice and so on.
"This is something we have facilitated in our system. By having multifunctional operations when the fish are to be deloused anyway, you save the fish from extra handling," he concluded.