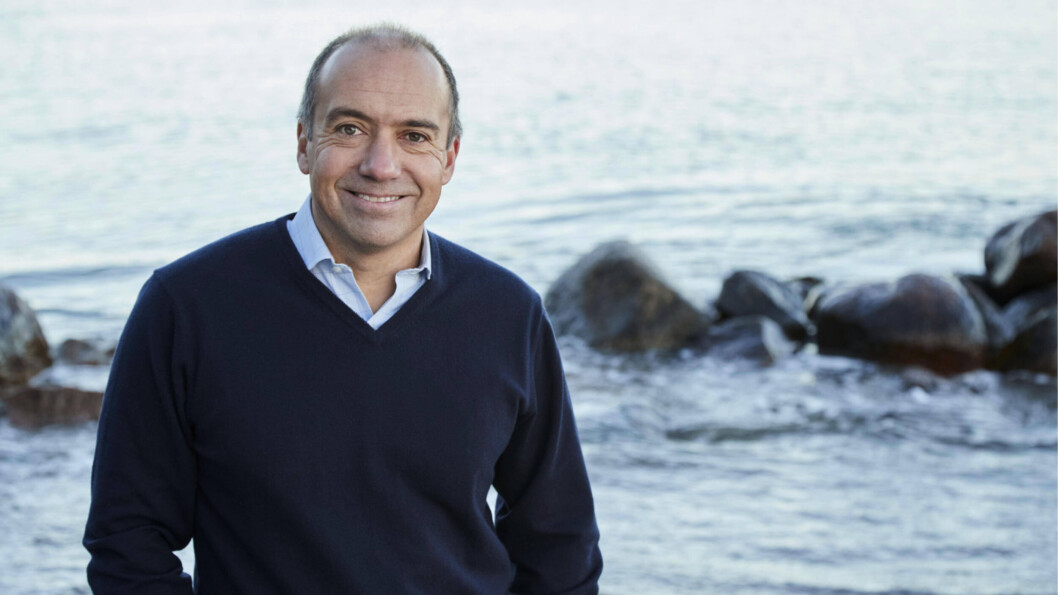 BioMar gains in Europe, loses in Chile
Increased sales of salmon feed in Norway, Scotland and Australia helped feed manufacturer BioMar largely offset shortfalls in Chile in the first quarter of 2021, it said today.
The Danish company's revenue for the quarter was DKK 2.271 billion (£264m), compared to DKK 2.381bn in Q1 2020, and operating profit was DKK 140m (Q1 2020: DKK 159m).
Sales of salmon feed in Chile were lower than last year due to lower biomass, a change in customer contracts and changing feeding plans due to the Covid-19 pandemic as well as an emerging algal bloom, said BioMar.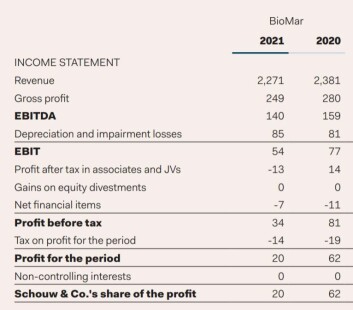 Salmones Austral
Overall, volume was down by 1% and revenue by 5%, mostly due to foreign exchange developments which reduced Q1 revenue by about DKK 70m year on year.
BioMar's income was also hit by losses at joint ventures and associate companies, in particular Chilean salmon farmer Salmones Austral.
"The aggregate share of profit/loss after tax in associates and joint ventures was a loss of DKK 13 million in Q1 2021, compared with an aggregate profit of DKK 14 million in Q1 2020," said BioMar parent company Schouw & Co in its Q1 report.
"In both periods, the share of profit or loss was from BioMar's associates and joint ventures, and the change was predominantly attributable to the Chilean fish farming company Salmones Austral."
The associates and joint ventures are now expected to contribute a profit share after tax of approximately DKK 25m in 2021 instead of the previous estimate of approximately DKK 40m.
'Bump on the road'
"We are in a very good position in Norway, UK and Australia, collaborating closely with our customers [and] striving to be the preferred feed supplier," said BioMar chief executive Carlos Diaz.
"I believe they experience the change which has happened in BioMar over the last years in terms of new novel ingredients, new product solutions and high-performing teams. Now we just need to pass the bump on the road in Chile."
BioMar's Europe, Middle East and Africa division reported a modest year-on-year improvement in volume sales. The performance was based on contract re-wins in the Mediterranean markets offset by less favourable fish farming conditions in northern Europe relative to last year.
Technical services
The Latin America division reported a year-on-year improvement in volume sales despite the persistently challenging market conditions for shrimp and fish farmers. The positive developments were driven largely by alternative products, concepts and services.
"Since the beginning of the pandemic, the shrimp industry in Ecuador has been suffering, both in terms of the actual pandemic and the Chinese import restrictions," said Diaz. "However, BioMar has managed to get reasonably well through the first waves of the pandemic.
"We have been working full steam introducing new products and technical services to the market, including products from our new extruded line. Now, we see our effort paying off in terms of increased volumes and revenue compared to Q1 2020."
BioMar is maintaining its guidance of revenue for 2021 of about DKK 12bn and EBITDA in the DKK 950-1,020m range, dependent on changes in prices of raw materials and foreign exchange rates.