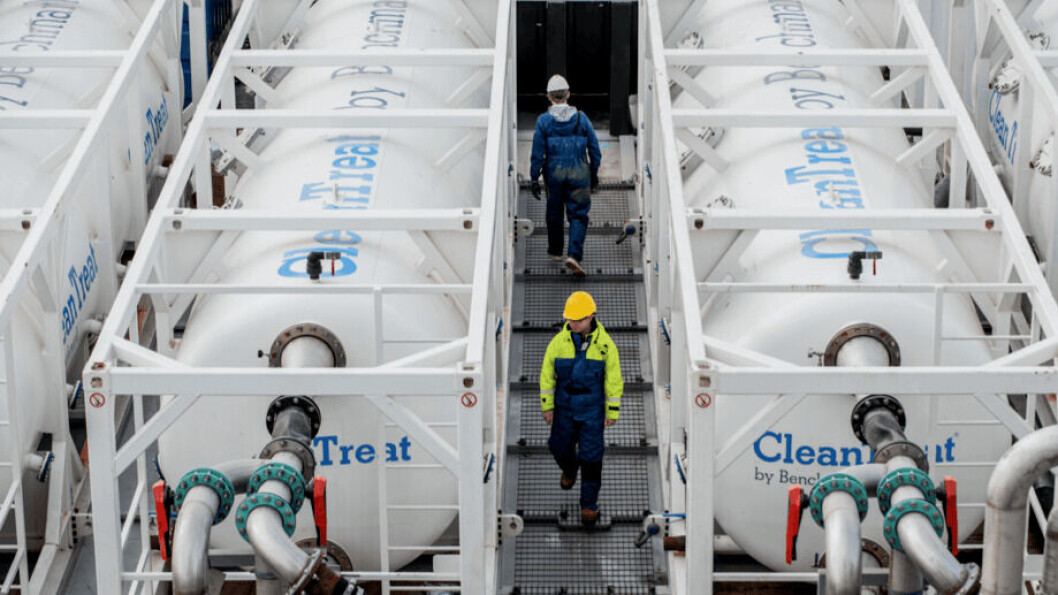 Mowi asks to trial new lice drug in Scotland
Mowi Scotland has taken a first step towards the use of Benchmark's lice medicine Ectosan in the country's salmon farming industry.
The company has asked the Scottish Environment Protection Agency (SEPA) for its support in carrying out a field trial at its Ardnish site, Loch Ailort, which is used for research.
Mowi, Scotland's largest salmon farmer, discussed the possibility of a trial at a liaison meeting with SEPA staff and followed it up with a letter to the agency in March, although there has been no advancement since then.
Purification system
In the letter, Mowi points out that other trials have demonstrated Ectosan's very high levels of efficacy against sea lice with no adverse environmental impacts when the treatment is coupled with a proprietary purification system.
This is a reference to Benchmark's award-winning CleanTreat system, which removes any detectable traces of medicinal residues prior to the release of the treatment water.
Mowi writes: "It would be our intention to further support development studies by carrying out such a trial at Ardnish.
"This would also involve treating the treatment water in a scaled and equivalent purification system to remove any remaining medicine components prior to release."
CleanTreat
A Mowi spokesperson told Fish Farming Expert this meant a "fit for purpose" CleanTreat system / vessel small enough to fit within the farm's structure and dock at the site's very small trial cages.
In its letter to SEPA, Mowi points out that although sea lice treatment strategies have evolved from relying on medicines to a broader approach including cleaner fish and physical removal, medicines remained an important part of a balanced strategy.
It adds that it is important the use of medicines is rotated to maintain their efficacy and prevent lice developing resistance, but that there are few to choose from.
"It is therefore essential that innovation in new medicine development is supported including the need for their evaluation in carefully managed and controlled field trials," says the company.
Mowi's letter was released after a Freedom of Information request by the anti-fish farming campaigner Don Staniford.
Imidacloprid
Ectosan, now called BMK08 by Benchmark, is based on the neonicotinoid insecticide imidacloprid, which as of 1999 was the most widely used insecticide in the world.
Its use in terrestrial farming was banned by the European Union in April 2018 along with the use of two other neonicotinoids after the European Food Safety Authority reported that the substances posed a serious danger to bees, although no such threat would apply to its use in a closed system in fish farming.
Benchmark has previously pointed out that BMK08 was developed under the strict veterinary medicinal products guidelines of the European Union (Directive 2001/82 as amended).
Highest sustainability score
BMK08, used with CleanTreat, has a score of zero - the highest score for environmental protection and sustainability - on the Aquaculture Stewardship Council's Pesticide Treatment Index.
BMK08 has proved 99% effective in extensive trials in Norway but needs separate approval in each of the different countries where it might be used.
In a report in February on the first quarter of its 2020 financial year, which runs from October 2019, Benchmark wrote that the dossier had been submitted a regulatory dossier about BMK08 to authorities but didn't say where the submission was made.
Innovation Award
Regulatory approval is often sought in one country at a time, rather than in several at once, so that any alterations made during the process can then be included in subsequent applications in other jurisdictions.
CleanTreat, which is also effective on other lice treatments, won the prestigious Innovation Award at the world's biggest aquaculture trade show, Aqua Nor, in Norway last year.
Benchmark recently raised net proceeds of £42 million through a share issue and will use some of the money to scale up CleanTreat ahead of the commercial launch of BMK08.