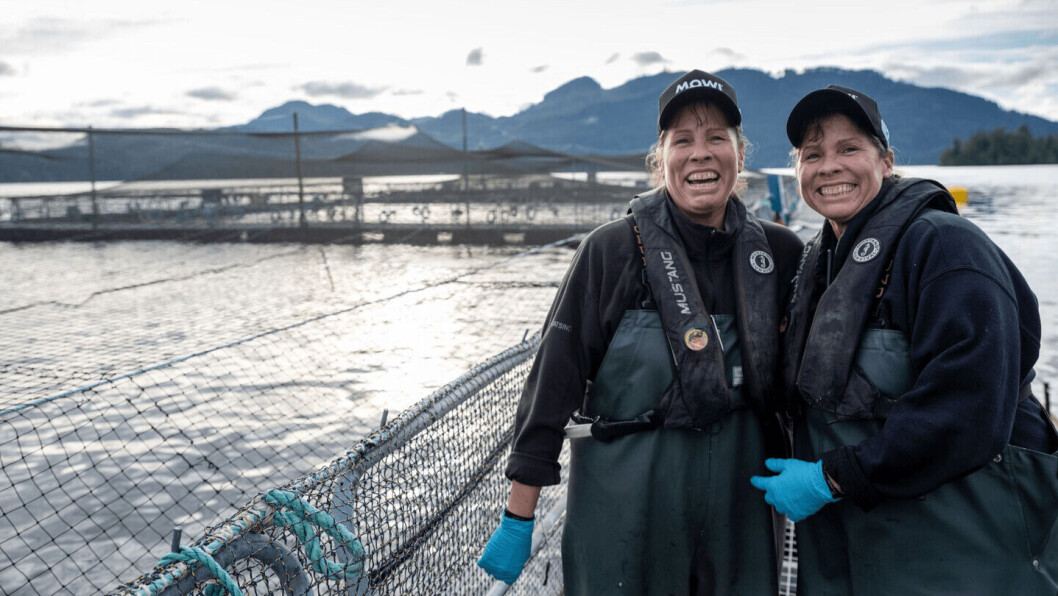 Salmon farmers: give us certainty and we'll give BC 10,000 jobs
Salmon farmers in British Columbia are prepared to invest Can$1.4 billion by 2050, creating nearly 10,000 jobs and stimulating an extra Can$44bn of economic activity, according to a new report.
But they require a predictable policy approach from both the British Columbian and Canadian governments before they will commit their cash.
The potential for salmon farming in the province, which includes raising annual production by 132,500 tonnes over the next 30 years, is outlined in a new report, Raising Opportunity: How Farm-Raised Salmon Can Lead BC's Post-Covid Recovery.
Raising Opportunity report at a glance
By 2021: $113m in new investment, 13,580 tonnes of additional salmon production, 430 new jobs
By 2030: $684m in new investment, 65,000 tonnes of additional salmon production, 5,224 new jobs (since 2020)
By 2050: $618 million in new investment, 54,000 tonnes of additional salmon production, 9,414 new jobs (since 2020)
By 2050: 50 new First Nations agreements are anticipated
Total additional economic output from 2020 to 2050: $44 billion
Vancouver Island Economic Alliance (VIEA) supported the report with an overview of Vancouver Island's economy comparing key sectors such as aquaculture, forestry, tourism and education.
Shrinking economy
The report was commissioned by the BC Salmon Farmers' Association (BCSFA) and researched and written by RIAS Inc., an independent economics consulting firm. The BCSFA asked RIAS Inc. to assess the role that salmon farming can play from an economic, social, community, Indigenous, and environmental viewpoint, particularly on Vancouver Island.
RIAS was also asked to investigate and assess the barriers to achieving responsible sector growth in BC.
The consultants point out in their report that Covid-19 has damaged the Canadian and BC economies and that economy is expected to shrink by at least 6.8% in BC, with many job losses coming from young people. In 2020, BC is expecting the largest deficit in history of Can$12.5bn.
"As shown in our recent 'Raising Opportunity' report, this industry has tremendous potential to generate economic activity, jobs, investment, and regional growth as a key part of BC's return to health and prosperity," said Doug Blair, president of RIAS Inc.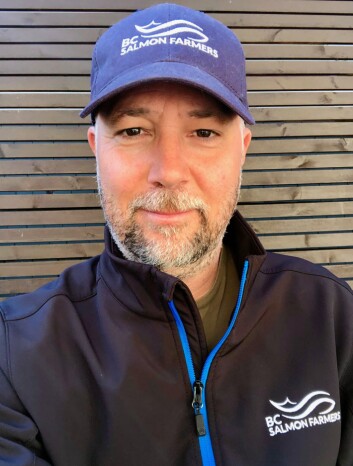 Clear pathway required
BCSFA chief executive John Paul Fraser said: "The results of this report are very significant for the salmon farming community and for the province.
"It means more jobs and higher economic benefits in BC which are especially needed now, as our province deals with unprecedented economic hardships."
A summary of the report says salmon farming can only make a critical contribution if governments provide the sector with a clear pathway toward certainty and growth.
It says that negative and misleading messaging has created confusion and uncertainty among the general public and policy makers, and has led to misinformed policies and initiatives, such as the Liberal Party of Canada's election promise to develop a plan to transition BC salmon farms to land-based closed containment by 2025.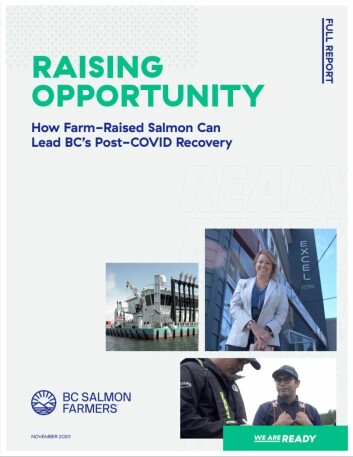 "In a July 14, 2020 webinar hosted by the Vancouver Board of Trade, Bernadette Jordan, the federal Minister of Fisheries and Oceans, clarified that the 2025 deadline is for the creation of a transition plan, not for the actual transition of salmon farms onto land," states the summary.
"Moreover, Minister Jordan indicated that both hybrid systems and the new semi-closed containment systems were being considered by her department as acceptable options. In other words, Minister Jordan's plan appears to have been expanded to consider the potential of all environmentally sustainable production technologies, not just land-based closed containment.
"Ultimately, the Government of Canada's plan appears to be very similar to the transition plan already undertaken by BC salmon farmers."
Tenure renewals
Delays in tenure renewals and amendments are also proving a barrier to responsible growth.
"BC salmon farmers currently have over 30 outstanding tenure renewal and amendment applications that remain unprocessed by the provincial Ministry of Forests, Lands, Natural Resource Operations and Rural Development (FLNRORD)," the summary authors write.
"Past performance indicates that FLNRORD staff are processing less than five applications per 18-month period. This inordinate delay in processing negatively impacts production, diminishes business certainty, and jeopardises the economic aspirations of many First Nations whose benefit agreements with BC salmon farmers offer longer term financial certainty - deflating their hope of reconciliation and shared prosperity."
No guidance from BC government
The authors also focus on a lack of clarity about the tenure renewal process, following an announcement by BC authorities that after June 30, 2022, aquaculture tenures would only be issued to fish farm operators who have satisfied Canada's Fisheries and Oceans Department (DFO) that their operations will not adversely impact wild salmon stocks, and have a negotiated agreement in place with the First Nation(s) in whose territory they propose to operate.
"Despite having made this announcement over two years ago, the Government of BC has not yet articulated a path forward for its 2022 deadline," states the summary.
The authors say there has been:
No indication that it will commit the necessary resources to manage the work required to meet the deadline.
No guidance regarding what information will be required from DFO as evidence that farming operations "will not adversely impact wild salmon stocks".
No guidance regarding the type and scope of First Nations agreements required by 2022.
No details of how it will harmonise provincial decision making with the federal government.
We need certainty
The summary says that if salmon farmers are to make investments, they require clarity on the 2022 and site licence renewals, and the 2025 transition plan, immediately.
Delays in processing tenure amendments and new tenure applications, and a lack of financial for indigenous participation and partnership/ownership opportunities must also be addressed.
Salmon farmers also want governments to support and incentivise the trialling new salmon farming technologies; invest in critical infrastructure required in rural coastal BC communities; increase funding for post-secondary youth skills training in rural coastal BC; and enhance funding for ocean-based research regarding wild salmon.
"The BC salmon farming sector is ready to help lead BC's post Covid-19 recovery, especially in rural coastal communities on Vancouver Island, but we need certainty first," said Fraser.