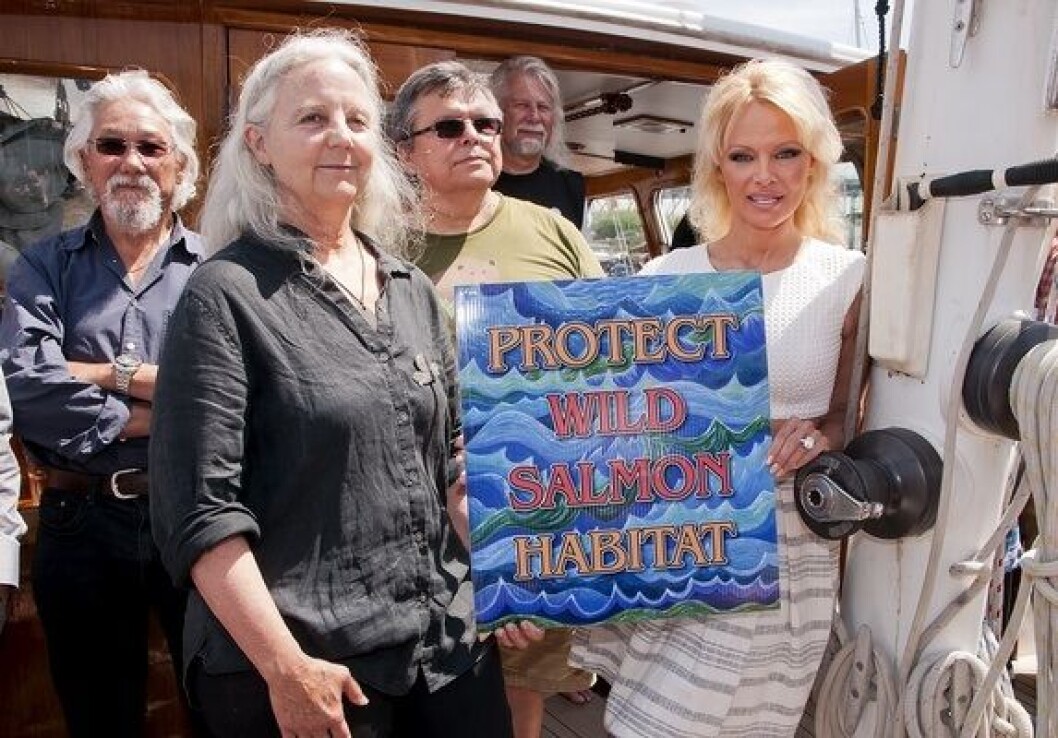 Battling bogus claims
BC farmers are fighting back against a well-financed campaign that aims to discredit the province's salmon sector.
Yesterday, the Sea Shepherd Society (SSS) launched a new campaign, entitled "Operation Virus Hunter", fronted by celebrity activist Pamela Anderson, along with anti-salmon farming activist Alexandra Morton, which they say will be investigating the lawfulness of the salmon farming industry in British Columbia.
Their journey aims to mimic the wild salmon migration pathways, up the east coast of Vancouver Island, where they will be checking for diseased fish and other wildlife near farm sites, searching for toxic algae blooms and looking at the waste that flows out of the marine net pens.
To promote their campaign, the SSS has launched videos and promotional materials featuring Pam Anderson and Alex Morton who make numerous false and/or misleading statements about nutrition, science, and salmon farming as practiced in BC.
Included in their incorrect allegations is how salmon farming causes diseases that negatively affect wild salmon populations, and therefore a key focus of their voyage will be testing for piscine reovirus (PRV).
But research into the virus is already underway, all without the help of the former Baywatch star.
"BC salmon farmers are involved with the Pacific Salmon Foundation, Department of Fisheries & Oceans, UBC, and others in the Strategic Salmon Health Initiative – the largest single study into the health of salmon on the BC coast ever undertaken. A world-class research team is currently testing close to 30,000 samples of wild, hatchery and farm-raised salmon. We are relying on this team to ensure advocacy and research do not get confused," said the British Columbia Salmon Farmers' Association (BCSFA) in a media release.
Science lesson - a virus is not a disease
Many people incorrectly assume that the presence of a virus automatically means there is a disease. However, this is far from scientifically accurate. In fact, there are an estimated 1031 viruses on Earth, and of these, only a small fraction are known to cause disease.
Diseases are associated with clinical signs of pathology, such as inflammation, fever, etc. If there are no clinical signs, then there is no disease. However, the professional activist in BC, Alex Morton, has repeatedly confused the benign fish virus PRV with a disease and now she stands behind the well-known environmental terrorist Paul Watson on a "virus hunt".
But the science and experience concerning PRV in BC is definitive – it is a ubiquitous marine virus that has been present for at least decades (as far back as there are samples to test).
So irrespective of where they look, the group will most likely find PRV – even in the shellfish Morton plans to sample. PRV is not new to this coast and, furthermore, no research in BC has confirmed a causal link between PRV and any disease.
"It is important to distinguish research from advocacy," stated the media release issued by the BCSFA, "Both are legitimate but they are different. The research question that is the focus of this voyage seems to be the presence of the virus PRV...the answer is already out there: PRV is common on this coast and has been since the late 1980s. Like people, all animals have thousands of viruses. What we worry about is - do they cause disease? This is the more interesting question. The answer for salmon and PRV after years of study is no."
Looking for something that isn't there
Despite the obvious scientific inaccuracies of their cause, the members of the "hunt" will be sailing up the coast of Vancouver Island, stopping off at salmon farms, uninvited, to "audit" their fish, looking for "disease".
Fish Farming Expert spoke with the executive director of the BCSFA, Jeremy Dunn, about the campaign.
"What this publicity stunt is trying to achieve is creating uncertainty in the minds of the public about a subject that is extremely well documented and studied," Dunn said.
A lot of wasted money and effort could be saved – and perhaps instead used to fund really important areas of research such as ocean acidification – if they simply looked online at the publicly available data and monthly audits that all salmon farmers are actively contribute to.
"Salmon on farms are healthy, with about 90% surviving through to market. Fish on farms are examined on a daily basis, with thousands of laboratory tests done each year in BC to ensure that farmers know the exact health status of their stock," said the BCSFA in a press release today.
The group claims that the industry is mired in secrecy, but this is far from the truth - salmon farmers in BC regularly participate in collaborative research with government, academics, as well as with vocal critics of salmon farming, recently committing $1.5 million to 2020 through the Marine Environmental Research Program.
"Our industry is obsessed with the health of salmon, as salmon health is essential to the success of our industry," Dunn said.
A safety concern
It's no shocker that the BCSFA conveyed deep concerns about the group's intentions: the Sea Shepherd Society is infamous for often illegal, drastic and violent actions in the name of environmentalism.
"BC salmon farmers are concerned about the aims of this voyage and campaign," stated the press release. "Although they have reinforced that they will be 'non-aggressive and non-harassing' when approaching farms, the Sea Shepherd society has a long history of doing the opposite. Farming companies place great emphasis on the health and safety of employees, and the health and wellbeing of their animals."