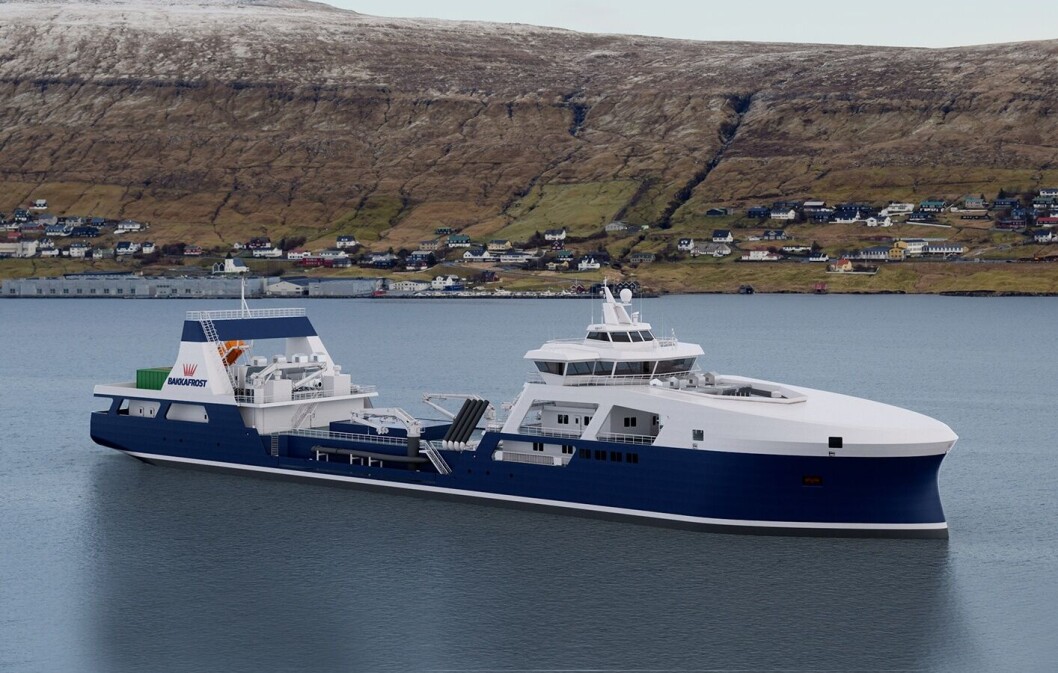 Bakkafrost orders huge wellboat to match ambition
Faroese salmon farmer Bakkafrost has ordered what will be one of the world's biggest wellboats, able to carry 1,000 tonnes of salmon.
The vessel will be built at the Sefine shipyard in Turkey for delivery in 2022, Bakkafrost said in press release.
It will be 109 metres long and 22 metres wide. Its four wells will have a capacity of 7,000m³ of seawater and tanks will hold 3,000m³ of fresh water manufactured on board.
Battery storage systems
By comparison, the world's biggest wellboat, the Ronja Storm, is 116 metres long and 23 metres wide and has an overall capacity of 13,000m³. The Sølvtrans vessel, which is on a long-term charter to Tasmanian salmon farmer Huon Aquaculture, holds fewer fish (800 tonnes) but more fresh water.
As part of Bakkafrost's plan to reduce its carbon footprint, the new wellboat will be equipped with battery storage systems for optimal energy consumption. The vessel will either use energy from the batteries, or store energy in the batteries when additional energy is produced from the ship's engines.
In addition, the vessel will be connected to land based electrical sources when tied up in harbour, making it very quiet in operation.
Dynamic positioning
The wellboat will be equipped with a dynamic positioning system, which means it can lay at a certain point at sea without being tied up or anchored while performing a task. It will therefore be well equipped to perform different tasks at open sea.
"At Bakkafrost, we continuously look at how we can reduce the biological risk in our operations, and the new wellboat contributes to the task to ensure a stable and healthy production," said the company, which owns the Scottish Salmon Company.
"The wellboat is equipped with technology that can produce freshwater from seawater, which is used for delousing operations. In total, the production capacity in 24 hours is 6000m³ of fresh water. Thus, the vessel can perform salmon treatments without leaving the area to get fresh water."
Strategic goals
Bakkafrost added that the wellboat is a vital step towards reaching its strategic goals of having a total capacity of 100,000 tonnes of salmon, and to gut 500 tonnes a day at the factory at its headquarters at Glyvrar on the island of Eysturoy.
"The need of vessels to perform different tasks is growing significantly in the future," said the company.
"The need of transportation of smolt will increase significantly, as we have started to farm smolt on land for a longer period. In the future, the smolt will weigh between 500 and 700 grams before released to the cages.
"In addition, the vessels will perform tasks in relation to delousing and other gill-related challenges as well as transportation of bigger salmon in relation to open sea farming."
Hans á Bakka
The new vessel will have more than twice the fish carrying capacity of Bakkafrost's current flagship, the Hans á Bakka, named after Hans Jacobsen, who was known as Hans á Bakka and founded Bakkafrost with two brothers in 1968.
The Hans á Bakka was built at the Tersan shipyard in Turkey in 2015. It is 75 metres long and 16 metres wide and can carry 450 tonnes of live salmon.
Bakkafrost's fish are transferred by pipe directly from the ship at the quayside to the factory at Glyvrar where they are slaughtered and processed. The factory includes a secondary processing unit and a facility for making polystyrene fish boxes.