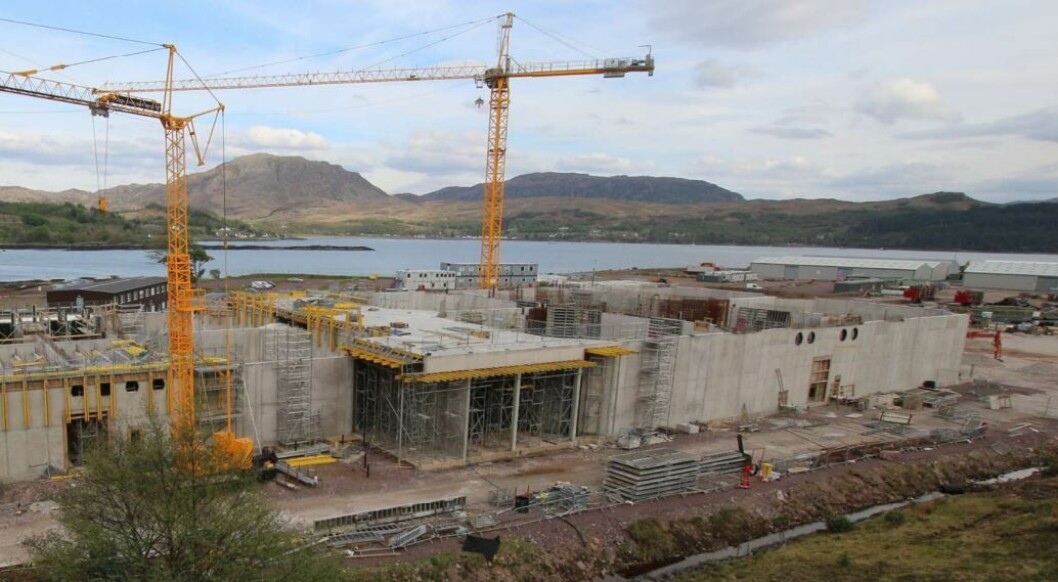 Bakkafrost secures land for second Scotland hatchery
Scottish Salmon Company owner Bakkafrost has secured land for a second of three large hatcheries in Scotland, it said in an interim quarterly report today.
Growing salmon smolts to 500 grams in recirculating aquaculture systems (RAS) before stocking them in marine pens is the central plank of Bakkafrost's farming policy both at home in the Faroe Islands and in Scotland.
It is spending millions expanding and modernising its Applecross hatchery, which will have the capacity to produce around 8 million smolt at 250g by the end of this year and 10 million smolts at 500g by the end of 2023.
18 million half-kilo smolts per year
The two further planned hatcheries in the northern and southern part of the company's operations in Scotland will increase total annual capacity to 18 million smolts at 500g smolts.
Bakkafrost is gradually increasing the size of smolts put to sea in Scotland. In Q1 2022 the average weight of released smolt in Scotland was 102g, which is 15% higher than in Q1 2021, and for the full year the average weight of in the released smolt is expected to be around 120g.
"During Q1 2022, Bakkafrost secured the land for the construction of the second large hatchery in Scotland. Depending on the final surveys, construction of the next large hatchery is expected to commence in H2 2022," said Bakkafrost in its Q1 report.
"Having large smolt in Scotland is vital to transform the farming operation and reduce the biological risk in Scotland. It will however take time for Bakkafrost to materialise this as it takes time to build the necessary hatchery capacity."
The company expects its second large hatchery to be operational by 2025 and the third by 2026.
Compromised gill health
The Bakkafrost Group delivered a total operating EBIT of DKK 418 million (£48 m) in Q1 2022, up from DKK 224 m in the same period last year. But it would have made more if had not been for a DKK 53 m operating loss in Scotland, which included incident-based costs of DKK 24 m that were caused by a continuation of fish health challenges from 2021.
"The main root-cause for the mortality in Scotland in H2 2021 was compromised gill health in combination with secondary complications, such as blooms of micro-jellyfish/hydrozoans and fish handling during necessary treatments and lack of freshwater treatment capacity," wrote Bakkafrost.
"Towards the end of Q4 2021, the situation stabilised on somewhat elevated mortality rates, which for a few sites remained until the middle of Q1 2022. Hence, the situation improved during Q1 2022 and in March 2022, the Scottish farming segment did not have any exceptional mortality and the Scottish farming segment was profitable again."
103,000 tonnes in 2022
Total harvest volume for Q1 was 21,400 tonnes gutted weight, of which 17,500 tgw (Q1, 2021: 14,000 tgw) was harvested in the Faroes and 4,000 tgw (7,000 tgw) in Scotland. Bakkafrost made a profit of DKK 405 million (DKK 408 million) in the quarter.
Harvest volumes for 2022 are expected to reach 68,000 tgw in the Faroe Islands and 35,000 tgw in Scotland, giving at total of 103,000 tgw.