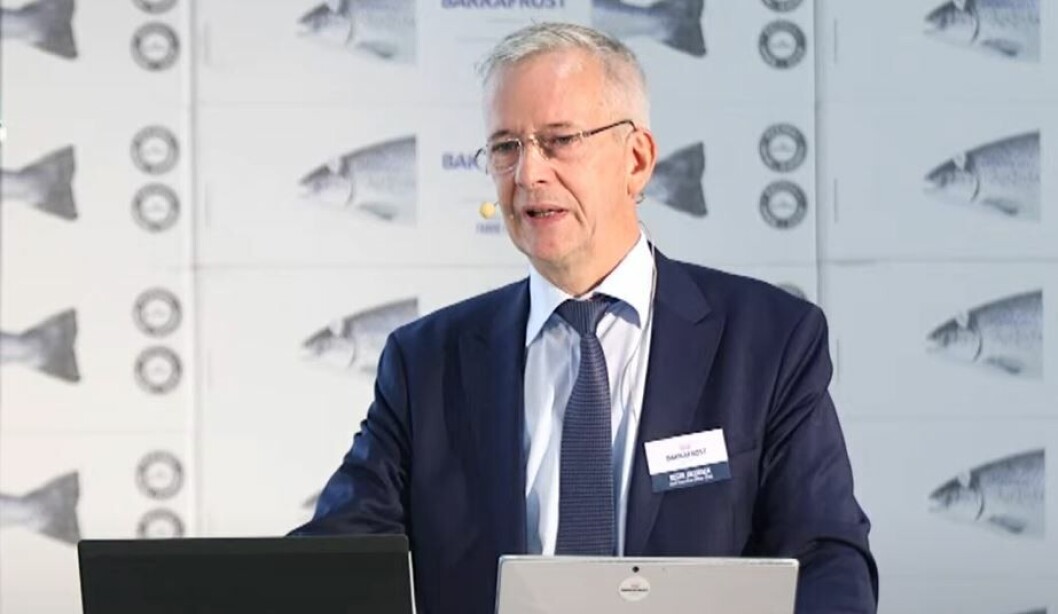 Bakkafrost seeking more SSC site swaps
Scottish Salmon Company owner Bakkafrost will prioritise site swaps with other Scotland salmon farmers as part of its plan to grow bigger, healthier fish, chief executive Regin Jacobsen has said.
The Scottish Salmon Company (SSC) gave its Trilleachan Mor site on Loch Seaforth on the east of Harris and its Scaladale shore base to Mowi Scotland earlier this year and got Mowi's Scotasay and Raineach sites and East Loch Tarbert shore base in return.
Bakkafrost wants to do more swaps so that it can have better control of biology in areas where its farms are sited. Such a system is already used in the Faroes, where farms run by Bakkafrost, Mowi and the archipelago's other salmon farmer, HiddenFjord, are much further apart than farms run by different companies in Scotland.
Jacobsen was speaking at Bakkafrost's Capital Markets Day for institutional investors, held at the company's headquarters in Glyvrar.
Tougher biology
"We see some areas in Scotland which are more challenging, generally tougher biology and reduced flexibility to optimise site locations," said the Bakkafrost boss. "Many sites are quite small and difficult to get a competitive operation. We will focus on this area and have a dialogue with authorities about how these issues can be addressed in order to increase the competitiveness of our operation.
"We have identified areas where we can focus on change. We have good cooperation with our neighbours and will focus on good cooperation in areas where we are exposed to close contact. We have already done site swaps in one area (Harris) and will prioritise doing site swaps in other areas."
The company also wants to move sites from lochs to more exposed areas, as it has done in the Faroese fjords.
Smolt are crucial
Jacobsen said Bakkafrost's management sees huge possibilities to improve and strengthen operations in Scotland. The company is ploughing money into new hatcheries that will increase smolt capacity from 600 tonnes a year to 9 million tonnes by 2024, and 18 million tonnes by 2026.
"In the Faroes we believe it's crucial to be self-sufficient with high-quality large smolt and see a huge possibility to improve this also in Scotland. Over the next five years we will 15-fold the capacity in Scotland (to 9m tonnes) and use the same technology that we have been using in the Faroes.
"I am confident that the experience we have had over the last couple of years will help us to ramp up the speed of the transformation needed, and those learnings will help us to do more things right from the beginning than we did here in the Faroes."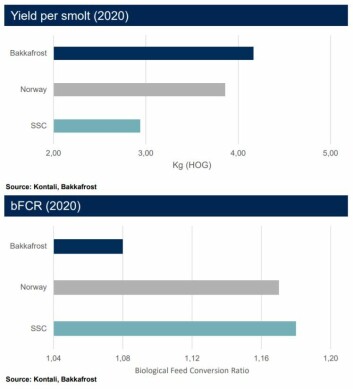 Not yet competitive
Jacobsen added that the Scottish operation was not competitive on cost.
"Most important KPIs are not within the level we want them to be. This leads to high cost and inefficient operation. In the early part (of growth) there seemed to be very little difference (between Scotland and the Faroes) for the first 12 months, but then we see challenges. From the graph (pictured right) we see a significant variation in the yield per smolt where the Scottish operation is below 3 kg and the Faroes is above 4 kg. Also, in the feed conversion rate we see a significant difference.
"It's clear that a high-quality smolt is needed to create a healthy, sustainable business. High quality and the latest technology are needed to make the operation competitive and flexible to the various risks. Neither of these two have been present in Scotland.
"We will over the next years massively invest in structural change of the operation to manage the operation in a more agile way. I am sure that we will see the same significant improvement in the operation as we invest in these fundamental criteria and get them correct over the coming years to produce a healthy salmon."