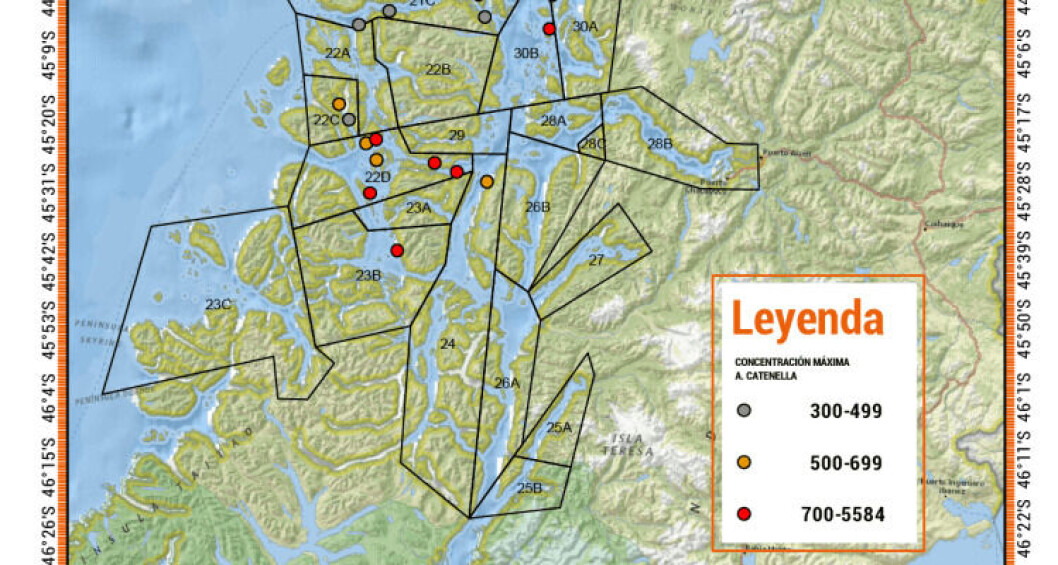 Chile: 20 farms report salmon deaths from algae
Twenty sites spread over five companies in Chile have so far reported salmon deaths as a result of a resurgence of toxic microalgae.
According to authorities in Chile, 59 farms had concentrations of the algae Alexandrium catenella at the borderline level of what salmon tolerate at January 30. All these facilities are located in the Aysen region.
The five companies that have reported mortality are Blumar, Aquachile, Australis, Los Fiordos and Cermaq.
Blumar has lost by far the most with 332 tonnes of fish, Aquachile has lost 36.3 tonnes, Australis 35 tonnes, and Los Fiordos has reported a mortality rate of 30 tonnes. Cermaq's loss has not yet been published by the government's fisheries and aquaculture agency, Sernapesca.
Varying mortality
According to Intesal, the research institute owned by farmers' association SalmonChile, harmful algal blooms have affected 11% of the sites during the past week, with varying mortality.
"Our farms have had a slight increase in mortality, with the loss of 1,000 fish per day. The fish have an average weight of one kilo, and are mainly in the Aysen region," said Ricardo Misraji, chief executive of Australis.
The risk zone for algae is now described as being the area of Chiloé, to the south of the Aysén region (region 11). In region 10, Los Lagos, elevated levels of harmful algae have been measured, but they have so far not seen an increase in mortality.
Fish farmers in the area are now on alert and conduct daily water analyses in all localities.