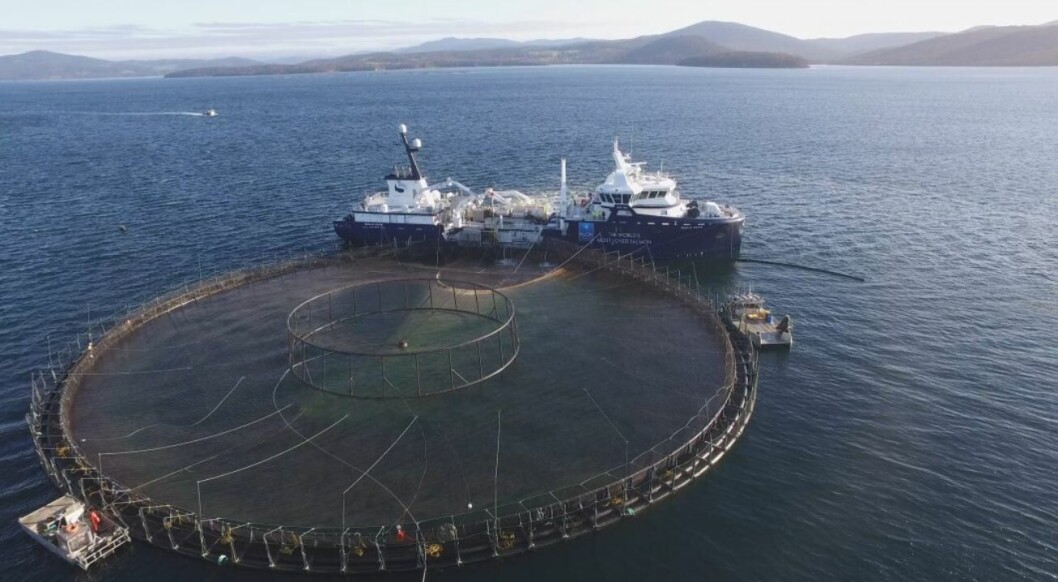 Jellyfish and warm water blamed as Huon profits plunge by 64%
Tasmanian salmon farmer Huon Aquaculture has reported a much-reduced net profit after tax (NPAT) of AU$9.5 million (£5.3m) for the financial year ended June 30, 2019 – a 64% drop on the AU$26.4m made in the 2018 full year.
Huon had previously warned that performance would be affected by a fall in harvest volumes and higher operating costs carried over from FY2018, exacerbated by a jellyfish event and water that was slow to cool below 16°C.
Revenue was AU$282m, 11% lower than in 2018, and was earned on a harvest volume that was 18% down year on year to 18,849 tonnes. Most of Huon's output went to the domestic market, where demand pushed prices up by 8%, mitigating the company's lower sales.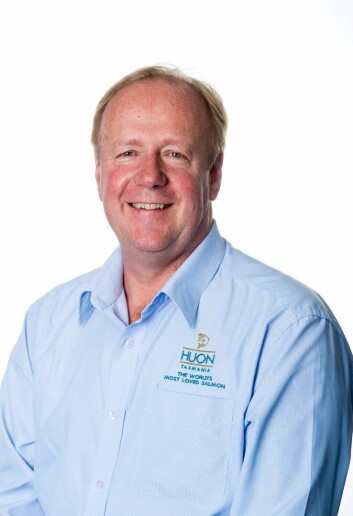 Moon jellyfish bloom
Late in the first half of FY2019 (the second half of 2018), some of Huon's came into contact with a moon jellyfish bloom. This resulted in increased fish mortalities both directly and indirectly over the following months due to a related outbreak of gill necrosis. For those fish that survived, growth rates were compromised until such time as water temperatures fell below 16°C which did not occur until the unusually late date of April 2019.
"The various challenges that we have been dealing with during the past year are significant in terms of their impact on the financial performance for FY2019 but they need to be placed in context," said Huon founder and chief executive Peter Bender in a results announcement.
"These events come with the territory when working with nature so we have to manage through them and move on. We are already well on the way to a strong recovery in FY2020 demonstrating that our capital investment program over the past five years has strengthened Huon's capacity and its resilience, ensuring the impact of these difficult periods is short-lived."
New leases
Huon said completion of its Whale Point Salmon Nursery allows it to significantly increase its production capacity. A 600-tonne feed barge, the Huon Hogan, was moored at Storm Bay during the year, and what is currently the world's biggest wellboat, the Ronja Storm, is due for delivery at the end of 2019.
At Storm Bay, two of the company's four leases have been brought into operation and in May 2019 Huon was granted a new lease in the area known as East of Yellow Bluff. This will increase the available capacity of Storm Bay to 20,000 tonnes as well as deliver improved biosecurity by including further separation of year classes of fish, stated Huon.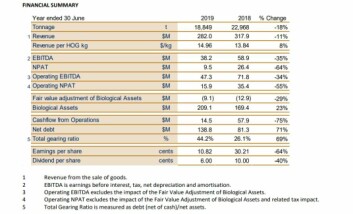 Period of consolidation
"FY2020 will be the first year since 2014 when Huon is not implementing significant change in some part of its business. It will be an important period of consolidation, focused on driving the efficiency benefits that come with scale investment and leveraging technology," said Bender.
Huon has forecast production volumes for FY2020 of at least 25,000 tonnes, based on its investment in rebuilding the biomass over 2019.
It said it currently has fish in production that will support a 30,000 tonne production in FY2021, and added that the strong pricing environment throughout FY2019 is expected to continue in FY2020, delivering pricing at levels up to $14.50/HOG kg, although costs will remain high this year.
Sustainable cost reduction
Huon stated: "The high operating cost per kg that has been built into the 18 Year Class fish over the 2018/19 summer will continue, therefore we are expecting cost of production (including freight) to be above $11.50/HOG kg.
"Despite this, there is good reason to be optimistic that both operating and statutory earnings will recover strongly this year on those reported in FY2019, assuming there are no abnormal weather or biological events.
"Importantly, the completion of the second of two major efficiency and expansion programs has put in place a platform that will deliver a sustainable reduction in costs beyond FY2020."