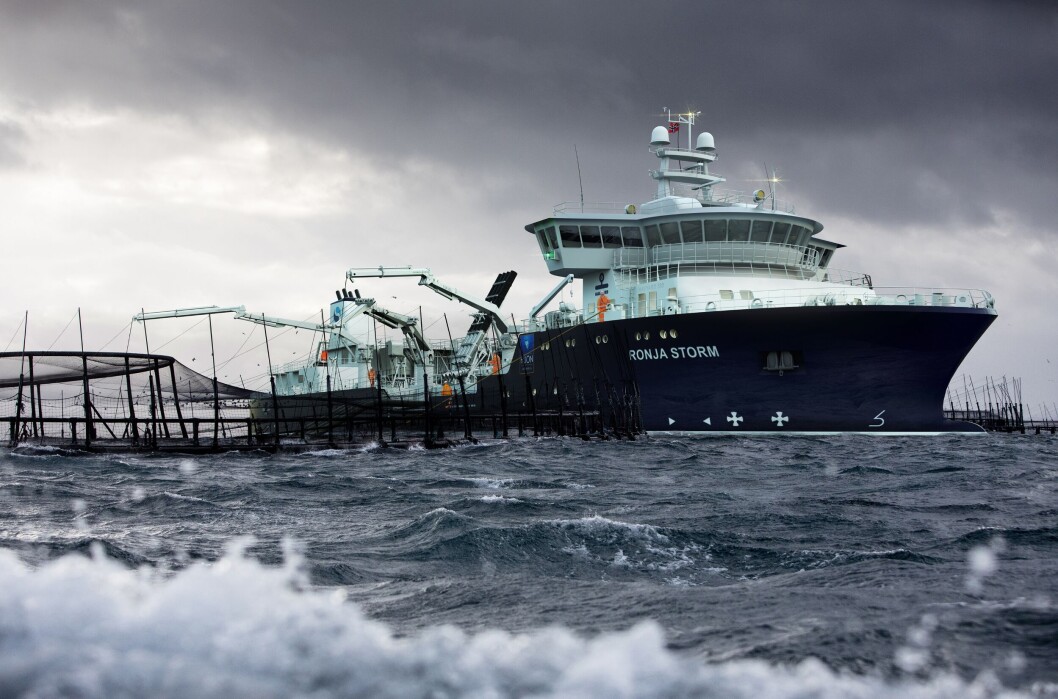 Come aboard the world's largest wellboat
As the world's largest wellboat, the Ronja Storm will not be just a few metres or tonnes larger than the current holder of the title. It defines its very own weight and equipment class. See picture gallery at the very bottom of the article.
At Havyard's shipyard in Leirvik in Sogn og Fjordane, workers are busy equipping the vessel that will be the largest wellboat operating in the world towards the end of the year, writes Pål Mugaas Jensen for Fish Farming Expert's sister site, Kyst.no.
With its 7,450m³ well capacity, 12,000 tonnes deadweight and 116m x 23m dimensions, Ronja Storm is much bigger than the current largest wellboat, which has 4,500 m³ of well capacity, 5,500 tonnes deadweight and dimensions of 88 x 17 metres. A few other large boats are also under construction at around the same size as today's largest, but no vessels are so far planned that will come near to matching the upcoming queen of wellboat operator Sølvtrans.
£45.5m contract
"The boat will be by far the largest wellboat," says Svein Frode Eggesbø, project manager at Havyard Ship Technology.
He is delighted that the firm has got the contract which has a total value of more than NOK 500 million (£45.5m). The hull was built at the Cemre yard in Turkey, but is equipped with everything from engines to cinema hall at Havyard, sited not far inside Norway's Sognefjord.
"This means a lot to the yard. We now have a total of 246 people working on board today on this boat," he says.
Article continues below photo.
Ronja Storm's hull arrived in Leirvik in February and the wellboat is scheduled to sail under its own power in late September.
It then faces an approximately 50-day voyage across the globe, for security reasons via the Panama Canal. The boat is going Down Under on a 10-year contract with Tasmanian salmon farmer Huon.
It will have a safety crew of 8, and normally have one to two cadets during training as well. Two of three officers will be from Norway, the others are local employees.
Challenges with AGD
The fact that the Ronja Storm is going to Tasmania gives some indication of the difficulties of salmon farming in the southern Australian island state, and why the wellboat has been specified as it has.
"You have quite big challenges with AGD (amoebic gill disease) in Tasmania. In addition, the cages are normally very large, typically 240 metres in circumference. They can accommodate just over 1,000 tonnes", says Tor Ove Stenersen, development manager at Sølvtrans.
A widely used treatment method at AGD is to bathe the fish in fresh water on board a well boat for about three hours. Then the parasite dies.
Freshwater scarce and expensive
"Freshwater is a scarce and expensive resource in Tasmania and you often have to go far to get it," says Stenersen.
"Lately, the trend within the aquaculture industry in Tasmania has also taken farming further south towards open waters. Then it is a great advantage to be able to produce your own treatment water. Produced water is also of better quality, which means that you can have greater density of fish than if you were to use the river water."
The area that is now increasingly used for farming in Tasmania is called Storm Bay, hence the name of the boat.
"They almost laugh at us when they see what we call exposed sites in Norway," says Stenersen. "In Tasmania there is nothing between the farms and the South Pole and the significant wave height is up to 9 metres."
Article continues below photo.
Handling is often stressful for the fish, and in order to better cope with the stress, they are not fed in the days ahead of the treatments. If the treatment is tough, it will often be used many days afterwards before they regain full appetite.
As such treatments for AGD in Tasmanina often need to be done once a month, which can mean as many as 15 times during the production period.
"It is therefore important to reduce this stress. Being able to treat all the fish in the cage at the same time is therefore also important," says Stenersen.
Fish handling package
Havyard company MMC First Process is delivering a complete fish handling package, including equipment for draining and sorting. They also provide failsafe automation systems, pumps, RSW machinery, CO₂ strippers, tank washing, and oxygen and ozone production systems, as well as other water treatment. Norwater supplies the equipment for the production of fresh water.
"This will be the world's largest plant for the production of fresh water on a ship," says Kjetil Myren, who is senior designer, Havyard Design & Solutions. An impressive 700m³ per hour or 16,800m³ per day of fresh water can be produced using reverse osmosis.
"This corresponds to the average fresh water consumption per day for around 100,000 Norwegians," he says.
Salmon farming in Tasmania
Total production of salmon in Australia / Tasmania, according to Kontali Analyze this year, is expected to end at about 62,000 tonnes.
Of this, Huon Aquaculture, which will have Ronja Storm, produces about 25,000 tons / year.
There are no restrictions on farming licences as in Norway, only on where to produce.
Very little of the salmon goes to export, almost everything is consumed in Australia.
The price attainment of the fish is very good, an estimated 120 to 150 NOK / kg (average price in Norway is well over NOK 60 in recent years).
The temperature conditions in the sea in Tasmania are well suited for salmon production and are generally in the range of 8 to 16 degrees.
The main challenge is the gill disease AGD, in addition to sea lions.
Better water re-use
The use of newly developed systems for water purification and water treatment also means that fresh water can be reused several times more than today.
"Ronja Storm will have great capacity for adding oxygen and venting CO₂. Thus, the water can be reused up to 10-12 times," explains Myren.
In order for the fresh water not to be "contaminated" by seawater from the fish being pumped in, there are separate systems for disposing of this water before the fish enters the tank for treatment. In the same process, small fish of wild species that have trapped themselves in the cages are also filtered off.
"These do not tolerate freshwater and will therefore die if they come in with the salmon. You are therefore required to sort them out and put them back into the sea," says Stenersen from Sølvtrans.
The fresh water is diverted and filtered on its way out, so that it can be reused.
1,000-tonnes per hour loading
The load capacity is formidable. With four large loading systems, the boat can load 1,000 tonnes in one hour.
Another aspect of the boat being pulled out is the large grading capacity.
"It is significant. With two large sorting machines on deck, we can sort 250-300 tons per hour. Two sorting lines make it possible to efficiently separate fish in different sizes. It has been found to be beneficial for the feed factor to have as homogeneous groups in the cage as possible. Alternatively, you can also sort out the fish that are going to slaughter from those that need to grow a little more," says senior designer Myren.
"In Tasmania, they operate with the term 'golden hour' when it comes to the need for fish. What is not pumped into the boat by then, is released again. Being able to load the whole cage in one hour, thus becomes a point," adds Sølvtrans' Stenersen.
Direct current
The boat will be the first wellboat in the world to make use of a DC (direct current) supply of 1,000 volts. The Havyard company Norwegian Electric Systems supplies the electric power systems, consisting of generators, switchboards with rectifiers and frequency converters, as well as motors for propeller plants and thrusters. It also provides bridge systems and the ship's automation system.
"The advantage is that we can have variable rpm on the diesel generators, which gives both reduced consumption and emissions," says Stenersen. Maintenance costs are also lower with such a solution.
He explains that with an alternating current (AC) system, a constant speed of 1,800 rpm in the motors is required if they are to supply 60 Hz power. With rectifiers, the motors can be run in the entire range from 900 to 1,800 rpm depending on how much power the ship needs at any given time. Total power generation capacity is 9000 kW and is produced by four diesel generators of 2250 kW.
Being able to run with variable speed results in reduced fuel consumption in addition to reduced emissions of NOX and CO₂.
Noise reduction
"In addition to this meaning reduced fuel consumption, it also reduces noise. More and more often we are getting complaints about both light and noise. It is important that we can reduce it with this system," says Stenersen.
Variable speed generator sets will mean a significant reduction in noise both for those working on board, those working at the salmon facilities and permanent residents and the many visitors and cabin guests who are close to the facilities.
Some of the areas where Ronja Storm is to operate are quite close to both residential and popular tourist areas, and silencers with better attenuation of exhaust gear, speed control of ventilation fans and noise isolation of air intakes are other examples of noise-reducing measures used to make the boat as quiet as possible.
The direct current system also ensures built-in redundancy of systems in a better way.
Offshore technology
"With greater opportunity to be able to disconnect systems where errors occur, we ensure that the error does not spread. These are systems that have so far been common in offshore that we have now transferred to the wellboat," says Stenersen.
With up to 1,000 tons of fish on board, there are great values ​​that are being handled. Therefore, there has been great focus on making the wellboat systems even more robust and more redundant to ensure that the fish survive even a "major single failure", such as a larger short circuit in the power systems on board.
Ronja Storm has redundancy at all stages to ensure that at least 50% of the systems are still operational in such an event so that the fish welfare is taken care of and the fish kept alive.
Completely closed transport
The boat will not only be used for the treatment of AGD. It will also carry hatchery fish out to the cage and, not least, large fish to the slaughterhouse. The boat therefore has a great focus on biosecurity and can complete a long journey running a completely closed cycle.
"We will be ready for 12 hours of transport and another 12 hours when unloading the fish into the slaughterhouse. Then we use the RSW plant to cool the water to about 7 degrees below ambient temperature," says Stenersen from Sølvtrans.
The disinfection of the fish systems is done by washing for two hours, then tanks and tubes are filled with water to which ozone is added at a concentration of 2 mg / l. This solution is then left for two hours.
That the focus on fish welfare, efficiency, biosafety and redundancy is so great can be put into perspective when thinking about the values ​​that the boat will take on board.
The boat can have up to 1,200 tonnes of ready-to-eat fish on board. With the very good prices being achieved in Tasmania at the moment of around NOK100-110 / kg, each cargo could have a value of up to NOK 132 million. It won't take so many trips until that value exceeds the boat's contract value of just over NOK 500 million.
It says a great deal about both the aquaculture industry and, not least, the wellboat industry.