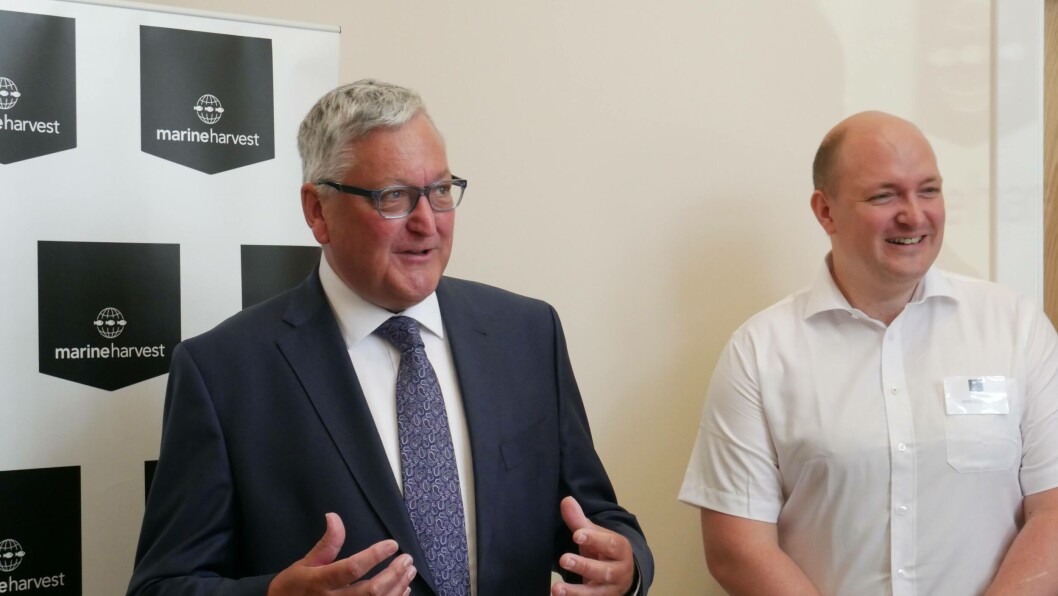 Minister opens 'magnificent' Marine Harvest hatchery
Marine Harvest's £26.5 million hatchery at Inchmore, Glenmoriston, has been formally opened by Scotland's Cabinet Secretary for the Rural Economy, Fergus Ewing.
The building
Size of two football pitches (13,500m²)
Volumes in the fish tanks (4.6 million litres), equivalent to two Olympic swimming pools
Volumes in the RAS in total (17.7 million litres), equivalent to seven Olympic swimming pools
Seven miles of underground process pipe
Seven miles of building services pipe
9000 m³ of concrete
730 tonnes of structural steel
1500 tonnes of reinforcement steel
2000 kW of installed electrical capacity
"This is an absolutely magnificent investment that Marine Harvest have made for the West Highlands, but more than that, for Scotland and for the future of the aquaculture sector, and it will contribute directly to the further sustainability of the sector," said Ewing.
"As we know there have been recent challenges, and recently the industry and the Scottish Government have announced the Fish Health Framework. We're working as a team, we're already overcoming many of the challenges, and I'm confident that we will overcome the remainder.
Fish production
800 tonnes per annum
5 to 6 million parr
5 to 6 million smolts
4 batches per year
Current stocking
Hatchery: 1,300,000 Q1 alevins
Fry A: 813,870 15 -20 g Q3 parr (68K per tank)
Fry B: 2,262,296 0.2g Q4 Fry (188K per tank)
Smolt A: 2,756,353 15 -20 g Q3 Parr (400K per tank)
Total: 7,132,519 salmon
"I also think it's relevant to say that the investment here, as well as being an enormous investment, will help sustain the local economy, increasing the employment to 18 well re-numerated and interesting jobs, and contribute directly to producing the most nutritious food of all, namely high-quality Scottish salmon that is revered around the world.
"In addition to that, Marine Harvest's investments in [its new feed plant] at Kyleakin and [fish processing] in Rosyth are clear demonstrations of the confidence the Marine Harvest has in Scotland."
Recirculating aquaculture systems
4 RAS for egg and alevin incubation
4 RAS, Fry A and B, Smolt A and B for feeding fish
RAS have mechanical filtration using drum filters, fixed bed biofiltration and fine solids capture, trickling tower biofiltration and CO2 degassing, ozone injection for dissolved solids removal and oxygen injection
Intake water fully sterilised using a batch system with ozone
1500 kW of chilling capacity installed
2100 kW of heating capacity installed
Fry system feed capacity (kg/day): 1050
Smolt systems feed capacity (kg/day): 1650
Total feed capacity (kg/day): 5400
Fry system flow maximum (m3/hr): 2000
Smolt system flow maximum (m3/hr): 4000
Total maximum flow all system (m3/hr): 12000
Olympic swimming pools volumes flowing every hour (maximum): 4.8
Total new water (m³/day): 260
New water % of recirculating flow: 0.09%
New water % volume per day: 1.5%
New water l/kg/food: 50
The state-of-the-art hatchery has the capacity to produce up to six million parr and six million smolts per year in four batches. It will supply almost half of the company's requirements for parr and smolts.
It is Marine Harvest's second modern RAS hatchery, following on from one at Lochailort that was completed in 2014. The new hatchery is of a similar design to the Lochailort facility, but a different style of degassing and a two-stage form of biofiltration removes the need for cleaning biofilters, a process that has to be carefully managed at Lochailort to avoid spikes in water quality.
MH Scotland's freshwater manager, John Richmond, who designed both plants, recalled some of the challenges faced in time and joked: "They say women forget the pain of childbirth until they're having labour again, and I think the same must be true of building a recirculation fish farm."
He added: "I must thank all the people who have been involved in this highly challenging process and strive to make it a success."
He also thanked the site's neighbours in the local community for their tolerance and understanding during the build, which is not yet fully finished.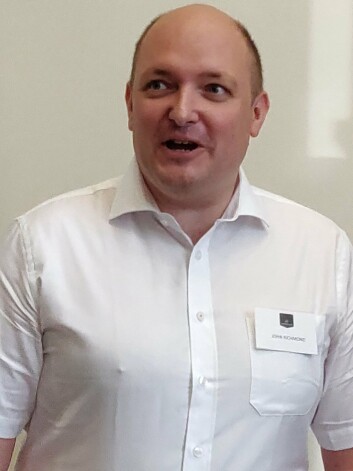 There are fish in the tanks but the vaccination area needs to be completed before the fish are delivered to sites in July.
"We are very nearly there," said Richmond. "We've still got a little bit to do but I hope very soon to finish construction and return the glen to a more peaceful environment.
"We had to start production here before construction was fully complete, and our staff here have done a great job working through this difficult time to protect the health and welfare of our fish.
"I'm optimistic that this facility will be a fantastic facility for both our people and our fish and set a great example of how our industry will develop."
MH Scotland managing director Ben Hadfield praised Richmond, saying he was a real strength in Marine Harvest. "You won't find anybody else in Europe, or perhaps the world, that knows as much about recirculating aquaculture systems."