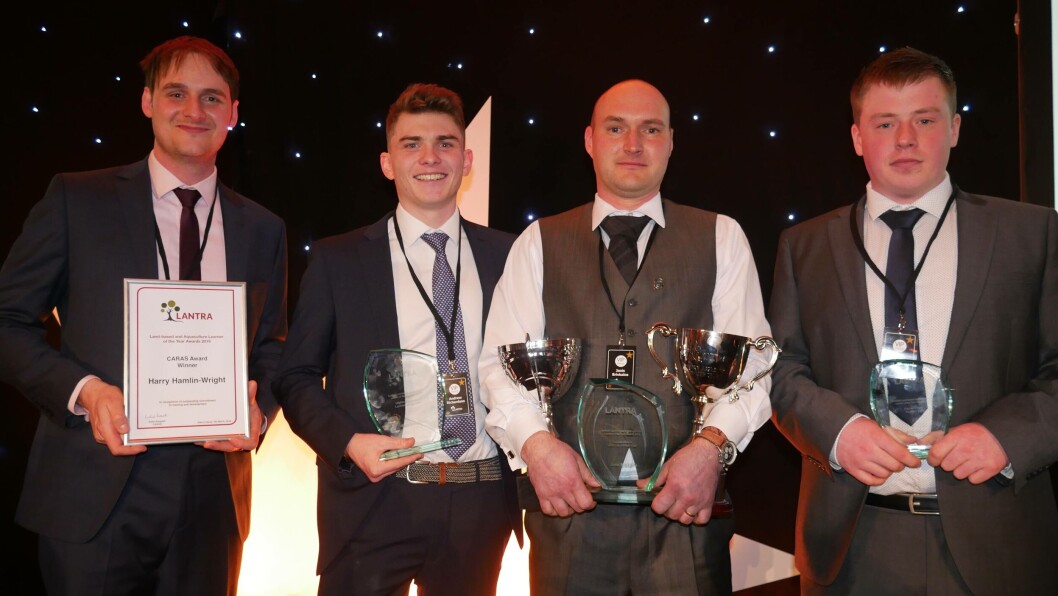 Triple success for salmon farmer at awards ceremony
Scottish Salmon Company trainee Janis Brivkalns celebrated a triple triumph at the Lantra Scotland awards ceremony last night during an event in which four aquaculture nominees shared six trophies.
Three of those belonged to Brivkalns, 34, who has completed a Modern Apprenticeship Level 2 in Aquaculture through Inverness College UHI while working as a marine operative at the SSC site at Loch Striven.
Brivkalns was delighted to be named the Aquaculture Learner of the Year, then stunned to hear his name read out again by host Jim Smith when the Modern Apprentice of the Year was named.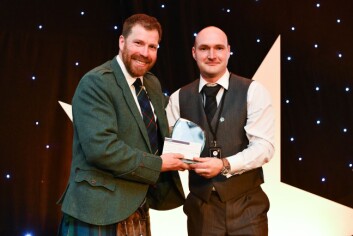 Overall winner
He barely had time to get back to his chair after collecting that trophy before again being called to the stage to collect an Overall Winner's award. Agriculture student Amy Park also got a trophy in that category.
"It's great to be recognised like this, and winning these awards is incredible. I hope this will help me progress within the company and the industry I love so much. I'm very grateful to my tutors at Inverness College UHI and my employers at the Scottish Salmon Company for all their support," said Brivkalns.
Award nominator Martin Sampson from Inverness College UHI said: "Janis thoroughly deserves to be rewarded for all his hard work. Embarking on a new career path in a different country isn't easy, but he moved rapidly through the course, developing and adapting his knowledge and skills to help his team to produce an exceptional crop of fish. Janis' work has been completed to an excellent standard and he is an inspiration to others."
Remarkable achievement
SSC chief executive Craig Anderson said: "To win three awards is a remarkable achievement, our congratulations go to Janis, he is an inspiration and we are extremely proud to see his dedication recognised by Lantra.
"With over 600 people across 60 sites, our people are our greatest asset and we are committed to investing in their training and development. We run over 12,000 hours of training annually and employ 38 modern apprentices across the business."
Lantra Scotland director Liz Barron-Majerik said: "Our judges were very impressed again with the quality of the nominations, but this year they really couldn't separate the two top learners. So for the first time ever, we have two overall joint winners, Amy and Janis. I'd like to congratulate them both and all the rest of our finalists too."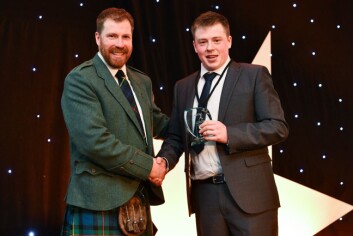 Fish health specialist
Billy Welsh, 24, from Stromness in Orkney, was named Aquaculture Learner of the Year runner-up.
Welsh, originally from Shetland, is a husbandry operative at Scottish Sea Farms' site at Scapa Flow and also fish health specialist at the site.
He has been doing a Modern Apprenticeship in Aquaculture through the NAFC Marine Centre UHI (University of the Highlands and Islands) in Shetland.
Welsh has been working for SSF for nearly two years, having previously worked as a rigger for a shipping company on Shetland.
Rewarding job
"I'd been doing that for three and a half to four years and decided it was time for change, so I moved from Shetland to Orkney. I had some mates working mates working in the industry and I was just speaking to them, and obviously the money's good so I thought 'why not?'"
Welsh said he'd learned a lot in the last two years. "I've done a couple of SVQs and that's been really good fun, and I've done my coastal skipper course and I thoroughly enjoyed that as well. You're always learning something new, it's enjoyable.
"I like the aspect of being at sea, and the aspect of taking something really small and looking after it and ensuring it has a good life. It's a rewarding job when you know you've grown a really good, high-quality product."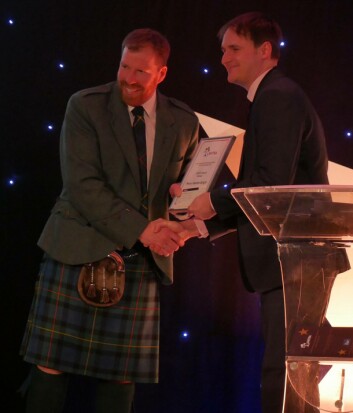 Varied role
Dawnfresh Farming's company vet Harry Hamlin-Wright, 29, from Perth, was given a CARAS (Council for Awards of Royal Agricultural Societies) award, which he believed was for a commitment to training and development both of himself and staff at the trout farmer.
Hamlin-Wright did his veterinary degree at Nottingham University before completing an MSc in aquatic veterinary studies at Stirling University's Institute of Aquaculture and then joining Dawnfresh.
"I started two years ago on their graduate training programme and a year ago the job changed to company vet. I absolutely love it. It is a really varied role and that is why I get so much out of it.
'Really chuffed, pleased and proud'
"My job includes fish health visits on farming sites, working closely with my boss, Richard Hopewell, and with people on the farming sites.
"I have also done training on fish health with new staff, which I have really enjoyed, and there is a lot of research-based work that I am really involved in. We have a close working relationship with the Institute of Aquaculture."
Speaking about the award, he said: "I feel really chuffed, really pleased and proud and very grateful to Dawnfresh for the nomination and for putting faith in me."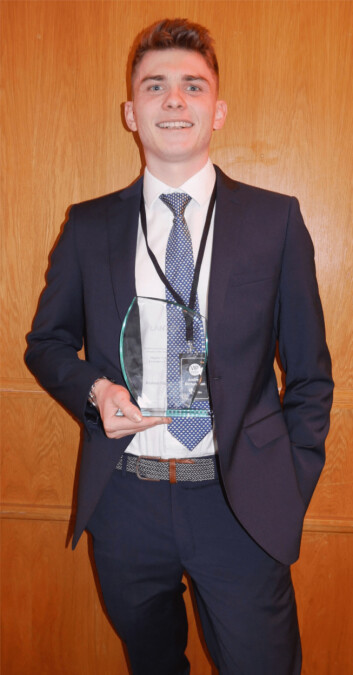 Dynamic and challenging
The fourth aquaculture-linked winner was Andrew Richardson, 26, and originally from Skye, who has been doing an Erasmus Mundus joint Masters degree in Aquaculture, Environment and Society through the Scottish Association for Marine Science UHI. He was named Higher Education Learner of the Year.
Richardson, who has had a number of internships during his studies, is keen to work in aquaculture when he has finished his Masters.
"I want to find an exciting job in this exciting industry, something dynamic and challenging," he said.
"I don't know what that is, but I know there will be a lot of opportunities out there for someone who has ambition."
The awards were presented at a dinner at the Doubletree by Hilton Dunblane Hydro, hosted by Perthshire farmer and stand-up comedian Jim Smith.