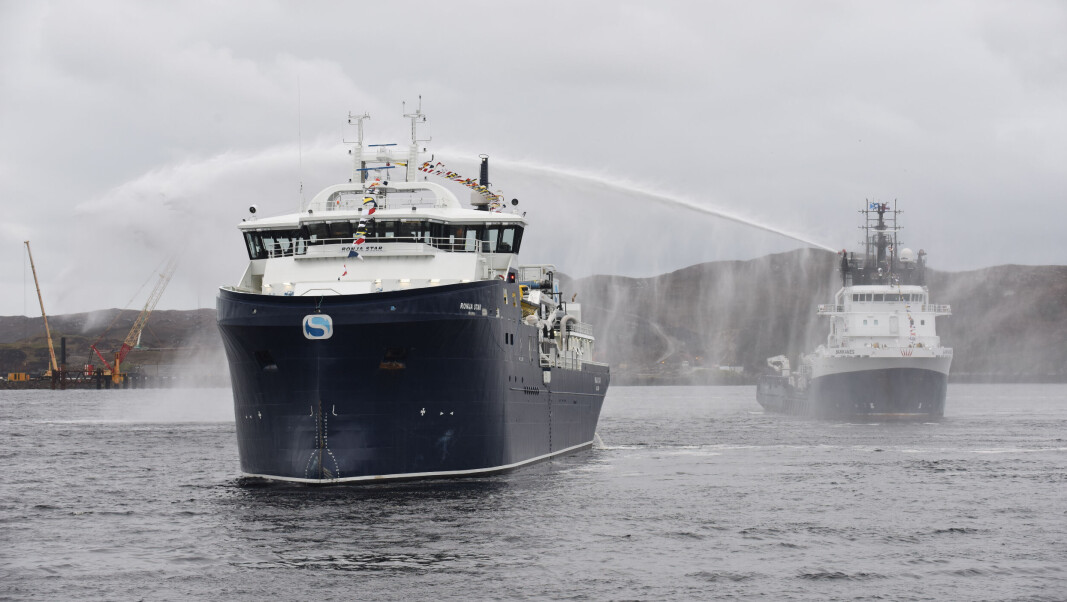 Scotland salmon farmer welcomes its new Star
Bakkafrost's state-of-the-art wellboat provides much-needed capacity for freshwater treatments
The largest wellboat in Scottish aquaculture – the Ronja Star - has been officially welcomed to salmon farmer Bakkafrost Scotland's fleet.
The 87-metre long hybrid-power vessel, commissioned from the world's biggest wellboat operator Sølvtrans in Norway, is equipped with an FLS mechanical sea lice removal system, and a reverse osmosis system to produce fresh water from sea water for freshwater treatment. This enables dual treatments for gill health and sea lice in one operation.
Na h-Eileanan an Iar (Outer Hebrides) MP Angus Brendan MacNeil and MSP Alasdair Allan joined Bakkafrost Scotland managers and local government representatives to officially welcome the Ronja Star at a reception in Stornoway today.
Larger capacity
The Ronja Star had been due to arrive in Scotland in July but was delayed until September. It has a well capacity of 4,000 m³, and will be permanently stationed in Scotland. It replaces a wellboat which had been in Scotland as a stopgap and had a well capacity of 2,800 m³.
Bakkafrost is also serviced by the 2,500 m³ capacity wellboat Ronjafisk, which was christened by Bakkafrost Scotland's marketing chief, Su Cox, in 2020 and is on a five-year lease.
The company said the Ronja Star had been specifically built to handle fish with care, while increasing biosecurity in line with its sustainability strategy, which will see an increase in the use of freshwater treatments across its marine sites on the West Coast of Scotland.
Bakkafrost Scotland has placed a high priority on freshwater treatment after experiencing continuing problems with amoebic gill disease (AGD), which has also impacted other faring companies.
The investment in this vessel will allow us to substantially increase the use of freshwater treatments for gill health, and when required, remove sea lice in a single treatment
Bakkafrost Scotland MD Ian Laister
In the third quarter of this year widely spread of plankton and micro-jellyfish blooms caused gill issues. The micro-jellyfish were a driver for extraordinarily high extra mortality, but this is escalated even higher if the secondary AGD is not controlled with freshwater bathing, the company said in its third-quarter presentation.
The Ronja Star will enable more freshwater treatments to be carried out.
Battery hybrid solution
The vessel has state of the art fish life support systems, which include high-capacity oxygen production, a carbon dioxide removal system, and a water cooling system to ensure the fish are kept in optimal condition during treatment. In addition, it has an automatic cleaning system, alongside sensors and cameras to monitor fish and water quality.
The Ronja Star is fitted with diesel electric propulsion and a battery hybrid solution which reduces fuel consumption and emissions and reduces noise.
Ian Laister, managing director at Bakkafrost Scotland said: "Our ambition is to become the leading most sustainable salmon producer in Scotland. The proactive management of the health and welfare of our salmon is at the forefront of our sustainability strategy.
"The arrival of the hybrid Ronja Star reflects and enhances those ambitions. The investment in this vessel will allow us to substantially increase the use of freshwater treatments for gill health, and when required, remove sea lice in a single treatment. This will improve fish health and biological performance."