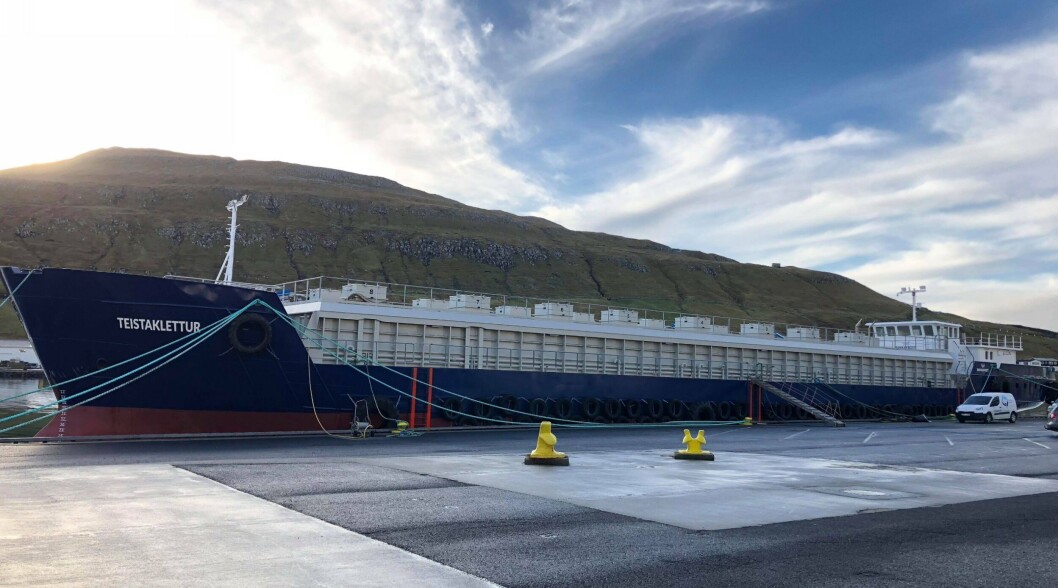 Shipshape feed barge ready for the rough stuff
Faroese salmon farmer Bakkafrost has taken delivery of a new 800-tonne capacity feed barge converted from a 75-metre bulk carrier.
The 'ship-design' barge is supplied by Faroes company JT electric and will be located at a highly exposed area in the southern island of Suðuroy.
The barge is fitted with a remotely-operated eight-line feeding system developed by JT electric.
"It is essential to have a good and stable feeding system onboard the barge because it will be unmanned and some days inaccessible due of rough weather," said JT electric chief executive Suni Justinussen.
"The feeding system has been developed in close relationship with the fish farmers over the past four years and it has proven to be a good reliable system."
The vessel is the second 800-tonne barge of this kind that JT electric has delivered to Bakkafrost in 2018.
In a press release, JT electric said extreme conditions are a key factor when choosing a ship-design barge.
"Many of the sites in the Faroe Islands are exposed to high waves and bad weather and this, coupled with the demand for dependable yet innovative feeding, is the reason why the fish farmers choose the ship-design barges. The advantages with this concept are that they are more rigid than standard barges, have large storage capacity, good stability and have over the years proven to be a good working environment for the fish farmers."
Justinussen said: "We are proud to have delivered eight large ship-design barges since 2013, and we continue to develop and improve on this concept for the industry."
JT electric, which has begun selling to fish farmers outside the Faroes, is a full-service supplier of technical equipment to the aquaculture industry.
The company is based at Kambsdalur on the island of Eysturoy, where Bakkafrost has its headquarters at Glyvrar.
Bakkafrost said earlier this year that investments in new sites in Suðuroy will, together with its strategy of setting out larger smolts, add a further capacity of 10,000 tonnes – a 20% increase on its current harvest volumes. Farming site A-17/18 Hovsfjørður has already started operation, and A-23 Hvalbiarfjørður is expected to start operation in H1 2019.
Construction of a new hatchery in Suðuroy for large smolt production is expected to commence early next year.