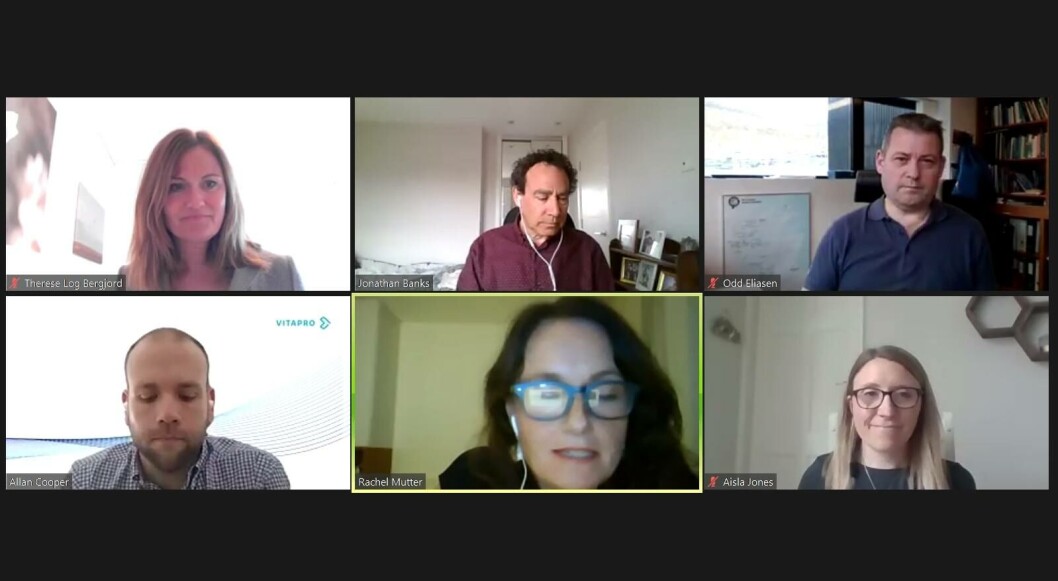 'Sustain and explain' message delivered at seafood webinar
Sustainability, transparency and communication with consumers are key to the aquafeed, salmon and shrimp industries and will be even more so in a post-Covid future, a webinar by marine ingredients organisation IFFO has heard.
Five experts from feed and retail took part in the panel discussion titled which asked the question: Has Covid reshaped markets for salmon and shrimp?
The panellists included Therese Log Bergjord, chief executive of aquafeed producer Skretting, and Odd Eliasen, managing director of Havsbrun, the feed subsidiary of Faroese salmon farmer Bakkafrost.
Aisla Jones, fisheries and aquaculture manager of the UK's Co-op Group, and Allan Cooper, business development director of Peruvian salmon and shrimp feed producer Vitapro, also took part, along with Jonathan Banks, a consultant and former European business insight director at global market research company Nielsen.
Covid changes here to stay
Changes that consumers were already starting to make – such as buying in bulk, choosing more frozen food and moving to online shopping – accelerated during Covid and will to a large extent remain, said Banks.
For example, online shopping's share of the market increase from 6% to 16%. This will decrease, but not by much, said the consultant.
Jones said the lockdown had been challenging for retailers, not in terms of supply but in getting enough of the products on to the shelves. Last year had seen peak demand for salmon and shrimp but the Co-op is still selling more than it was two years ago.
Salmon fillets and shrimp had both been selling really well, said Jones, who added that she believed people were cooking more at home, given what they had been buying.
Shift in shrimp
The webinar heard that the increased emphasis on retail hadn't required much change in salmon production in terms of the size of fish required.
"We have seen more of a shift in the shrimp industry from whole shrimp," said Bergjord.
Cooper said that in Ecuador shrimp farmers had moved export focus from China to the United States and Europe, and had moved more towards the retail channel, so were adapting not only at the farming level but also at the processing plants.
"We are perceiving that shrimp farmers are more conscious of sustainability," said Cooper. "Retailers in the US and Europe are asking for this."
Hot topic
Looking at the salmon sector, Eliasen, who was in temporary charge of the Scottish Salmon Company following its 2019 purchase by Bakkafrost, said sustainability had been a hot topic for quite a while, and with more fish going into retail that will continue.
Asked by moderator Rachel Mutter of IntraFish how much sustainability mattered to consumers, Jones said: "People are now thinking more and more about where their food is coming from."
She added that customers expected retailers to ensure that the supply chains they source from are not having a negative effect on the environment. Because the focus of some NGOs had been on marine ingredients, these were more in the spotlight than other feed ingredients.
"We would like to see the focus on all ingredients," said Jones.
Non-marine ingredients
In answer to a question by Mutter on whether when non-marine ingredients would now really start to take hold in the feed sector, Bergjord said Skretting was looking at new ingredients all the time. One problem was that while there were different small-scale operators that had promise for the future, they couldn't meet the feed industry's needs at the moment.
Sustainably sourced marine ingredients such as fish meal and fish oil would remain important in the coming years.
Asked if the increased consumer focus on sustainability would push salmon and shrimp production into different systems closer to markets, Eliasen said it would take years before recirculating aquaculture systems achieved large volumes.
Bergjord said that for large-scale producers, the sustainability of the feed they used was much more important than where salmon or shrimp were produced.
The possibility of more producers choosing to produce their own feed didn't worry Bergjord, Eliasen or Cooper.
"Twenty to 25% of salmon farmers have integrated feed production but I don't think it will exceed 33%," said Eliasen.
"There is nothing to gain for farmers in Norway to integrate [feed production]," said Bergjord, who pointed out that feed was a very competitive market.
Terrific growth
Looking ahead, all the panellists agreed that it was more important than ever to educate consumers about the sustainability of the industry and to meet consumer expectations.
"Shoppers will be looking to the retailers to do all the hard work for them," said Banks. "It will not attract more people to their store but if they get one thing wrong it will repel shoppers."
Banks added that the seafood category would continue to grow "at a terrific rate of knots" due not only to a growing population but also a growing middle-class keen for healthy, sustainable food.
"There is headroom for further growth to be exploited provided we can get all these things right."
More questions
Cooper said the increased focus on retail meant the industry would get more questions from consumers, which would allow producers to tell aquaculture's story and explain how best to prepare seafood.
This was reiterated by Jones, who said transparency was key, and that fish farmers had valuable stories they should tell. "There are some really interesting producer stories within seafood that people just do not know about," added the Co-op executive.
"It would be very good to tell the story of how we are harvesting the fish stock [sustainably]," said Eliasen. "That will be extremely important in the future to utilise fish meal and fish oil."