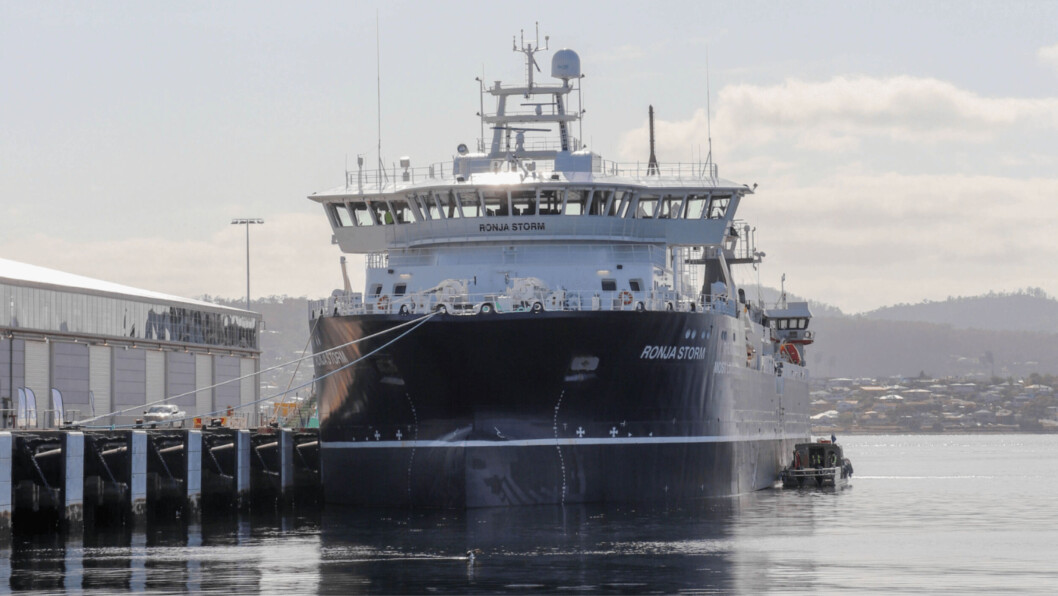 Long-forecast Storm arrives in Tasmania at last
It's packed with technology, it runs more quietly than a dishwasher, and it's the biggest of its kind. And finally – seven months behind schedule - the Ronja Storm has arrived in Tasmania.
The Sølvtrans wellboat, which is on a permanent contract with salmon farmer Huon Aquaculture, moored at Hobart port at the weekend and is now undergoing a biosecurity and customs check which also includes ballast water checks.
Once cleared, the wellboat will undergo several pilot trips before commencing operations.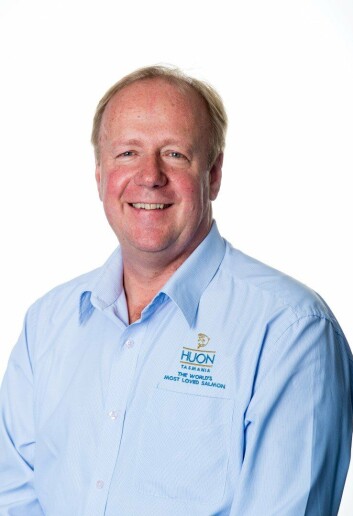 Bigger, better, safer
Huon chief executive Peter Bender the Ronja Storm was an investment into Huon's future into farming in Tasmania, and Australia as a whole.
"At 116 metres long and 23 metres wide, she has a total water storage volume (including treatment tanks) of over 13,000 cubic metres and can hold 800 tonnes of fish at a time," said Bender.
"The Ronja Storm's large capacity and on-board desalination plant (which can produce 700,000 litres of freshwater every hour) means that it can do considerably more work, including when conditions are rough - which they often are in Storm Bay, the vessel's namesake, and where she will be based."
Bender said the wellboat's technology was a "game changer" that enabled expansion in offshore, more challenging farming environments and strengthened animal welfare and biosecurity practices while also providing a much safer working environment for employees.
Variable speed generators
The Ronja Storm is fitted with a power system which utilises multiple variable speed generators which adjust the number of units in operation as well as engine speed, to meet required power demand, said Huon in a press release.
This is achieved by generating power at 690 Volts AC (alternating current) with variable frequency and converting it to DC (direct current) inside the main switchboard, and transmitting it through the ship using 1,000VDC and 700VDC grids. Electrical power is then converted back to the required AC voltage by frequency converters which control electric motor speed. As a result, the system achieves a significant reduction in fuel consumption, and noise and exhaust emissions.
"This is the first time this type of offshore power management system has been fitted to a wellboat. She includes backup power systems that ensure a minimum of 50 per cent operations in case of system failure resulting in robust, secure fish welfare practices," said Bender.
90% less noise
The vessel is also a quiet giant.
The power generation and propulsion system is designed to operate at a maximum sound pressure of 35 decibels (dB) which is a reduction of 90% when compared to the designed noise pressure of 45dB of the company's current wellboat, the Ronja Huon. (The Bel scale is logarithmic so an increase of 10dB increases sound pressure by 10 times and an increase of 20dB increases it by 100 times.)
To compare this with some common household white goods, the quietest dishwasher available produces 40dB and an average domestic refrigerator produces 45dB.
Biomass increase
Huon communications manager Pene Snashall told Fish Farming Expert that the capacity of the Ronja Storm means it will be able to manage Huon's planned increase in biomass from 25,000 tonnes this year to 30,000 tonnes next year.
"The benefit going forward will be from efficiency gains associated with this process in combination with a range of measures that have been put in place, such as the Whale Point salmon nursery and our new, larger capacity automated feed barges," added Snashall.
The Ronja Storm was designed by Havyard Ship Design in Norway with significant input into the fish handling systems provided by both Sølvtrans and Huon Aquaculture.
The hull, superstructure and large pipework were purpose-built at the Cemre shipyard in Turkey. The bare ship was then towed to Havyard's shipyard at Leirvik on Sognefjord in Norway for the comprehensive fit out.
Construction was delayed because of financial problems encountered by Havyard which necessitated Sølvtrans, the world's biggest wellboat services supplier, having to pay advance payments to suppliers to complete the ship.