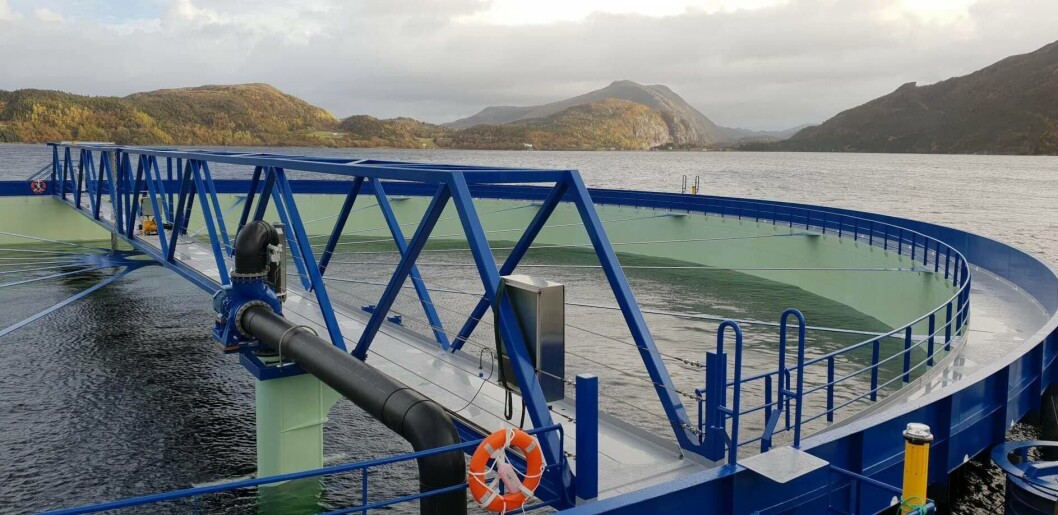 180,000 fish placed in first 'Aquatraz'
The Norwegian owner of the experimental "Aquatraz" cage was yesterday expecting to complete the transfer of the first salmon to be tried out in the facility.
Midt-Norsk Havbruk has moored the semi-closed cage at its Eiterfjord site in Nærøy municipality and is putting in 180,000 fish weighing just under 1.5 kg.
The fish were being taken from standard net pens and were being de-loused with fresh water before entering the Aquatra, writes Kyst.no, Fishfarmingexperts sisterpage.
The steel cage is the first of four to be built at the Fosen shipyard at Kvithylla in Trøndelag. The second is already under construction, and the third and fourth are slated for delivery in 2019.
The cage has been designed by the firm Seafarming Systems Ltd, which says the aim is to improve animal welfare and to prevent salmon from escaping.
Seafarming Systems Ltd says escapes are caused by human error or objects tearing holes in the net, and Aquatraz's rigid steel structure is capable of withstanding more than current net pens.
The design automates many operations, which reduces the risk of human error and also reduces the risk of escape significantly, it claims.
Seafarming Systems Ltd says the Aquatraz will improve fish health. Fresh water is pumped from depth into the net pen, and is then circulated, ensuring an optimal environment for the fish in water that is rich in oxygen and maintains a more even temperature.
The cage has solid walls in the top eight metres, helping prevent lice, which are largely found in the upper water masses, from entering the facility. The open panels at the lower level allow natural water flow in the event that the mechanical water supply should fail.
The net pens inside the steel wall can be lifted out of the water for maintenance and are disinfected through drying or freezing in the winter.