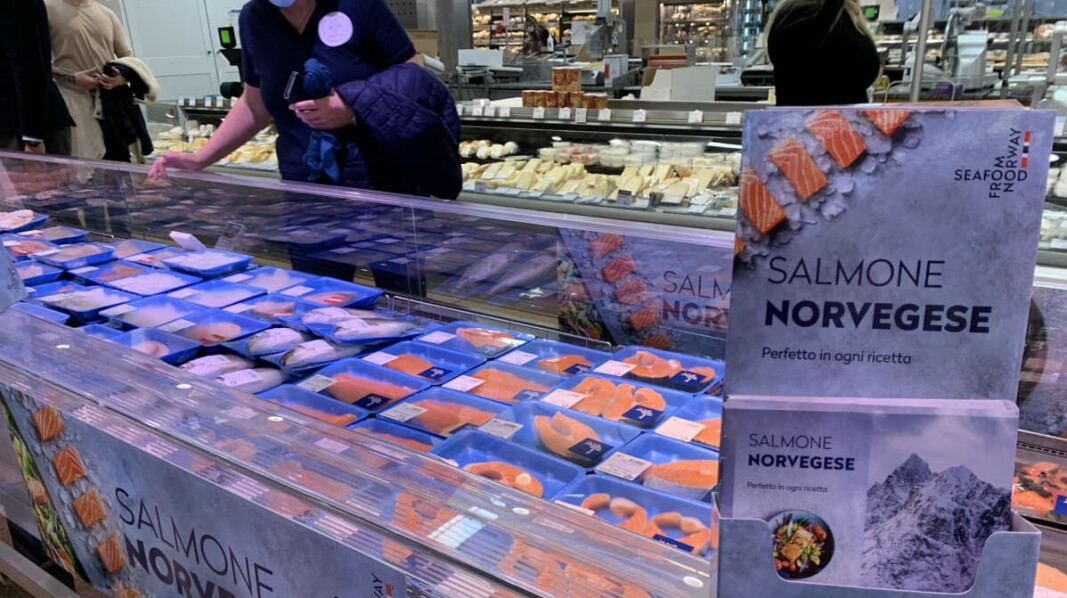 Norway sets another seafood export earnings record
The country exported seafood worth NOK 15.4 billion (£1.29 bn) in October, the highest value ever in a single month. Two thirds of the revenue came from salmon, which also set a new record.
The value of seafood exported from Norway in October was NOK 727 million higher than the previous record month, which was September 2022. It was also an increase of NOK 3.3 billion, or 27%, compared to October last year.
Farmed salmon was once again to the fore. Norway exported 133,105 tonnes of salmon worth NOK 10.6 billion last month – a volume increase of 5% and a value increase of NOK 2.7 bn, or 34%, compared to October 2021. The export value was a new record for a single month, breaking the record set in September by NOK 731 m.
"Norwegian seafood exports experienced historic growth in October. The value of NOK 15 billion is not only a solid record. This means that every single day this month we exported seafood worth just under NOK 500 million. These are enormous numbers and show how important this industry is to Norway," said Christian Chramer, chief executive of the Norwegian Seafood Council.
2022 'will pass NOK 150 bn'
So far this year, Norway has exported NOK 123.9 bn worth of seafood. That is NOK 27.1 bn ahead of the same period last year.
"On 25 October we passed the export value for the record year 2021. Then the value for the whole year was NOK 120.8 bn. With a good development in the last two months of the year, the export value of Norwegian seafood will pass NOK 150 bn in 2022. That is impressive and close to tripling in ten years," said Chramer.
So far this year, a record high export value has been achieved for species such as salmon, cod, trout, pollock, haddock and prawns. Chramer nevertheless emphasised that there is a gloomy veil over the strong growth.
"We live in a very demanding and troubled time, with high food inflation and a fierce battle for proteins all over the world. This has led to historically high prices for Norwegian seafood. In addition, a weaker Norwegian krone in October helped to lift the export value. The price in Norwegian kroner will be higher with a weaker Norwegian krone," explained Chramer.
Less home consumption
Other challenging factors are the changes in seafood consumption and tighter household finances in the major markets.
"Several countries are reporting a decline in home consumption of seafood, at the same time that the restaurant market is experiencing challenging times. Expectations of a significantly weaker economic development therefore cast a shadow over the outlook going forward," said Chramer.
Norwegian Seafood Council analyst Paul Aandahl said that alongside high prices, a larger export volume, and a weak kroner, an increase in the amount of secondary processing carried out in Norway had also contributed to the record export earnings.
The proportion of fillets is still increasing compared to last year.
"If we convert to round weight, fillet products account for around 15% of exports in October. This is up one percentage point compared to last year. So far this year, the proportion is 16%. It is also up one percentage point," said Aandahl.
Poland took more salmon
Exports to Poland, where much secondary processing of farmed salmon is carried out, had the largest increase in value in October. Exports were worth an extra NOK 472 m, (41%), compared to the same month last year. The export volume to Poland was 23,460 tonnes, 9% higher than in October 2021.
"The United States is the second largest growth market for salmon, with a value increase of NOK 458 m, or 86%. A strong dollar exchange rate and demand growth contribute to this," said Aandahl.
Norway exported 5,019 tonnes of trout worth NOK 465 m in October. The value increased by NOK 75 m, or 19%, compared to October 2021, although export volume fell by 18%.
The US, Thailand and Japan were the biggest markets for trout in October.