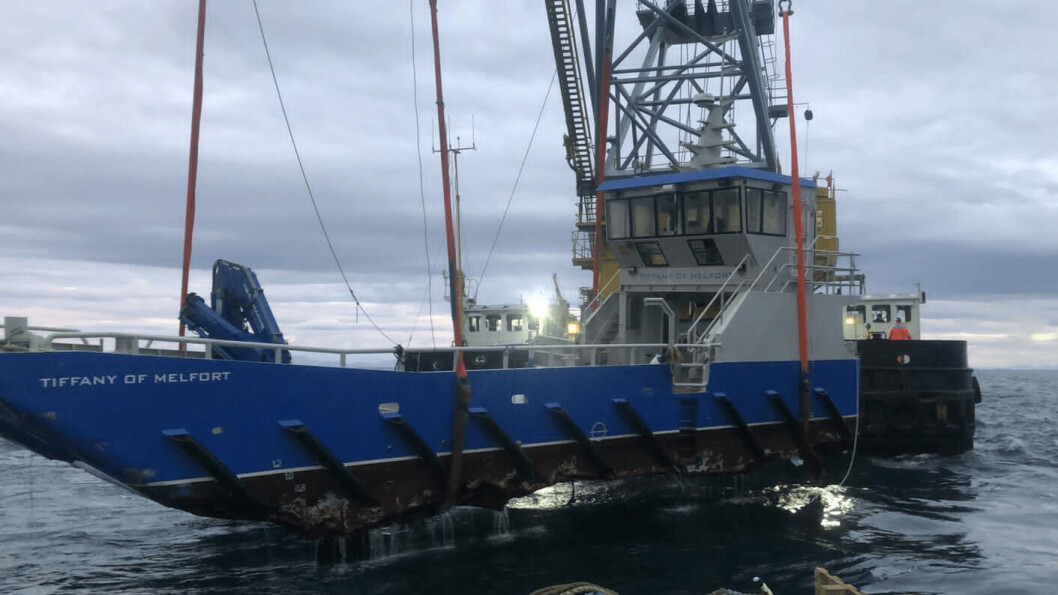 Sunken workboat lifted on to salvage ship
A fish farm workboat that sank off the west coast of Scotland after breaking free of its moorings in Loch Pooltiel, Skye during a storm has been loaded on to a ship for recovery.
The Tiffany of Melfort, which went down close to the Shiant Isles east of Harris on the weekend of October 31-November 1, was lifted aboard the crane ship Lara 1 earlier this week.
The boat was raised from the seabed within a couple of days of sinking but damage to the hull made it unsafe to tow.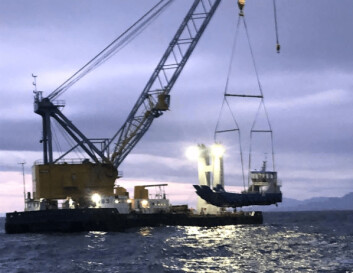 Damage assessment
The boat's owner, trout farmer Kames, based at Kilmelford, near Oban, is still waiting to discover whether it can be economically repaired. The Lara 1 has been sheltering from gale force winds near Ardnamurchan and is waiting for better weather before heading for the James Watt Dock in Greenock, where the Tiffany of Melfort can be more thoroughly examined.
"We don't know if it can be repaired," Kames managing director Stuart Cannon told Fish Farming Expert. "The top half looks good, although a couple of doors and the railings have gone.
"The damage has been done on the hull, on the corner of the base. It is not easy to patch that."
There are also questions about what water damage may have been done to the vessel's engines during the time it was submerged, and its wiring system is also likely to require replacement.
Tiffany of Melfort is a landing craft built specifically for Kames' requirements by Exeter Fabrications at a cost of £1.1 million. It was delivered just over two years ago.
"We loved the vessel, it was great," said Cannon. "There is a big hole now in trying to manage what we need to do on the farms.
"There is not a surplus [of that type of boat] waiting to be hired or sold. We have lent it to other fish farmers previously because they cannot get them."
Grateful for help
Cannon said the versatility of the boat had allowed Kames to help local people with tasks like taking sheep off islands and ferrying vehicles such as tractors, and the company had in turn been offered a lot of help in its time of need.
"I am really grateful for all the help that people have given us. Local fishermen, divers and fish farmers have all offered help."
At 19 metres, Tiffany of Melfort is twice the size of Kames' other vessels and was fitted with a Baader stunner that was being used for harvesting at Loch Pooltiel, north west Skye.
The boat, which was unmanned, broke free from its moorings during Storm Aiden, which brought 70-80mph winds to the west coast of Scotland. It was pushed north-easterly until it reached the Shiant Isles, where it was forced against rocks and eventually sank to a depth where it was completely submerged. Oban-based North West Marine is the principal salvor.
Watch a short video of the boat being lifted below.