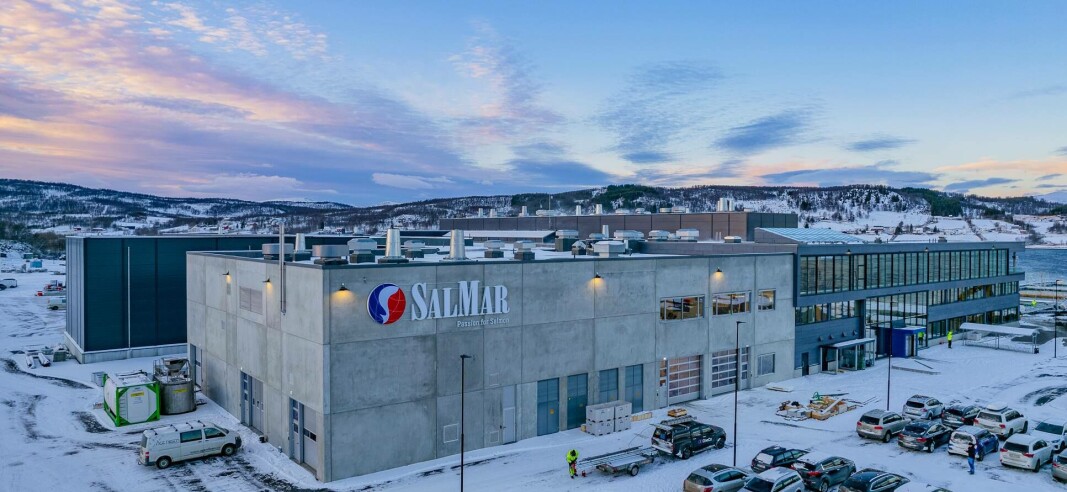 How SalMar goes green – in black and white
Salmon giant documents use of green bond proceeds to cut emissions and freshwater use
"My word is my bond" is a well-known pledge, but for salmon farming heavyweight SalMar it's more a case of "My bond is my word".
In April last year SalMar raised NOK 3.5 billion via a "green bond" issue and has now provided calculations to illustrate how the proceeds are being used for projects that are reducing its impact on the environment.
The Norwegian farmer, which co-owns Scottish Sea Farms, has spent the proceeds in three ways: on its new secondary processing facility; on two new smolt facilities; and on refinancing of licences that will be used for Aquaculture Stewardship Council-certified farms.
CO₂-equivalent reduction
It says the InnovaNor processing facility at Senja in northern Norway will save 26,000 tonnes of CO₂-equivalent (CO₂e) emissions by having 30,000 tonnes per year of fish processed locally instead of being sent abroad for filleting, etc.
Its new recirculating aquaculture system (RAS) hatcheries – which will increase annual smolt capacity from roughly 36 million to about 76 million smolt - will use just 17.6 million cubic metres of fresh water per year between them, compared to 882 million m³ per year if the hatcheries were of a flow-through design.
Investment in production licences for certified or in preparation for ASC certification will help SalMar reach several key targets including improved feed conversion ratio and survival rate, the company says.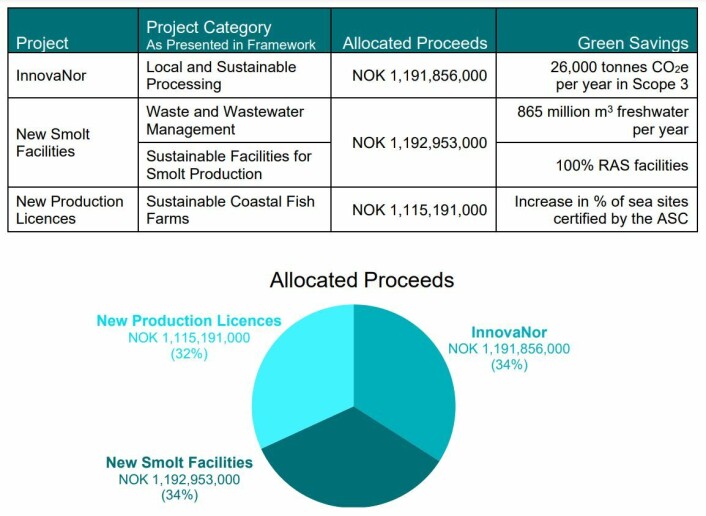 SalMar has allocated almost NOK 1.2 bn to the InnovaNor plant in northern Norway.
"Environmental benefits from local processing are outstanding and manifested especially in fewer inedible substances being transported around the world," SalMar says in its Green Bond Report published today.
"By concluding processing operations in-house, only the readily edible salmon, and thus less weight, is sent by truck, train, boat and/or plane – thereby contributing to significant reductions in transport emissions."
Less to transport
In 2021, local processing at SalMar's 60,000-tonnes-per-year capacity InnovaMar plant in mid-Norway prevented 52,000 tonnes of CO₂-equivalent (CO₂e) emissions from transport.
With half the processing capacity, a rough estimate would indicate that the emission reductions from local processing at InnovaNor would be half that, i.e., 26,000 tonnes CO2e, says SalMar.
"One could, however, argue that InnovaNor, at Senja, is further away from the market, with some 98% of all SalMar's exported products being transported via Oslo," adds the company.
"Truck transport from InnovaNor (Senja) to Oslo involves a driving distance of approximately 1,500 km, compared to 550 km from InnovaMar (Frøya). Therefore, transporting less inedible product from InnovaNor is more effective in reducing emissions than from InnovaMar. However, deriving strong estimates here is complex. Therefore, we will use the initial estimate of 26,000 tonnes CO₂-equivalent reductions as a lower bound for the emission savings from the investments in InnovaNor."
89% of smolts from RAS
The construction of two new smolt facilities began in 2021 in Tjuin in central Norway and in Senja in 2020 and is aligned with SalMar's ambition to improve water efficiency by at least 30%.
SalMar's share of smolt delivered from RAS facilities has steadily increased, and the extraction of freshwater has consequently decreased. Last year 89% of SalMar's smolts were delivered from RAS facilities and 36.9 million m³ freshwater was extracted. The fish farmer aims for 100% RAS -driven smolt production in the future.
At Tjuin, the smolt facility will neighbour Nippon Gases, which affords a possible symbiotic cooperation where Nippon Gases could receive waste substances from filtered wastewater from the smolt facilities and SalMar could receive excess heat from their production or other necessities for smolt production from Nippon Gases, all locally sourced.
SalMar says that increasing smolt production within its main operating areas simplifies and shortens the value chain, which allows for both a higher degree of operational control and lower greenhouse gas emissions due to shorter upstream transport distances.