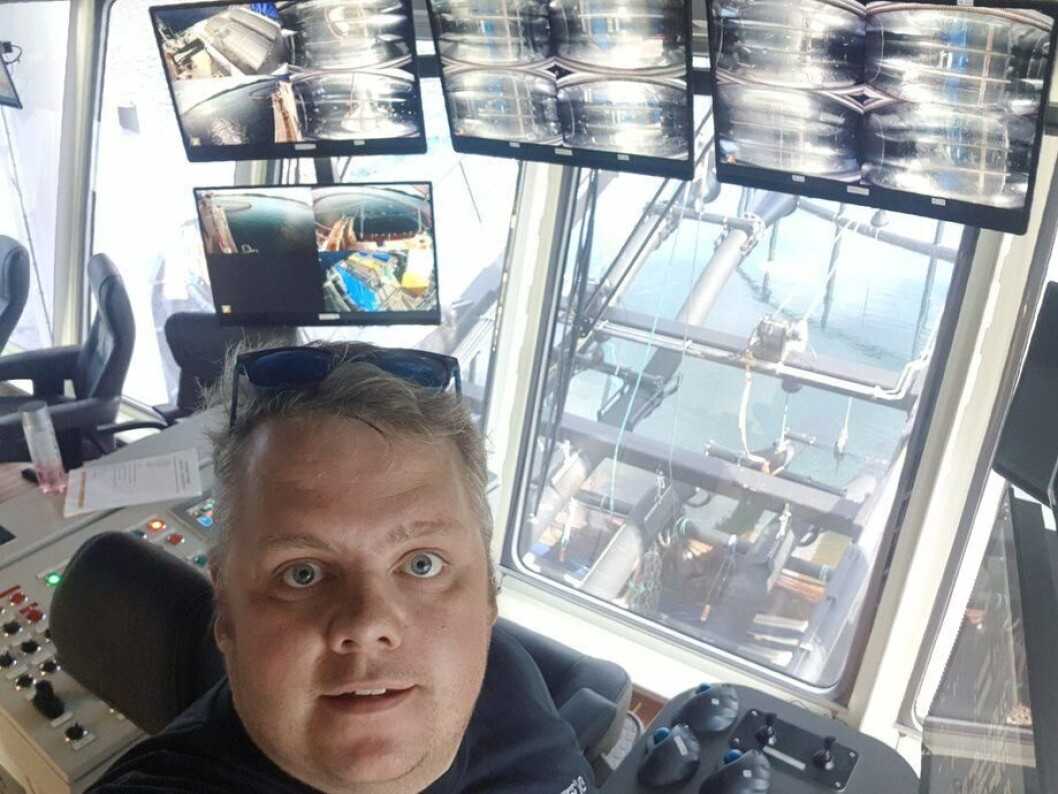 Welcome aboard the delousing barge Hydro Flow
Hans Martin Flasnes works on the delousing barge Hydro Flow that belongs to the Norwegian company Hydrolicer. He has given Fish Farming Expert's Norwegian sister site, Kyst.no, a peek into the daily life as a process operator, in words and pictures.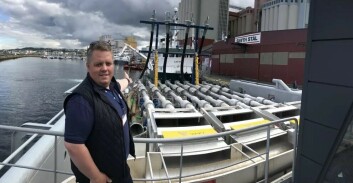 Flasnes works as a process operator and is responsible for the crew, operating the actual delousings processes, and planning other assignments together with the owners Midt-Norsk Havbruk and Bjørøya.
He was contacted by Frank Øren, who is currently the general manager of Midt-Norsk Havbruk, and one of the founders of Hydrolicer.
"Ørnen wondered if I wanted to join the team and work with delousing of salmon. I couldn't say no to that, and I have not regretted that choice," he states.
The 33-year-old works as a process operator on two barges, Hydro and Hydro Flow. The staff work two weeks on and two weeks off, and the working hours are from 7am to 7pm.
Hydro Flow has four lines and a capacity of approximately 200 tonnes of fish per hour, while Hydro has six lines and a capacity of around 250-300 tonnes per hour.
'100% control'
In order to treat the salmon as wellas possible, the Hydrolicer team continuously works to make improvements on both systems and barges.
"We are developing a lot of equipment, to get 100% control of production and gentleness. All parts of the lines where the fish go are thoroughly checked so that they are both smooth and fine inside, and all joints are good."
Since the start, the company has also run a research project with Sintef, which has entailed putting sensors througouth the system, to control pressure loads, speed, etc.
"In addition blood tests are carried out to test the stress level of fish before, during and after a hydrolicing," Flasnes says.
"Several sites start feeding the fish the same day as the delousing process, and most of them are back on 100% feeding the day after treatment. We believe that treatment in a closed water column, without manipulation of temperature and other external stress, is both gentle and best for the fish."
Interview continues below picture gallery.
'Quickly in place'
"Our owners Midt-Norsk Havbruk and Bjørøya have a very strong focus on the preventive aspects of lice control, such as the use of lice skirts, and cleanerfish, etc," says Flasnes.
If the lice numbers suddenly start to increase drastically, they have overcapacity on the barges, and have both a six-line Hydrolicer and a four-line Hydrolicer ready for use.
"So, we get into place quickly if things escalate and we manage to have good control," explains Flasnes.
"A delousing mission takes anywhere from one day to one and a half weeks. It depends entirely on how many cages need to be deloused and the distance between locations. Between each operation, we spend about a day on washing and veterinary control," he says.
The company has crew aboard both barges who work from morning to evening.
Sleep, eat, work all day
"In the lice season, it's mostly sleep, eat and work all day. We also need to have some humour and fun in between shifts. It is important to keep the sparkle up among the crew socially."
A typical day on board the Hydrolicer, says Flasnes, starts at about 6.40am with breakfast together with the rest of the crew.
"It's a nice gang I'm working with, so it's always enjoyable around the breakfast table. After that we start preparation of the day's operations.
"The environment is good, and that is very important as we live so close to each other for a 14-day period. It's amazing to be able to work on the sea, both in the rain and the sun. It's not often that we don't get to see the sun go down," he says.
The two barges move mostly from Leka in the north of Norway to Røan in the south, and in July the barges travelled about 220 nautical miles in total.
"For a few months we travel over short distances and some months from end to end in our 'trade area'. In July, I have been on board both boats and then there has been some travelling between different locations", he adds.