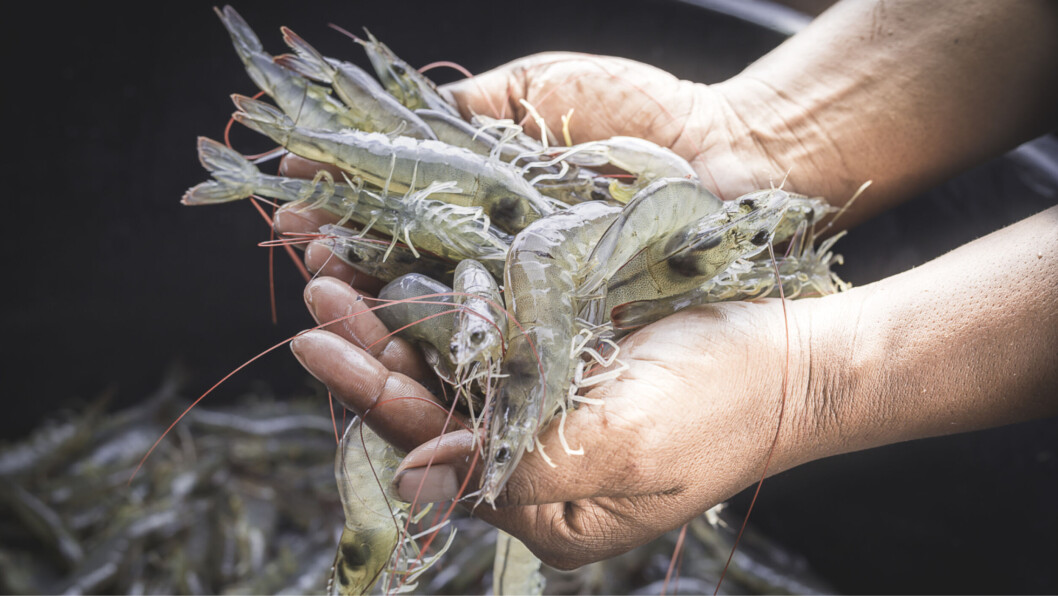 Shrimp industry shows best appetite for fish-free feed
Teams competing to sell the most fish-free feed sold more than 3,000 tonnes of feed in the first three months of the contest, but only 145 tonnes have gone to the salmonid industry.
The lion's share of the feed – 2,950.95 tonnes – has been bought by shrimp farmers. Salmon farmers bought 145.26 tonnes and farmers of other carnivorous species bought 7.72 tonnes.
The teams are competing in the F3 Challenge – Carnivore Edition, which is designed to spark innovation in the aquafeed industry to find viable, cost-competitive aquafeed ingredients and feeds free of fishmeal and fish oil. The goal is to eliminate the need for wild-caught fish and other marine animals in aquaculture feeds.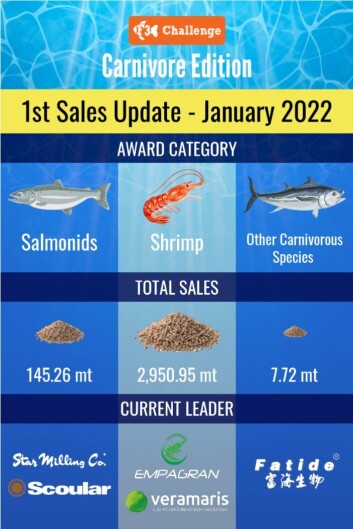 $300,000 prize pot
There is a prize of US $100,000 on offer in each of three categories - salmonid, shrimp, and other carnivorous species.
A team comprising California-based animal and fish feed maker Star Milling Co. and Kansas grain buyer and processor The Scoular Company are leading the salmonid category, which has three teams in it.
Ecuadoran shrimp and tilapia farmer Empagran and Veramaris, which produces algal oil in the US state of Nebraksa, form the team leading the shrimp category, and Jiangsu Fuhai Biotech Co., Ltd is in the lead in the other category with its largemouth bass feed.
Contestants began recording sales from October 1, 2021, or after submitting their feed. The contest ends on September 15 this year.
Decreasing costs
"We are pleased to see commercial quantities of fish-free feeds being produced by major mills and used on large farms. I believe we are seeing the rising tide of novel ingredients coming online disrupting the industry as the decreasing costs of the novel ingredients are matching the increasing costs of fishmeal and fish oil," said Kevin Fitzsimmons, F3 Challenge chair and professor at the University of Arizona.
"We are especially pleased that environmental groups who have criticised the use of forage fishes in aquaculture feeds have contributed to the solution by supporting this contest and other efforts to improve the sustainability of the aquaculture industry."
Global food security
The F3 - Future of Fish Feed goal is to assure greater global food security by reducing the aquaculture industry's reliance on fishmeal and fish oil derived from small forage fish such as menhaden and sardines and to future-proof it against shocks to the supply chain.
According to F3 organisers, reliance on wild-caught resources threatens the ability to grow many farmed seafood species because the supply of small fish fluctuates globally.
Reliance on wild-caught resources also threatens wild-caught commercial fisheries, such as tuna, salmon and cod, since these larger fish depend on smaller fish for their sustenance, the contest's organisers say. Since farmed and wild-caught seafood comprise the entire supply of seafood, finding nutritionally equivalent alternatives to small fish is important for maintaining the supply of seafood globally.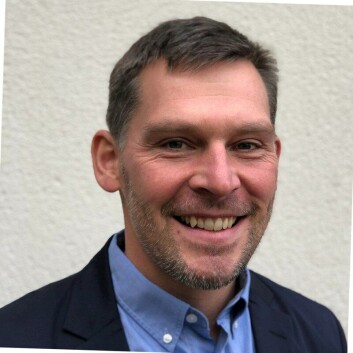 Fewer forage fish
The relatively small amount of fish-free feed sold to the salmonid industry by contestants in the F3 competition does not mean that salmon farmers are unaware of the need to limit or reduce use of forage fish in feed. Around one third of the marine content if salmon feed now comes from off-cuts from fish caught for human consumption.
And in an interview with Fish Farming Expert magazine last year, Veramaris's global business development director Ian Carr said one in three Norwegian farmed salmon was being fed on feed containing algae as a source of the omega-3 fatty acids EPA and DHA. However, farmers choosing to use Veramaris oil were using it either as an EPA and DHA booster and/or a significant alternative to fish oil, rather than as a complete replacement.
"Both can be done – it's been documented that you can produce salmon effectively under commercial conditions with a zero-marine diet – but at the moment the industry is focusing on sustainably boosting the levels of EPA and DHA in the diets in order to get the best fish health and welfare outcome," said Carr.