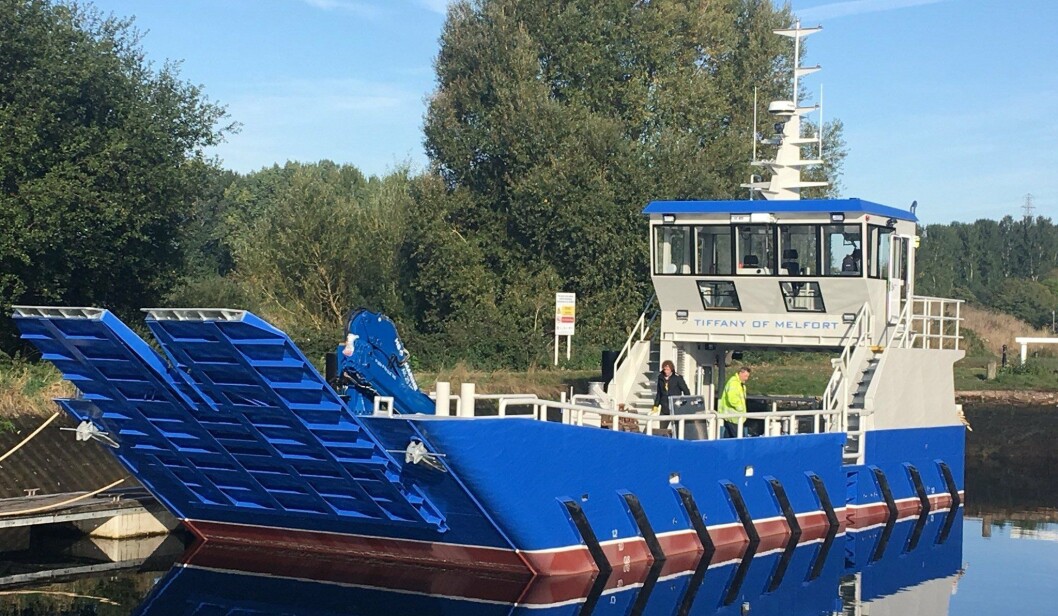 Bigger and better boat paves way for Kames expansion
Scottish trout grower Kames Fish Farming has taken delivery of a new £1.1 million landing craft, Tiffany of Melfort.
The 19-metre workboat, named after managing director Stuart Cannon's daughter-in-law and built by Exeter Fabrications, will play an important role in the Kilmelford-based company's plans to expand production from 2,000 tonnes to 5,000 tonnes per year by 2023.
The vessel is the same design as the Lady Dee landing craft previously supplied by Exeter Fabrications to salmon farmer Loch Duart.
Big outlay
"Our guys went and had a look at the Lady Dee and we decided it was the sort of thing we were after," said Kames director and accountant Allan MacIsaac.
Specification
Vessel type: landing craft
Length: 19 metres
Raised wheelhouse to maximise deck space and increase visibility
Hull: steel hull
Wheelhouse: aluminium
Engines: Two diesel Doosan L136TI (170 HP each)
Crane: HS Marine AK 25 HE3 (11-metre reach)
"We got a European Maritime and Fisheries Fund grant for this, which met about 50% of the cost. That was a big help, because it's a big outlay for a small company like ourselves. In fact, we couldn't have done it without the grant.
"We've been expanding in the last four or five years. We've got a new site up in Skye, and we're doing more down in Argyll, and we really needed to start thinking about the transport of feed and harvesting equipment and things like that."
"The main reason we're getting this boat is to try to reduce the number of trips made by the smaller boats that we had. This boat is about double the capacity of our next-biggest boat, so should in theory halve the number of trips to feed barges and for harvesting," added MacIsaac.
"There seems to be quite a lot of demand for our rainbow trout, so we're still looking at new sites and ways that we can expand. This vessel is a big step for us in terms of growing the business."
New jobs
Kames staff travelled to England on Tuesday to collect the landing craft and have spent the rest of the week bringing it up the coast to Scotland.
MacIsaac said Kames, which currently employs 37 people, would be creating new jobs because the boat required a permanent crew of two.
The company, which sells much of its trout to Waitrose, has applied for planning permission for a new farm off the Isle of Jura's uninhabited west coast.
MacIsaac said Kames also had under-utilised capacity on its existing sites which would allow it to increase production volumes.
Kames has a freshwater site at Loch Tay in Perthshire and one in Dumfries and Galloway, and four seawater sites in Argyll and one at Loch Pooltiel, Skye. It also has two hatcheries.