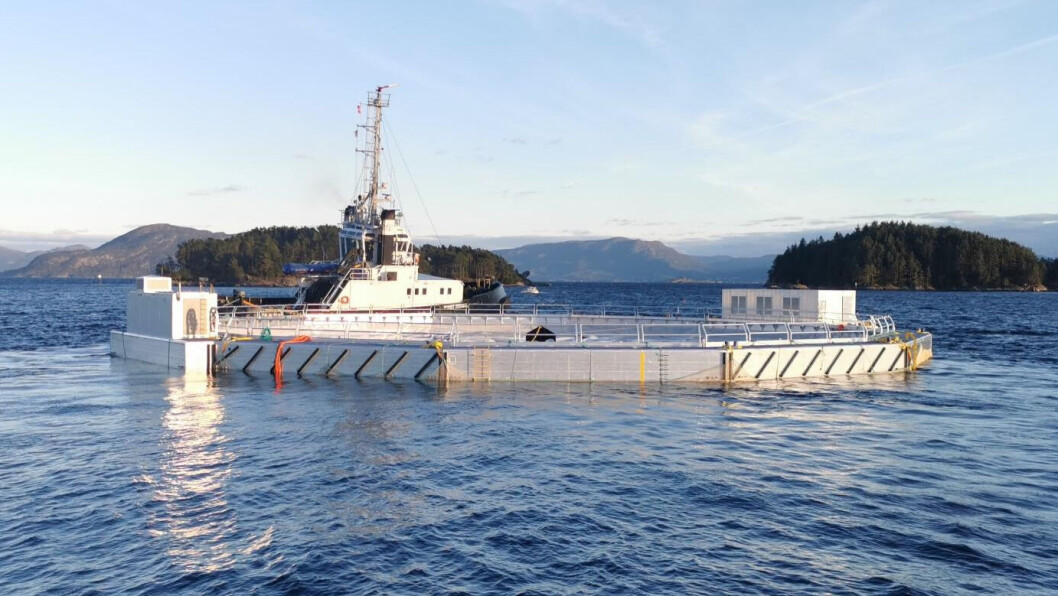 Ecomerden delivers semi-closed cage with integrated oxygen production
Norwegian salmon farmer Eide Fjordbruk has taken delivery of a first-of-its-kind semi-closed cage from Ecomerden.
The cage, which comprises an aluminium collar supporting an impermeable fabric bag with a volume of 30,000m³ and an inner net, is the third R30 model produced by Ecomerden and the first with integrated oxygen production.
The two other R30s are being used by salmon farmer Osland Havbruk in Norway's longest and deepest fjord, the Sognfjord in Vestland.
Post-smolts
Eide Fjordbruk's R30 is deployed in Fensfjorden in the same region and will be used to grow post-smolts. The R30 can produce up to one million post-smolts at 1kg twice a year or 500,000 post-smolts at a lower weight three times a year.
The cage's integrated oxygen production allows water to be taken from as deep as 46 metres.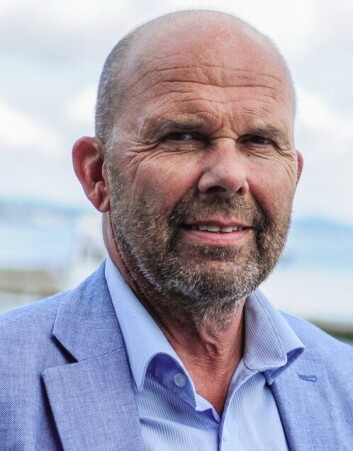 "The semi-closed cage has six individual seawater intakes with a maximum flow through the cage of 6m³ per second. Each inlet in the cage has its own regulation of the water flow, which can ensure a uniform flow rate throughout the cage volume," Ecomerden chief executive Jan Erik Kyrkjebø said in a press release.
"There have never been problems with CO₂ due to the large water flow, and since the water is pushed through the entire cage volume, the power consumption will be low."
Lower power demand
In comparison, recirculating aquaculture systems (RAS) have three times greater power consumption to ensure sufficient water flow, said Ecomerden. The water flow is adjusted to the fish size with a simple operation from the floating collar.
"The cage construction was patented 10 years ago and will be certified according to the new NS 9415 regulations with the lowest risk class," said Kyrkjebø.
"This certification takes effect from the new year and has several stricter requirements, including that all semi-closed cages must document sufficient overpressure in the cage bag in addition to having reserve buoyancy when the floating collar is punctured and in the event of large salinity differences at the site."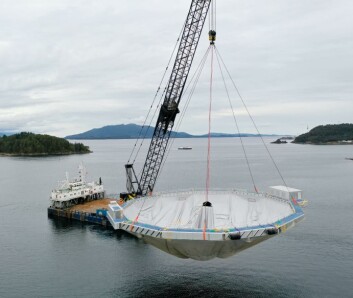 12 pontoons
The Ecomerden R30 will be one of the few closed cage concepts that satisfies these new requirements for locations up to 2.5 metres significant wave height and 2 knots of current.
The floating collar is designed as a rigid 12-sided ring in seawater-resistant aluminium with 12 separate waterproof pontoons, which makes the cage construction light and robust.
In addition, the cage is equipped with an emergency power supply and emergency oxygen supply, which ensures that the cage has a constant farming volume and that good fish welfare is maintained.
'Fantastic biological results'
"The first Ecomerden was first installed at Sulefisk six years ago, in a smaller version. In total so far, the cage concept has been tested through 10 production cycles with fantastic biological results," said Kyrkjebø.
The Ecomerden boss believes that post-smolt from the cage are more robust and offer significant potential for increasing earnings, primarily due to higher harvest yields and reduced delousing.
"Even with a simple Ecomerden R30 on site, in addition to open cages in the last part of the production phase, there is a significant potential for improvement compared to only open cages," he said.
"The smolt get a good start on life in the sea with stable and optimal current and oxygen conditions without stress and lice. Good husbandry and feeding can again be higher up the agenda than planning delousing."